COMMENT
By Ives Garlacep
Jozy Altidore seemed ready to take on the world last summer.
Fresh off a 31-goal season at AZ, and having just signed a record $13 million transfer to Premier League side Sunderland, Altidore looked primed for a breakout year leading up to the 2014 World Cup. After tearing through Concacaf opponents in qualifying and bagging a hat-trick for the US against Bosnia-Herzegovina, Altidore looked like he would head to England and give American fans the star striker they've long been hoping for.
Eight disappointing months and a paltry two goals later, Altidore's Sunderland move has been an abject failure. Instead of taking the Premier League by storm, Altidore looks primed to leave the high-profile division after a truly forgettable season.
Sunderland have limped through an atrocious campaign, which should maybe have been expected after former manager Paolo Di Canio's early-season meltdown and departure got the Black Cats off to the worst possible start. Gus Poyet replaced the Italian and there was plenty of optimism going around once he took the job, but the Uruguayan has done little to change Sunderland's doomed fate, and he has been unable to figure out how to fix the club's faltering attack.
It appears Poyet has grown tired of giving Altidore chances, and his decision not only to leave Altidore out of the matchday squad against Tottenham last Monday but to then play him in the Under-21s on the same day looked every bit like an example of a manager that is tired of waiting for a player to figure things out.
So what now for Altidore? With little more than a month left in the English Premier League season, and little more than a month until he will report to the U.S. national team's pre-World Cup training camp, it is probably wishful thinking to still hold out hope for a rallying cry.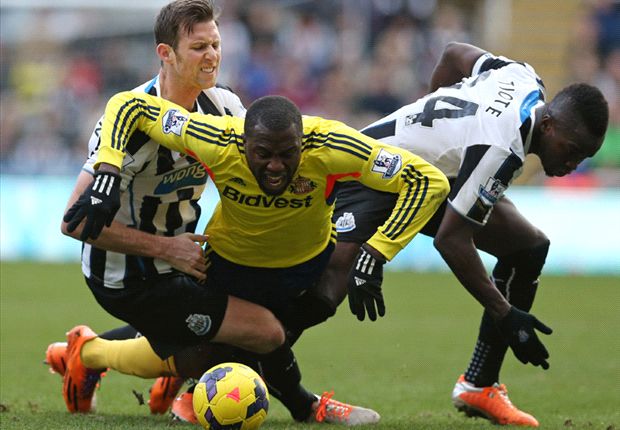 Dozy Jozy
| Altidore has floundered during his first season back in the Premier League
Poyet has benched Altidore before only to bring him back into the starting line-up. This most recent demotion feels different, though. With Sunderland desperately needing a result against Tottenham to have any realistic hope of avoiding relegation, Poyet kept Altidore at home. His team responded with a 5-1 loss to Spurs that leaves them seven points away from safety with seven matches remaining.
Seven matches sounds like more than enough time for Altidore to still make a statement this season, but he can't make a statement if he isn't anywhere near the playing field.
If Poyet really is finished with Altidore, it will all but mean an off-season exit from Sunderland. If, as expected, the Black Cats are relegated, they will be looking to reduce the wage bill and sell off surplus. That means Altidore should be finding a new home this summer, whether Poyet remains manager or not.
Where would the former AZ man go next? That will depend largely on the kind of summer he has with the U.S. national team. A strong World Cup against opponents like Portugal and Germany could certainly lead to some offers coming in.
But could he really still produce goals this summer if he winds up spending the next month warming the bench, thus assuring himself of finishing off one of the worst individual seasons in recent memory for an American in Europe?
It might seem unlikely, but Jurgen Klinsmann is a safe bet to give Altidore every opportunity to lead the U.S. attack at the World Cup. After spending a full season trapped in one of the worst attacks in the Premier League, Altidore is likely to be downright giddy to once again be playing in a full-strength U.S. squad for the first time since World Cup qualifying. He has shown an ability to turn it up a notch with the national side even when he is struggling at club level.
In fact, if you go back to 2010, the year Altidore spent on loan at Hull City as a teenager, he was in a poor side with limited playing time and a lack of luck in front of goal. He learned from that experience at Hull and still showed enough to Bob Bradley to be the U.S. team's lead striker at the World Cup in South Africa. No, he didn't score any goals, but he was a handful in every sense, and played a part in multiple key moments for the United States.
Four years later, Altidore is more mature and a significantly better player. It may not be showing these days at Sunderland, but the 50-plus goals he scored for AZ, and the scoring force he proved to be in World Cup qualifying in 2013, are credentials that can't just be ignored because of one putrid season in England.
Altidore should still have his chance to impress in Brazil, and now his showing at the World Cup will be even more important because a strong tournament this summer could lead to better options for him as he considers life after Sunderland. A return to the Netherlands is entirely possible, with PSV identified as a club that has long expressed an interest in his services, but if Altidore has aspirations of playing in one of Europe's top leagues, he will need to shine in the Group of Death that awaits in Brazil.
That is still two months away though. For now, all Altidore can do is keep working hard and hope that Poyet decides to give him some more opportunities in the season's final month.
Still only 24, Altidore has plenty of time to repair the damage done by this forgettable season at Sunderland, and that repair work will begin in Brazil in June. If the final month of the Premier League season doesn't afford him the playing time necessary to sharpen his game, at the very least it should provide even more motivation for Altidore as he heads to the World Cup with a chip on his shoulder, and a career to revive.