On a weekend which saw most of the Japanese players in Europe playing' it was once again
Shinji Kagawa
who stood out' as his goal - his 13th strike of the season - not only secured Borussia Dortmund's 2-0 home win over Borussia Monchengladbach on Saturday evening but sealed a successful defence of the title for the Bundesliga champions.
The 23-year-old was involved in most of his side's attacking plays and showed near-perfect passing accuracy' but lacked finishing touch in front of the opponents' goal' missing out on some opportunities.
However' the play which saw the attacker receive the ball from Robert Lewandowski and take it neatly past the Foals' goalkeeper for 2-0 changed that impression shortly before the hour mark. Kagawa was replaced by Mario Gotze in the 73rd minute.
Earlier on Saturday'
Takashi Usami
had a fairly good match in Bayern Munich's right attacking midfield in his first league start on German soil' as the Bavarians staged a late 2-1 comeback win at Werder Bremen' delaying celebrations in Dortmund for a couple of hours.
The 19-year-old started brightly' delivering three crosses in the opening 10 minutes' one of which could have earned him an assist. After a rather quite phase' he showed more presence later in the game' when he narrowly missed a pass across the goalmouth by Franck Ribery.
In his first appearance since suffering another leg injury in early March'
Keisuke Honda
showed no fear and was in fact often in the thick of things during CSKA Moscow's 1-0 loss at Dinamo Moscow.
The Samurai Blue striker has spent much of the season recovering from one injury after another' but played the entire 90 minutes' taking free kicks and even earning a caution for a particularly rough foul in the second half.
In the Dutch Eredivisie'
Mike Havenaar
came on just after the hour mark for Vitesse before scoring the equalising goal in their 1-1 draw at Heerenveen.
The 79th-minute strike was Havenaar's fifth of the season' as he alternated the ball between his feet before delivering a smashing blow with his right from the edge of the box. The 194-centimetre attacker continues to appeal for a role in the starting lineup' having come off the bench since early March.
Italy
STAR OF THE WEEKEND

Shinji Kagawa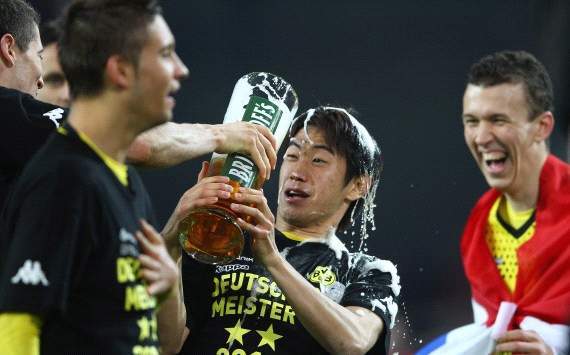 The attacker's goal for the 2-0 put Dortmund's fifth Bundesliga title beyond doubt

Yuto Nagatomo
(Inter): Came on in the 46th minute in his club's scoreless draw away to Fiorentina. Failed to spur on Inter's scoring chances in the second half as a scoreless draw saw their Champions League hopes continue to dim.
Takayuki Morimoto
(Novara): Was an unused substitute as his club was beaten 2-0 away to Napoli.
Germany
Makoto Hasebe
(Wolfsburg): Started in the 0-0 draw away to Mainz. Substituted in the 46th minute.
Gotoku Sakai
(Stuttgart): Played a full 90 minutes in his club's 1-1 draw at Koln. The youngster added another mostly solid game for the Swabians except for a moment shortly before half-time when his bad clearance led to a chance for the Geissbocke.
Shinji Okazaki
(Stuttgart): Entered from the bench in the 69th minute in his team's 1-1 draw at Köln. The former S-Pulse forward was fielded as a left midfielder' before he switched to Sakai's side on the right flank.
Yuki Otsu
(Borussia Monchengladbach): Watched his club's 2-0 loss away to Borussia Dortmund from the bench.
Hajime Hosogai
(Augsburg): Played a full 90 minutes in his team's 1-1 draw against Schalke. The former Urawa Reds man had a good game as the link between his side's backline and attacking department, creating also a huge chance in the 41st minute. The 25-year-old will miss the away match against Monchengladbach due to being shown his fifth yellow.
Atsuto Uchida
(Schalke): Made a full appearance in the 1-1 draw away to Augsburg. While the right-back didn't make too many attacking runs' he had a solid game in defence' preventing Augsburg from snatching the winner in the second half.
Takashi Inui
(Bochum): Played a full 90 minutes for 1-1 draw away to Cottbus.
England
Ryo Miyaichi
(Bolton): Started in the 1-1 home draw against Swansea City, but was substituted in the 65th minute. Failed to impress in just over an hour of play as Bolton remains in the drop zone with two games in hand.
Lee Tadanari
(Southampton): Found himself outside the squad due to injury in the 2-1 loss at Middlesbrough.
Spain
Hiroshi Ibusuki
(Sevilla): Played a full 90 minutes in Sevilla B's 5-2 home win against San Roque. The tall forward bagged a hattrick in Spain's Segunda B and has now 19 goals to his name this season.
Netherlands
Maya Yoshida
(VVV Venlo): Made a full appearance in the 2-1 loss at AZ Alkmaar.
Cullen Robert
(VVV Venlo): Didn't make the squad in the 2-1 loss away to AZ.
Michihiro Yasuda
(Vitesse): Played a full 90 minutes in the 1-1 draw away to Heerenveen.
Yoshiaki Takagi
(Utrecht): Made a full appearance in his team's 2-0 win at RKC Waalwijk. Takagi's 77th-minute free kick was met in mid-air by captain Alje Schut for the eventual game winner.
France
Daisuke Matsui
(Dijon): Didn't feature in the matchday squad in the 2-0 loss at home against Lille.
Belgium
Eiji Kawashima
(Lierse): Made a full appearance in the 2-2 home draw against Cercle Brugge. Kawashima has allowed just four goals in four matches so far in the Belgian Pro League Playoffs II' keeping Lierse in contention for the country's final Europa League spot.
Romania
Takayuki Seto
(Astra Ploiesti): Missed his side's 3-1 home win over Otelul Galati due to suspension.