With temperatures plumbing minus 18 today in Moscow, there are unlikely to be any street parties in the capital to celebrate the
World Cup 2018 victory
.
But glasses of vodka will be raised in the swish hotels and Communist-era apartment blocks to the decision that will change the face of modern Russia.
As one of the few English sports journalists who spent time visiting the country in the bid build-up – my September whistle-stop tour of Moscow, St Petersburg and Kazan packed three weeks worth of sights and interviews into just five days – I have first-hand experience of the country's ambitions and desire to show the world what it has achieved since the collapse of communism.
It is Fifa's desire to change the world and open up a new frontier that had made Russia the favourites to win the 2018 vote for the last 12 months. And it was the legacy factor that was surely instrumental to what effectively amounted to a landslide victory.
The surprise was not that Russia edged out the more traditional European superpowers but that English bookmakers had made the nation that gave football to the world odds-on favourites in the last 48 hours.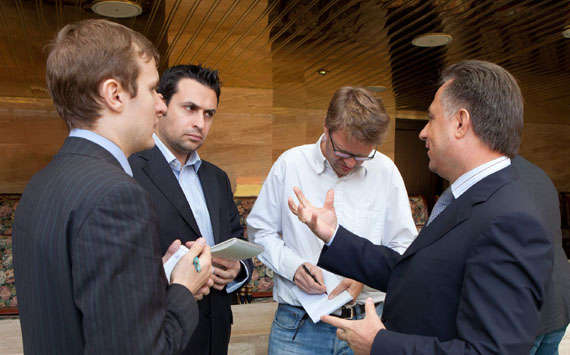 Listen up | Wayne Veysey (second left) meets Russian sports minister Vitaly Mutko
Fifa will rightly get panned by the British media for the appalling lack of transparency in a process that has lit a fresh fire under the phrase 'smoke filled rooms'.
Sure, Russia might have worked the corridors of power better and there has been a slight whiff of oil and gas to the country's hoovering up of marquee sporting events over the next decade but that is not to say that the best team has not won.
Russia suffered in the 20th century but is prospering like few others in the 21st. If any country can build world-class infrastructure – from stadiums to roads and rail networks – in record time, it is the largest nation in the world.
The country's organisational skills and ability to get things done are formidable. Fifa did not raise any questions over Russia's plans to build 14 stadiums from scratch and, having seen the new home of Zenit rising before the very eyes of the citizens of St Petersburg, that is one decision made by the governing body that makes complete sense.
Transport in the country will be better. Infrastructure will be better. A country that is still far too 'closed' for its hopes of being a tourist destination has guaranteed visa-free travel for World Cup visitors as well as underwrite free train travel for fans between cities.
The disappointment and anger of those who hoist the flag of St George is understandable. But a Russian World Cup can be a memorable World Cup.
However unfair the system that anointed Russia 2018 hosts, the desire of the land of the rouble to produce something special should not be under-estimated. The real work begins. But that is something Russia thrives on.