ENGLAND
The message from England and the FA is loud and clear; we can deliver a World Cup that is profitable, held in top-class stadiums, played out in front of the most enthusiastic fans in the world and - crucially - we could host it tomorrow.
Learning from the mistakes of the ill-fated bid to host the World Cup in 2006 the whole 'this is the home of football' concept has been downplayed as the FA have sought to offer Fifa the easiest option for a World Cup in Europe.
But after being a clear front-runner for so long England's chances have seemingly taken a hit due to a recent Sunday newspaper sting which apparently exposed two Fifa executive committee members offering their votes for cash.
Fifa president Sepp Blatter was not amused and England will hope that the efforts of bid heavyweights David Beckham and David Cameron could snatch a win from the jaws of defeat.
Why they could win it
THE RIVALS
Netherlands
/Belgium
Portugal/Spain
Russia
England's bid team have promised to hand over a record profit to Fifa of more than £160 million if they win the race to host the 2018 World Cup.
They are able to offer such a large profit to world football's governing body due to their forecast that stadiums will be 94% full for all 64 matches of the competition, thus generating £602 million from ticket sales.
After the swathes of empty seats in South Africa, this guarantee to ensure bums on seats and jam-packed corporate boxes for even the most drab encounters could sway a few votes.
Over 30 million people attend Premier League and Football League games every season, whilst seven million play the sport weekly.
It is not just the domestic population that is crazy about English football either, nearly three billion people in over 200 countries regularly watch matches played in England.
After two novice hosts (South Africa and Brazil) for the last two competitions in which major infrastructure and building has been requires, Fifa may opt for an easier ride in 2018.
England certainly provide this option as the majority of stadiums that are proposed as hosts for 2018 matches are already built, there are existing transport links, the country has experience of hosting major sporting events and is used to welcoming millions of tourists each year.
Why they might not win it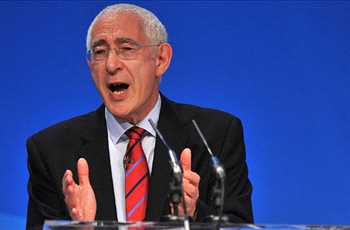 The England bid has not been without controversy. The original head of the bid team, Lord Triesman, was forced to quit in May this year after being secretly taped by the Daily Mail making suggestions that Spain may withdraw its bid for 2018 if Russia, also bidding, would help the country bribe referees in South Africa.
More recently, the Sunday Times made allegations about corrupt practices in the bidding process, leading to the suspension and investigation of two executive committee members. A BBC Panorama programme exposing the workings of football's governing body is also imminent, with Fifa members angry that it could be broadcast just three days before the vote to decide the hosts for 2018 takes place on December 2.
As a result, members of the 2018 team have privately admitted they fear the British
media has significantly harmed their bid.
AMBASSADORS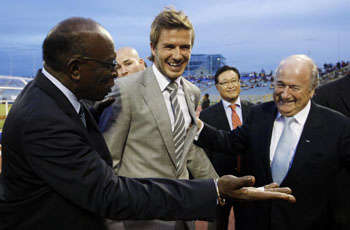 The star of the bid
England's 2018 bid has the Becks-factor, which should not go underestimated.
Former England captain, David Beckham is a hugely popular figure amongst Fifa ranks and his appearance at the official handover of the bid book went down well amongst members, especially with President Sepp Blatter.
Beckham has previous experience in being involved with bids for major sporting events, having played a huge role in securing the 2012 Olympics for London. He seems a natural ambassador and his status as a star of world football creates an aura around him that Fifa members seem enamoured by.
Other ambassadors: Alan Shearer, Alexandre Song, Andrew Cole, Ashley Young, Brian Deane, Bryan Robson, Chris Powell, Cyrille Regis, David Clarke, David Ginola, David James, David Seaman, Des Walker, Emile Heskey, Eniola Aluko, Fabio Capello, Faye White, Gareth Southgate, Gary Lineker, Gary Mabbutt, Gianfranco Zola, Glenn Hoddle, Gordon Taylor, Graeme Le Saux, Howard Wilkinson, James Milner, John Barnes, John Terry, Jon Obi Mikel, Joseph Yobo, Kelly Smith, Kenwyne Jones, Kolo Toure, Lucas Radebe, Luther Blissett, Michael Ballack, Michael Barker, Michael Chopra, Michael Essien, Nwankwo Kanu, Ossie Ardiles, Paul Elliott, Paul Parker, Peter Beardsley, Peter Crouch, Peter Shilton, Phil Neville, Rachel Brown, Ray Clemence, Ray Wilkins, Ricky Villa, Rio Ferdinand, Robinho, Salomon Kalou, Sol Campbell, Steven Gerrard, Steven Pienaar, Stuart Pearce, Sven Goran Eriksson, Teddy Sheringham, Terry Venables, Theo Walcott, Tony Adams, Tony Woodcock, Victor Anichebe, Viv Anderson, Wayne Rooney, Zesh Rehman
Sepp says
:


"The easiest way to organise the World Cup is to go to England. Everything is there - fans, stadiums, infrastructure - it's easy"


- August 2010

How England might line up in 2018...
Hart

Kelly, Smalling, Coady, Gibbs

Walcott, Wilshere, Rodwell, A Johnson

Carroll, Wickham

EXPERT VIEW
Amar Singh, Goal UK
"Our bid may be light on legacy and the press have certainly riled Fifa, but England 2018 remains the safest option by far.
"Russia is the biggest threat. There are those in the Fifa executive committee who believe that the World Cup must be a true agent of change. Go forth into new territories and let football transform a nation. Russia appeals to this but after two World Cups in South Africa and Brazil, will Fifa's executive committee opt for another journey into the unknown where major work is required to get the country ready?
"England 2018 is the bid that gives Fifa a very comfortable and profitable option after a challenging World Cup in South Africa"
"The World Cup must also be a spectacle of entertainment, showcasing the very best footballing talent in top notch stadiums with a fantastic atmosphere and record TV audiences. England promises this. Fifa will also crave a World Cup which can deliver a real resounding profit with no headaches over unions, transport links and building projects falling behind.
"England 2018 is the bid that gives Fifa a very comfortable and profitable option after a challenging and far from money-spinning World Cup in South Africa.
"And in David Beckham, England have a jewel in the crown. A football ambassador who brings true star wattage to the game. The promise to take the David Beckham academies around the world could edge the vote for many Fifa members not least the influential Concacaf president Jack Warner."