Netherlands/Belgium
Belgium
and the
Netherlands
have pitched their World Cup 2018 bid under the banner 'Together for Great Goals'. The Netherlands/Belgium bid focuses on creating a better world, and in particular, on the environment.
In 2000, the Netherlands and Belgium hosted a successful European Championships. The tournament ran smoothly and now the countries want to deliver on the world's biggest football stage. The organising committee wants to prove that two relatively small countries can also host a global tournament like the World Cup.
But the chances of the 2018 World Cup coming to the Netherlands and Belgium are not high. The bookmakers prefer England and Russia. The high and often strange requirements set by Fifa politics have not been received well in the Netherlands or Belgium, to such an extent that many political parties are against hosting the World Cup. Competition from England and Russia is massive, and it is expected that the World Cup will be awarded to one of the two countries.
Why they could win it
THE RIVALS
England
Portugal/Spain
Russia
Chances of winning the right to host World Cup 2018 is small. But in 2000 these two countries showed they were capable of running a big tournament.
In October this year, the Fifa committee visited and performed an inspection of the bid, and produced a positive report. The short distances between host cities and excellent infrastructure are seen as major advantages.

After the World Cup in South Africa and the 2014 tournament in Brazil, Fifa may decide to choose a host country with good infrastructure. Large distances between host cities - as was the case in South Africa and will be again in Brazil - is not ideal, and certainly not for the travelling supporters. Unlike the empty seats in South Africa, the stadiums will be packed should the Netherlands and Belgium host the World Cup in 2018.

"We have read the report, and its contents are definitely expected. The criticisms are nothing new to us and have been built into our campaign. There is more than enough to be positive about. Overall, we are more than satisfied with it, "says CEO Harry Been on the report.

Furthermore, the bids of the major competitors - England and Russia - have been associated with scandal and bribery. The Belgium and the Netherlands bid has not been questioned in this manner, and even though the accusations made to the rivals bids may prove inaccurate, it is not positive publicity.
That the Netherlands reached the final in South Africa is also great publicity, along with the manner in which the Dutch fans supported their country throughout the tournament.

Why they might not win it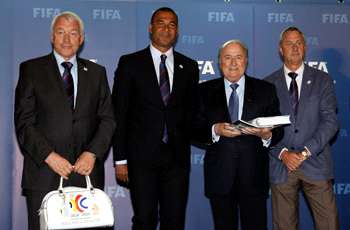 There are currently no stadiums ready (built or modified) for the World Cup. In England this is not the case, and this is seen as a major drawback to the Netherlands/Belgium bid.

What could be the biggest stumbling block is the Belgian and Dutch governments. They support the concept, but do not accept all the demands that are made by Fifa.

Due to the financial crisis, it must be decided whether the millions should be spent on a football tournament. The governments have just indicated they hope to significantly cut the countries' debt, but hosting a world tournament would require millions to be spent, meaning it is unlikely that a profit can be made.
AMBASSADORS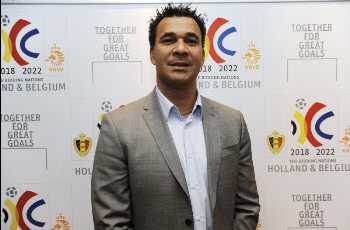 The star of the bid
The face of the Holland/Belgium bid is Ruud Gullit. He is also president of the bid. The former AC Milan player's popularity within Netherlands and Belgium - as well as his fame outwith the two countries - is seen as a huge unifying quality.

His political ideology is long-standing. In 1987 he won the Ballon d'Or and gave his award to the then imprisoned Nelson Mandela.

"Together, Belgium and the Netherlands stand strong. I really believe that we will be awarded a World Cup on December 2. We are going to work really hard to get there", said Gullit.
Also Johan Cruyff lends his support to the 2018 bid. The legendary Dutch footballer is still an influential figure in world football and a valuable ambassador.
Other ambassadors: Justine Henin, Paul van Himst, Erica Terpstra, Jean-Mari Pfaff, Ruud Krol, Gilles de Bilde, Pieter van den Hoogenband, Eddy Merckx, Daphne Koster, Kim Gevaert, Enzo Scifo, Guus Hiddink, Gert Verheyen, Marco van Basten, Jan Ceulemans, Edwin van der Sar, Clarence Seedorf, Eric Gerets, Jaap Stam, Michel Preud'homme, Dennis Bergkamp, Ahmed Hassan, Nader El Sayed, Regi Blinker, Frank de Boer, Georges Grün, Femke Maes, Hans van Breukelen, Wilfried van Moer, Jean-Francois Gillet, Logan Bailly, Piet Velthuizen, Daniel van Buyten, Vincent Kompany, John Heitinga, Thomas Vermaelen, Gregory van der Wiel, Joris Mathijsen, Sander Boschker, Foppe de Haan, André Ooijer, Karel Geraerts, Edson Braafheid, Maarten Martens, Ron Vlaar, Mark van Bommel, Wesley Sonck, Nigel de Jong, Kevin Mirallas, Wesley Sneijder, Romelu Lukaku, Demy de Zeeuw, Jelle van Damme, Ibrahim Afellay, Toby Alderweireld, Orlando Engelaar, Thomas Buffel, Rafael van der Vaart, Jan Vertonghen, Stijn Schaars, Axel Witsel, Arjen Robben, Jonathan Blondel, Dirk Kuyt, Moussa Dembélé, Eljero Elia, Eden Hazard, Klaas Jan Huntelaar, Nico Claesen, Robin van Persie, Patrick Vervoort, John Metgod, Leo van der Elst, Dick Advocaat, Bert van Lingen, Marc Wilmots, Hans Galjé, Arthur Numan, Erwin Vandenbergh, Luc Nilis, Pierre van Hooijdonk, Ryan Babel, Danny Veyt, Bert van Marwijk, Marc Meire, Richard Witschge, Jacky Munaron, Michel Vorm, Rudi Smidts, Francis Severeyns, Khalid Boulahrouz, Marc Degryse, Wout Brama, Aimé Antheunis, Otman Bakkal, Bob van Bebber, Olivier Deschacht, Kirsten van der Kolk, David Mendes da Silva, Gill Swerts, Glenn Loovens, Sepp de Roover, Henk Timmer, Marouane Fellaini, Dirk Marcellis, Roland Lamah, Tom de Sutter, Igor de Camargo, Mehdi Carcela-Gonzalez, René van de Kerkhof, Franky van der Elst, Willy van de Kerkhof, Michael Mols, Timmy Simons, Jean Nicolay, Tia Hellebaut, Raoul Lambert, Aron Winter, Frank de Bleeckere, Rob Witschge, Philip Cocu, Georges Heylens, Giovanni van Bronckhorst, Jan Vennegoor of Hesselink, Bettine Vriesekoop, Arnold Vanderleyde, Esther Vergeer, Minke Booij, Mark Huizinga, Yvonne van Gennip, Otto Ambagtsheer, Roger Heijens, Robert Swaak, Hans van der Noordaa, Kalusha Bwalya, Michael Reiziger, Erwin Koeman, Ronald Koeman, Orlando Trustfull, Simon Tahamata, Danny Blind, Humberto Tan, Leo Beenhakker, Eddy Annys, Wim Jonk, John van Lottum, Frits Barend, Jean-Michel Saive, Thierry Boutsen, Dominique Persoone, Nelli Cooman, Pierre-Olivier Beckers, Dries Mertens, Leontien van Moorsel, Henk Gemser, Christian Karembeu, George Leekens, Ulla Werbouck, Guillaume Gillet, Jonathan Legear, René van der Gijp, Jeffrey Talan, Dennis van der Geest, Silvio Proto, Elco van der Geest, Kevin de Bruyne, Marijn de Vries, Jelle Vossen, Robin van Galen, Bob de Jong, Hugo Broos, Philippe Vande Walle, Yassine El Ghanassy, Teun de Nooijer, Piet Schrijvers.
Sepp says
:



"

I think it is great that even small countries are trying to get the World Cup

"


- May 2010

How Holland might line up in 2018...
Stekelenburg

Van der Wiel, Heitinga, Bruma, Van Aanholt

De Jong, Van der Vaart

Afellay, Sneijder, Wijnaldum

Van Wolfswinkel

EXPERT VIEW
Yanick Vos, Goal Netherlands
"In 2000 the Netherlands and Belgium showed the world that they can organise a big tournament.
The atmosphere was great.


The biggest advantage of the bid is the infrastructure.
There are about 920,000 hotel rooms in the two countries.
That's more than enough to provide shelter for all fans. Along with the
short distances from venue to venue, and with support from
Ruud Gullit, Johan Cruyff and names like Guus Hiddink, Marco van Basten and Dennis Bergkamp, the bid has great appeal to the wider world.



"The biggest advantage of the Netherlands and Belgium bid is the infrastructure"
The bid remains untarnished by rumours of corruption and scandal.
This can work as an advantage, but also a disadvantage.
Ultimately it will come down to votes - how they are won and lost will remain largely shrouded in mystery.
Ultimately, I don't think the Netherlands and Belgium bid is strong enough to match those of Russia and England.
The stadiums are there, the money is there, the government is involved and the infrastructure is also good.
So on December 2, the 2018 World Cup will probably go to one of those two countries."