There is nothing quite like a bit of local flavour, and this is what we have for you with this blog from Clyde Tlou, Pretoria resident and opinionated youngster - catch some of his personal views here...
12 July 2010
It has been a long journey starting from June 11 and eventual coming to a climax yesterday on June 11, 2010, I am simply lost for words to describe such an occasion that has graced our shores.
With the World Cup curtain having finally came down I have promised myself that I will keep away from the vuvuzela and Jabulani debates. I hereby borrow words from former South African President Thabo Mbeki's famous speech titled "I am an African".
Where to begin, I am Jabulani.
I owe by being to the world and the continents, the countries and the cities, the provinces, the stadiums, the stands, the pitch and the ever-changing seasons that define the face of the beautiful game. My body bouncing off the hands of Robert Green and through the gloves of many goalkeepers except for Uruguay's Luis Suarez's bare hands. It was thawed in the hot machines of Germany, rolled on the pitches of South Africa and slammed by analysts in the studios expect for the legendary Octopus Paul.
The crack and the rumble of the Samba tumbled, lashed by startling lightening speed of the Dutch and glorified by the sounds of my unwanted colleague, the vuvuzela. All have been a cause both of trembling and of hope that this World Cup will change football landscapes and lives of the people through 1Goal, education for all.

I am Jabulani, and Jo'bulani.
Yesterday was probably my last day on the pitch. It was really emotional having to go past the Dutch goalkeeper last. I have Iniesta to thank for giving me the last kick into the nets. I had been yearning to wrap myself around the net and say my good byes. It was really emotional, I loved South Africa and I wish to stay here for much longer through the Premier Soccer League Season.
I would like to apologise to Robbert Green for making him the laughing stalk of the tournament and Fernando Torres who pulled a muscle chasing the speedy me. I am proud that out of my artistry new stars were born ranging from Dede Ayew, Mesut Ozil and Thomas Mueller. Hope we meet again, for now I am legend and I will be predicting scores in the next World Cup with Octopus Paul.
5 July 2010
Certainly not the Hand Of God but the Hand Of The Devil by Uruguay's Luis Suerez has done its best to shutter our World Cup Dream, not just for Ghana but for Africa as a whole. The Black Stars of Africa wept on the pitch while the continent cried a river too.
It's time the rules are revisted and remodelled for such cases, FIFA should simply say if a player does what Suerez did on the goal line then that is counted as a goal, simple as that. The culprit should then get a red card as punishment to avoid having 11 goalkeepers on the pitch, which would simply make our beautiful game into an ugly spectacle.
If Uruguay goes on to win the World Cup, perhaps there are plans to erect statues of their two heroes Luis Suerez and Asamoah Gyan. For me Gyan is a strong character. After missing that crucial penalty anyone else would have died of a heart attack, but he kept his chin up and took the first kick of the shoot outs. I say bravo to the young man. As for John Mensah, my goodness was that a backpass? Because it was certainly not a penalty, it lacked power and was a huge disappointment.
I must say this World Cup has been great. The goals are flowing now and teams are starting to play an open game. I was really shocked by the Germany - Argentina result, not that Diego Maradona's men were beaten, but because the Mesut Ozil inspired side score only 4 goals when they could have got a dozen.
The refereeing has been terrible though, but the match officials are also human and they make mistakes, which fans and the receiving team are forced to forget with a simple, sorry word from FIFA. Sepp Blatter and his office have finally "opened doors for the technology debate" but my question is how long will the teams continue to suffer the injustices of refereeing? The men in black do need the aid of video replays at times, the same way their cricket and rugby counterparts do.
Why can't democratic values be applied in football? This autocratic way of running the game by protecting match officials will kill the game. All I am asking for is that, since FIFA refuses to agree with England and Ireland's call for a video official then let's meet half way. In politics which of course is a dirty game, if they don't agree they reach a compromise, so in the beautiful game let's try it too.
All am asking for is that FIFA should avail referees for a post match conference to account for their decisions. As journalists we are left to guess what the match official was thinking when writing for our readers and our thoughts are always different, we are humans too after all.
Players and coaches are forced to account for their team's performance in a room packed with journalists and bouncers at the door making sure only those with the right credentials to enter the room. Why can't the same apply for match officials? Get them to answer question that we are left guessing answers for. FIFA is refusing to comment on the dubious decision, but I am sure the decision makers would be more than willing to answer their critics.
25 June 2010


What a World Cup are the words that come to mind after yesterday's "shock elimination"of Italy. This means that the 2010 showpiece continues without the host nation, defending champions and of course the losing finalists of the last tournament held in Germany.
South Africa, Italy and France are all out, Uruguay and Paraguay were just outstanding maybe its time we as the country change our name. Who knows it could change our footballing fortunes too, I just love the way the Latin Americans are doing it on the pitch. "South Africa" is just a geographical location so lets try "Souruguay" in 2014 and see where that will take us or maybe "South Afrigentina".
At the post match conference in Ellis Park Marcello Lippi couldn't stop apologising for a dismal showing the Italy coach's charges displayed here in South Africa. He reiterated that he takes full responsibility for not "training the team enough, mentally, tactically and physically". All I can say is that when it's not your day its not your day, it is visible that luck does exist in football.
Slovakia were and are still my bet for the underdogs that will cause many upsets going to the final. To show my affiliation with them I even changed my facebook name to Clydeslav Slyde Tlouvic, they caused an upset and trust me more are still to come.
Tonight I am at Loftus stadium, where Spain are taking on Chile and in a casual chat with the SABC TV Commentator Sizwe Mabena believes Chile will cause an upset, not just in this game but in the tournament generally. Lets wait and see if the man popular for his, "Yeeeessss" shout when a goal is scored has what they call the commentator's curse.

23 June 2010
We did not qualify to the next round, but we beat France and also finished in third position above the 2006 World Cup losing finalists. Beating Raymond Domenech's charges is exactly what the whole country wanted, the sounds of the vuvuzela made a welcome return in our neighbourhoods.
Now the question is why did Bafana Bafana decide to save the best for last? In the opening game a family tragedy denied the boys some Madiba Magic. This was after former President Nelson Mandela was forced to withdraw his visit to Soccer City for the opening game because a car accident had robbed his family of a member. We played a draw against Mexico without the Madiba Magic.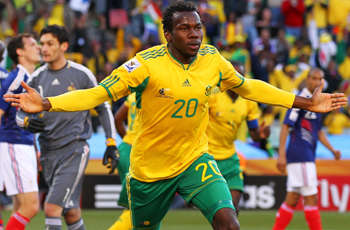 Prior to the Tuesday game against France, the team was treated to some Jordan Magic. Yes indeed the Chief Executive Officer of the Local Organising Committee Danny Jordaan visited the team and gave them a pep talk.
"What happens in Tuesday's match is what this country will remember. You must not dwell on what happened before. We can do nothing about what happened in the past.
Sometimes, in life and even football, we have days where nothing works. You have had that day. As players you will remember the first moments and the last moments when you are on the field. You gave us an incredible first moment." he was quoted on Supersport.
Indeed the boys gave us an incredible first moment and an incredibly great final moment. Maybe if we had that Jordaan Magic in the game against Uruguay we would be talking a different story today, and relishing a second round spot.
22 June 2010
I woke up in a place that said to me I can be who I want to be as long as I have the zeal and belief that I need. Today as South Africa takes on France my message to the boys is simple, it's all in your hands. My bad, I meant it's all in your feet we are not playing Ireland remember its the Les Bleus. One thing is for sure, it will be very difficult but not impossible.
It was back in 1998 when we made our World Cup debut and France gave us a baptism of fire, 3-0 was the scoreline but they were in their home country. Now it is in our own backyard, with the most passionate fans of Bloemfontein, they call it the City of Roses but there won't be any roses for the French today.
21 June 2010

Sometimes one should keep things as simple as possible and in this piece of writing I am not going to use the dictionary of football writing that I possess deep in the hard drive of my head. The antivirus is working so what I am going to say is surely clean and has no deliberately misleading motives.
I woke up this morning and thought I should just define this World Cup in one word, and the first word that came to my mind was 'shocking'. Indeed it is shocking how the 2006 World Cup champions and losing finalists have performed.
I said we are keeping things simple this time. Italy in a single word can be described as 'Jittery'. France, after the way they have been performing and behaving, will be described as 'Fragile'.
Now let me leave it to you to describe the tournament in one word and also each participating team. Think about it, only a single word folks...
20 June 2010



Saturday June 19 should be declared "The Day Of Two Nics" and be added on the calender of all footballing nations as a day to remember concerning the 2010 FIFA World Cup.





Yesterday was a day of happiness for Nicklas Bendtner and doom for Nicholas Anelka. Of course the latter means a bit of hope for South Africa as we will be facing France on Tuesday in our final game of the group. As I write this today is Father's Day and I must say I would be a proud son if Bendtner was my dad and of course a not so proud one if I was born of Anelka, as he has shown no respect to someone's father.





Nicholas Anelka was sent home for his alleged indecency, and then he immediately announced his retirement from international football. Come on buddy , you know you don't mean that as you will be returning to the French colours when Raymond Domenech's contract ends and somebody takes over, right? Even our very own Benni McCarthy once retired from international football after he had be accused of cooking up a players uproar in demand of reasonable bonuses.





He later made a return when South Africa hired coach Carlos Alberto Parreira, I bet with the last penny in my pocket Anelka will be announcing his return to international football again.





Bendtner scored a goal that started the vanishing act of an African dream but never the less African kids love you and even gave you the nickname Ben 10 after a favourite cartoon hero.





Cameroon ,Cameroon, Cameroon! How many times did I call you? Three. Correct, that means you really disappointed the whole continent after the people had come out in numbers to support you at Loftus. Now just do yourselves a favour and win the last game so we can have at least some of the lost pride back, and the same goes for you Bafana Bafana - six goals against France is a mountain to climb. One thing for sure, it is very difficult but not impossible.



19 June 2010

Wayne Rooney, the best striker in the world according to those who are emotionally attached to the sometimes-unruly striker. Well the man or rather let me say the boy, because of the way he has been behaving on the pitch of play is firing blanks in terms of goals but his mouth is surely firing on all cylinders, if only the form of his mouth could translate to his feet he would be challenging for the World Cup Golden Boot.
Thank goodness football microphones on the pitch side are not like those in used in cricket. Fans do not get to hear the abuse that opposition players and the referee in particular have to endure for 90 minutes.
I bet if those microphones could capture the utterance from Rooney's mouth then parents could be forced to send their kids out of the house during day matches and to bed during night games involving England. If Rooney was a movie, I wonder what would the age restriction for his audience be.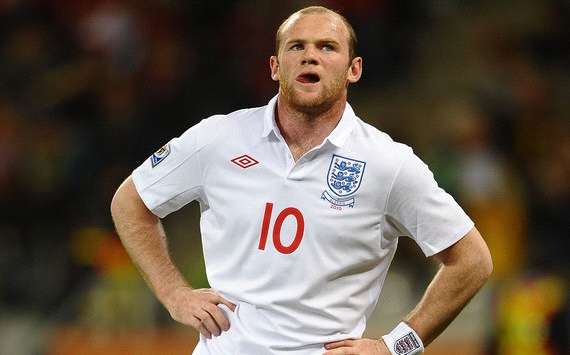 I was really disturbed to read about Rooney lashing at England supporters for booing him and his team mates. Listen here Wayne, fans pay to watch you play good football and you get paid for them to watch you dazzling the opposition with football skills not yelling at their reaction after a less than fruitful game.
Many would agree with me that football is no longer just a game, it has grown into much more than that. It is more commercial now, and therefore in business terms "The customer is always right", so Rooney, the fans have the right to boo you, after all they are the customers in this case. I'm glad to see he apologised, now lets see some good football from the lad.


15 June 2010
For the duration of the tournament thus far I have been based in Gauteng, the main province with two host cites Johannesburg and Pretoria, the city of Champions. This being my first outing to a nearby city, Rustenburg, popularly known as the Platinum City I am haunted by images that the English quickly want to forget.
I am at the stadium where England played a 1-1 draw against the USA. One thing is for sure, it is cold today and I will need to stay warm during the match I am about to watch. New Zealand, they call themselves the All Whites and I must say they are not as robust as the All Blacks - their rugby team. They are facing Slovakia under the chilly weather with blue skies.
Slow-vakia, are they quick going forward? Newz-land, will they make the news for all the right or wrong reasons? I have a great appetite for this one considering what Paraguay did to the Italians, few chances on target and but still a goal was produced. Lets wait and see...

13 June 2010


Africa celebrates tonight after Ghana's solid perfomance that saw them overcome Serbia at Loftus Stadium, I call it the House of Pain or The Theatre Of The Vistors' Skull. One down, who is next? I pity Uruguay. Sunnyside, a popular clubbing zone about five minutes drive from Loftus Stadium has been painted green, red and yellow as the party begins. Most Ghanaians reside in the area, but today it's not about Ghana, it is about Africa as we shine! Waka waka!
This World Cup has many stories to tell, discoveries which will need a museum to keep for future generations. I just learned something new, when a goalkeeper errs we don't say he has butter fingers or worse say he is failure. The new term for a goalkeeper making what was formally called a mistake is, The Green Moment. I am not putting one across the England goalkeeper, he is a good fella, so why should I add to his misery?
Rooney this, Rooney that. I am tired of hearing this and I must say my 'witch doctor' tells me that Rooney will not even score a single goal in this World Cup. This prediction is like skating on thin ice, but his temper could cost the Manchester United man two matches. Somebody tell me, did you realise that the cameras spent more time on David Beckham than Rooney on the pitch let alone Fabio Cappello on that very same bench. Who is the coach really?

12 June 2010
So the sceptic and cynics watched with a keen eye on the opening day of the World Cup, waiting to pounce on any lose ends. From the organisational side to the information distribution end and happenings on the pitch, I bow to those who got their hands dirty to make a clean start.
Indeed this is arguably the most colourful tournament as fans from across the globe graced the streets with colour.
It is time for Africa and the continent is shining, it is indeed "waka waka" as Shakira and local music group Freshly Ground have be lauding. I have never been a big fan of William Shakespeare but I vividly remember one phrase from his book Macbeth when he said, "Life is but a walking shadow, a poor player who struts and frets his hour upon the stage and is heard no more. It is a tale told by an idiot full of sound and fury signifying nothing."
Whatever criticism will be thrown at us now is but a loud sounding nothing as we have proved as a continent and as country in particular that what doesn't kill us can only makes us stronger.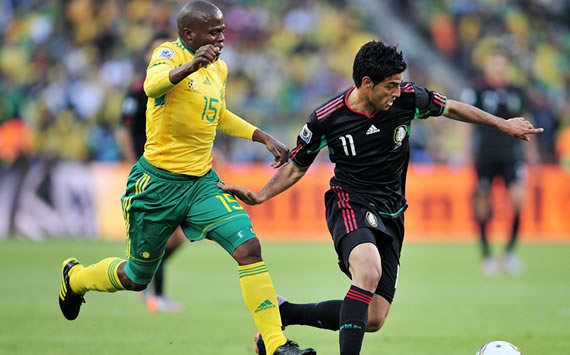 Allow me to take my hat off now and say congratulations to Bafana Bafana midfield maestro Siphiwe Tshabalala for completing a dream half century of national team caps. What a way to mark such a milestone with an opening game of the World Cup and scoring an opening goal of the tournament, not forgetting being voted Man of the Match. Well done "Shabba". He surely lived to his other nickname, "Ntho tse monate" which means "Nice Things" in Sotho.
The celebration that the local boys performed surely had our visitors puzzled and entertained at the same time. If you were one of those who fall under the puzzled crew, let me solve the mystery for you. That dance was taken from a commercial that the team recorded for one of their major sponsors and it was remixed with the popular "Diski Dance".
In a casual chat with one of South Africa's legendary goal poacher Mark Williams, he expressed his disappointment at the chances that went begging, however remained optimistic that we will prevail to the next round.
"We played very well but missed too many chances. Come next game in Loftus we will win that one, if the Blue Bulls came and won it in Soweto then Bafana Bafana will also do the same there," he said, referring to the rugby giants based in Pretoria who just lifted the Super 14 title the first time they played their home game away.
Remember I told you South Africa is yet to lose the 13th game, so we have maintained the unbeaten streak, and now all that is left is for us to win the World Cup.
How did I forget this one, a warm welcome to Thierry Handry. My bad, wrong spelling, I mean Henry, the French striker who had his goalbound shot against Uruguay blocked ironically by hand and his appeals for a penalty were turned down in a goalless second game of the World Cup played in Cape Town, the Mother City.