Goal.com
, in association with Coca-Cola, are counting down the Top 50 World Cup memorable celebrations of all time. From Maradona to Milla, all your favourites are there but in what order?
As the excitement builds ahead of the finals in South Africa, stay with us every day until the eve of the finals on June 10th to find out which celebration has been named the greatest of all time.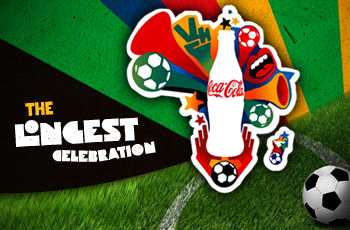 Coca-Cola Memorable Celebrations Countdown
50:
Francesco Totti & Fabio Cannavaro embrace (Germany 2006)
49: Josimar raise his arms aloft for Brazil (Mexico 1986) 48:
Negrete gets his hair pulled after scoring a screamer (Mexico 1986)47: Zenden's pathetically funny somersault attempt (France 1998)46:
Matthaus falls on his backside and takes a tumble (Italia 1990)45:
Bergkamp screams his own name against Brazil (USA 1994)44:
Damien Duff takes a bow against Saudi Arabia (Korea/Japan 2002)43:
Ballack reveals that Germans have feelings too (Korea/Japan 2002)42: Garrincha has a whisper in Amarildo's Ear (Chile 1962) 41:
Spiderman makes his appearance for Ecuador (Germany 2006)40:
Jurgen the German does the jump around (Italia 1990)39:
Mexican Magic From Hugo Sanchez (Mexico 1986)38:
Ronaldo's Comeback Double (Korea/Japan 2002)

37: Junichi Inamoto sends Japan absolutely crazy (Korea/Japan 2002)
36: Lilian Thuram has a think against Croatia (France 1998)35: Robbie Keane's Robin Hood effort (Korea/Japan 2002) 34:
Careca turns on the Samba style against the Swedes (Italia 1990)
33:
Finidi George goes barking mad (USA 1994) 32:
Julius Aghahowa (Korea/Japan 2002) 31:
Gordon Strachan takes time for a Camel (Mexico 1986) 30:
Ahn Jung Hwan Goes Skating For South Korea (Korea/Japan 2002) 29:
Model behaviour from Brian Laudrup (France 1998)28:
Francesco Totti sucks his thumb (Germany 2006) 27:
David Beckham's revenge against Argentina (Korea/Japan 2002) 26:
Ray Houghton rolls over the Italians (USA 1994) 25:
Pele's teenage tears of joy (Sweden 1958)
24:
Hristo Stoichkov gets angry (USA 1994) 23:
Ronaldinho goes dancing after cheeky goal (Korea/Japan 2002)22:
Fabio Grosso does his best Marco Tardelli impression (Germany 2006)21: Tomas Brolin takes a leap for Sweden (USA 1994)
20: Uruguay stun Brazil in the Maracana (Brazil 1950)

19: David Platt flashes some teeth after Belgian winner (Italia 1990)

18: Archie Gemmill punches the Dutch down to size (Argentina 1978)

17: Toto Schillaci goes a little loco (Italia 1990)

16: Bobby Charlton lets one fly then takes off at Wembley (England 1966)
15: Brazil's Bellini lifts the World Cup for the first time (Sweden 1958) 14:
Papa Bouba Diop does the Senegal shirt dance (Korea/Japan 2002)13:
Net Kicking Antics After North Korea Stun Italy (England 1966)12:
Jurgen Sparwasser Shows East Is Best (West Germany 1974)11: Falcao Goes Brazil Nuts (Spain 1982)10:
A French kiss from Zinedine Zidane (France 1998) 9:
Maradona's joy and relief after the goal of the century (Mexico 1986)
8: Rashidi Yekini lets it all out after making history for Nigeria (USA 1994)
7:
Mario Kempes goes for a run across the ticker tape (Argentina 1978)6:
Geoff Hurst gets greeted by Alan Ball after historic hat-trick (England 1966)5:
Bebeto Does The Cradle Rock (USA 1994)4:
Diego Maradona goes mental on camera (USA 1994) 3:
Roger Milla's magic moves for Cameroon (Italia 1990)2:
Marco Tardelli's incredible Italian scream (Spain 1982) 1:
Pele's iconic leap of joy after scoring Brazil's 100th goal (Mexico 1970)

Feeling inspired by the celebrations? Why not get involved and you could win a dream all expenses paid trip to the finals in South Africa. Simply log onto www.youtube.com/cocacola to post your own celebration and you could be on the plane to the World Cup. There are some fabulous runner up prizes to give away including thousands of copies of EA FIFA 10 and EA FIFA WC to give away too.