Another week, another set of losses to report; I'm starting to understand how Paul Jewell must have felt in the 2007-2008 season as I have recorded more losses now than his record breaking Derby side.
No matter the thought process, no matter the amount of research that goes into the bets and no matter the amount of lucky heather I have bought from the local gypsy lady - enough to put her children through college in this case - things just are not happening for me from a betting perspective.
You know what though? One thing I've learnt over the years is that a bad run of luck whilst betting is as sure a thing as an Ashley Young dive – it's a 100 per cent that it is going to happen at some point during the season.
"Another week, another set of losses to report; I'm starting to understand how Paul Jewell must have felt in the 2007-2008 season"





- Simon is determined to turn around his poor form

Therefore, rather than panic and start chasing losses with crazy bets and bigger stakes, you have to take a realistic look at what you are doing and lower your stake accordingly, ensuring that your risk is at a minimum. Then, much like Owen on the bench at Stoke, you just sit there. Sit there and wait for your betting mojo to return.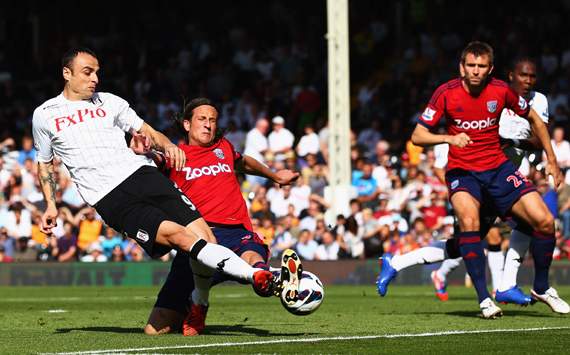 Last week, Dimitar Berbatov, despite playing well and setting up Rodallega's goal, failed to score and cost me my first bet, not to mention the bagful of fantasy football points I had anticipated him getting - thanks Dimitar.
Whilst Southampton and Villa went exactly the way I said and both teams scored easily, it was West Brom and Reading that failed to deliver on the overs market, costing me my double.
Whilst I was the loser of the week, I'm happy to say (albeit through increasingly gritted teeth) that we did have a winner in our weekly Paddy Power £20 free bet competition.
There were numerous entries and many of you went close with some big accumulators, but from two victorious bets, the winner was Thomas Akehurst who tipped Wolves to win at Peterborough at 6/5 (2.20). There is, of course, another free bet to give away this week and details can be found below.
Steven Fletcher to score anytime
My first bet is in the Sunderland v Wigan match and is an anytime scorer bet. This season, Sunderland have recorded four draws to give themselves four points, having scored four goals and conceded four goals in the process. That is a lot of fours!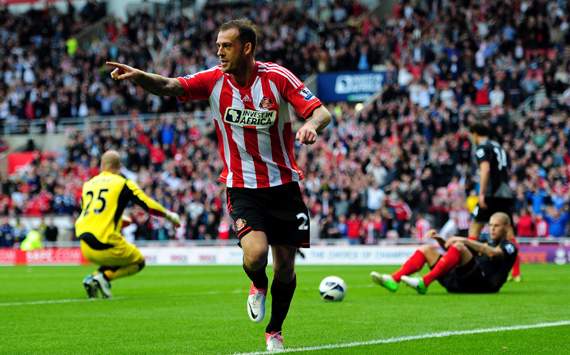 Whilst they have looked solid and hard to break down, they are not going on to close games out and that must be a worry for Martin O'Neill and the Sunderland board.
The visit of Wigan is the perfect chance to record their first victory, but Wigan will not go down easily having recorded away wins against Southampton in the League and West ham in the League Cup.
A lot has been said about the amount of money spent by O'Neill, but one of those signings is already proving his worth, having scored all four of the Mackem's goals this season.
Steven Fletcher has looked incredibly dangerous against all levels of club and against Wigan, it should be no different. He is currently
11/10 (2.10)
to score at any time and as the main out-and-out striker, playing at home, this price is a tad on the big side. £10 of my bankroll goes on this.
Huddersfield to beat Watford
My final bet of the week is in the Huddersfield vs Watford match in the Championship. The home side find themselves second in the league with 14 points and on a massive run of form having taken 13 points from their last 15 in the league.
Not only that, their last two victories both came away from home; in a Yorkshire derby against Sheffield Wednesday and against an impressive Blackpool side on Monday evening. Both of these victories finished 3-1, so to say that confidence is high amongst Simon Grayson's men is an understatement.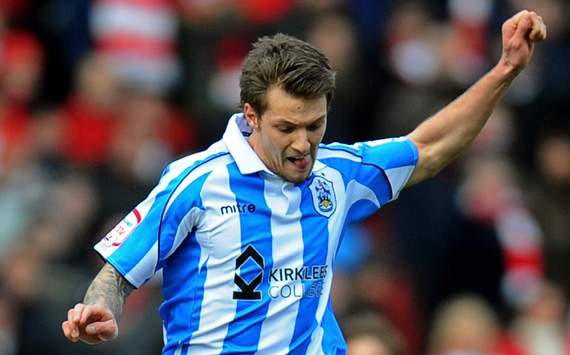 Watford, for all of the buzz around them pre-season, with new owners and Gianfranco Zola at the helm, they have really failed to muster any results to shout about having taken just one point from their last available 12. Therefore, my money is on a home victory in this fixture. £10 at a best price
11/10 (2.10)
with Paddy Power.
Wherever you are this weekend, enjoy your football and your betting and remember that we have got a £20 free bet to give away each week thanks to Paddy Power. To win just email your best tip for the weekend with the word "Power20" in the subject line.
Be it a well-priced single, an ambitious multiple or any other bet available in all of Paddy Power's football markets around the world for games taking place from September 29 - October 1; surely you can find a winning tip! Just send in your selection, the price available at Paddy Power, and include "Power20" in the subject line before midday on Saturday to enter. Good luck!
Diary of a Punter: Simon's Selections this week

Balance at the start of the week: £404.50

Profit on the season: -£95.50

Sign up with Paddy Power for up to £250 in free bets
Simon Pilkington is a sports writer, an avid supporter of Liverpool FC and has been betting on sports for the past 13 years.
Follow Simon on

Follow Goal.com Betting on

for the latest tips.