Kris Voakes

Euro 2012 correspondent


Follow on
COMMENT
Eleven days ago, I went along to the Euro 2012 Local Organising Committee's headquarters in Kiev on the 21st floor of a building overlooking the Olympic Stadium where Sunday night's final will take place.
There I met some of the children still affected to this day by the fall-out of the nuclear catastrophe in Chernobyl in 1986, who had been invited along by Uefa president Michel Platini to attend the Sweden v France Group D match later that evening. It was a really touching idea, bringing uncontrollable smiles to the kids' faces, and those present were quick to make the point that it was Uefa that had initiated the visit – and Platini himself who had first brought up the conversation – in a bid to help leave a positive legacy in the region before the Euros ends and the continent's football fans disperse.
Chapeau, Monsieur Platini. Well done, Uefa. It left a really positive mark on me.
Unfortunately, the feelings of good have quickly evaporated. With every other contact with Uefa came logistical issues left, right and centre. The disorganisation reached preposterous levels, in my capacity both as a supporter and a media representative. Everything Uefa touched turned to mould. And yet the locals in Kiev were magnificently helpful, ensuring that there were plenty of positives to be taken away from the experience.
Beyond the personal story, there were a million more reasons to call the governing body into question, from the disproportionate fines handed out, ludicrous ticket prices and other such nuisances. But Platini really took the biscuit in a press conference this Saturday lunchtime.
"The Euros in 2020 could be held all over Europe," he told the assembled masses. "It could be either one country and 12 stadiums or one stadium in 12 or 13 cities.
"The matter will be discussed very seriously."
You have got to be kidding, right? How has that even come up as a possibility, let alone been taken anywhere near semi-seriously? The idea is simply horrible, and threatens the whole concept of tournament football.
The truth is that Uefa have backed themselves into a corner by extending the competition to 24 teams. Few countries across Europe have 12 stadia fit enough to hold a major championship, meaning that unless the competition is going to be passed back and forth between England and Germany – and perhaps, at a stretch, France – every eight to 12 years, there will become a need to spread the finals across more than one, sometimes more than two, nations on an increasingly regular basis.
But to say that the finals in 2020 could be played all across Europe is to damage some of the key positives that tournament football delivers. Not only does it cut down travelling for fans and teams alike, the hosting of the competition by one or two countries makes the experience more inclusive, more friendly, more governable. When else do you get to see fans of so many countries stand side by side as happens at the host cities' Fan Zones? The finals as they stand now also provide a greater chance to inject money into needy areas and projects, leaving a genuinely positive mark on countries with the influx of visitors and with initiatives like the one which brought the children of Chernobyl to Kiev.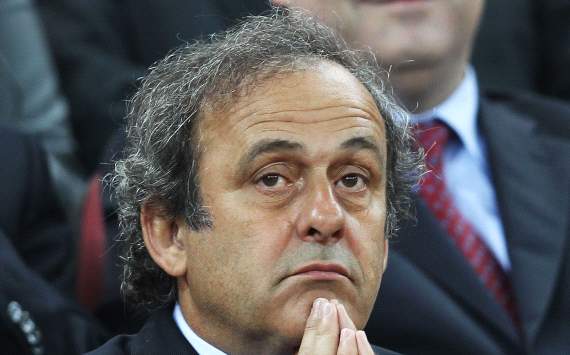 Losing the plot | Platini has proved a controversial head of the European game
But how would the new format even work? Would it simply be reduced to a home and away format as happens with qualifiers, and if so, is it just a step towards an international league? Or would, for instance, Poland play France in Spain on the same day Denmark play Italy in Poland?
Have fans been consulted on this issue, or did it simply take a couple of meetings of Uefa's Executive Committee to decide that the whole landscape of international football on the continent could be changed forever? Were the supporters ever even thought of?
Platini claimed in the press conference that low-cost airlines could be used by fans to fly between games in future finals spread across a range of countries, but has he ever tried booking a flight when there's a major international football match on? I can tell you, Monsieur Platini, that 'low-cost' suddenly becomes less a promise and more a tagline when airlines see the chance to sting commuters who can't simply choose another weekend to get to where they want to go.
This ill-conceived idea could be the death of international football as we know it, and yet it is no surprise that Uefa has come up with something so ridiculous. The more involvement it has in football, the further it takes the game away from the supporter. More tickets than ever before go to corporate guests. Less and less decisions are made on behalf of the fans. Greater disorganisation hampers travelling fans' matchday experiences. It's all just getting too ridiculous now.
It is a damning indictment of the European football chiefs that this idea has even been discussed, let alone unveiled to the world. But it is simply the latest in a long line of proposals which have further alienated football fans. If this latest move goes through, Uefa will lose the very few friends it has left.