Kris Voakes

Euro 2012 correspondent


Follow on
COMMENT
By the early hours of Monday morning, it will all be over. Euro 2012, which has brought enjoyment and agony in equal measure on the pitch, and both tension and camaraderie off it, will be a thing of the past. One of Spain and Italy will be crowned European champions, and the continent will return to talk of club issues before the World Cup qualifiers begin in September.
But, for Uefa, there will be a lot of counting of extra cash to be done. At a tournament in which a total of over €1 billion was expected to be generated in total revenue, the governing body has racked up a further €506,000 in fines, thanks to an unprecedented run of punishments handed out by the organisation's Control and Disciplinary Body.
Uefa says it will use the money received under its usual policy, with a spokesperson telling Goal.com: "All fines imposed are used to fund charity organisations and projects such as the RESPECT campaign, but also others not related to football."
What Uefa is saying by continuing with this policy is that their management of recent situations has been an effective enough deterrent against repeated violations, but does the governing body really have evidence of that? If so, proof of this effective change needs to be made transparent, and consistency across the board needs to be maintained, with well-publicised guidelines in the future.
The reason why this is necessary? Well, the punishments handed out over the past month have been tossed around in such a hap-hazard manner that many have rightly called Uefa's motives and effectiveness into question.
The heaviest sanction of all of those handed out in the last month by the Control and Disciplinary Body was that of €120,000 against the Russian football federation after a number of its fans were caught on CCTV attacking stewards as they left the Municipal Stadium in Wroclaw following the 4-1 win over the Czech Republic on the opening night of the tournament.
The same body was, incidentally, fined another €30,000 for racist behaviour at that match, and would be slapped with four bills worth a grand total of €215,000 for incidents over the eight-day period of Russia's participation in Euro 2012.
But the severity of those fines is lessened when taking into account the sanctions on Nicklas Bendtner after the Group B match between Denmark and Portugal. The Dane was stung for €100,000 and suspended from his country's first 2014 World Cup qualifier after a charge of improper conduct was brought against him following his goal celebration. The striker dropped his shorts slightly to reveal 'lucky pants', which sported a sponsor's logo.
With several players having previously shown their underwear and receiving much smaller fines, Bendtner was clearly being picked on more for his act of ambush marketing than he was for any distasteful display of undressing. More than anything, it clearly irked Uefa that the Arsenal forward flashed the name of a non-affiliated brand. Russia being fined €120,000 for crowd violence is a good thing, for sure. But against Bendtner's charge of £100,000 for showing his pants, it suddenly seems like small potatoes.
While Uefa's decision to take a harder line on some of the behaviour demonstrated by fans is to be praised, the continued ambivalence towards the more important issues blighting the modern game – and modern society – is a worry to say the least. Much has been said about the reprisals handed out over displays of racism, but it deserves further discussion.
THE EURO 2012 RAP SHEET | Fines handed out by Uefa this month

| | | |
| --- | --- | --- |
| Country/player | Fine | Charge |
| Russia | €120,000 | Crowd disturbances, throwing of fireworks, display of illicit banners |
| Nicklas Bendtner | €100,000 | Improper conduct (display of underwear) |
| Croatia | €80,000 | Throwing of fireworks, racist chants, display of racist symbols |
| Russia | €35,000 | Throwing of fireworks, display of illicit banners |
| Russia | €30,000 | Racist behaviour, racist chants |
| Russia | €30,000 | Throwing of fireworks, display of illicit banners, pitch invasion |
| Croatia | €30,000 | Inappropriate and racist banners |
| Germany | €25,000 | Improper conduct of fans |
| Croatia | €25,000 | Throwing of fireworks and missiles, isolated pitch invader |
| Germany | €10,000 | Throwing of fireworks |
| Portugal | €7,000 | Attempted pitch invasion |
| England | €5,000 | Attempted pitch invasion |
| Portugal | €5,000 | Delayed kick-off of second half v Germany |
| Poland | €4,000 | Throwing of fireworks |
| TOTAL | €506,000 | |
Eight years on from the decision to fine the Spanish football federation €50,000 for racist behaviour by its national team's supporters in a friendly against England, the same body was slapped on the wrists and handed a €20,000 bill for similar behaviour in the Group C clash with fellow finalists Italy on June 10. While the intensity of the abuse may not have reached the levels it did in Madrid in 2004, the fact that the level of punishment has dropped is a damning indictment.
Ok, so that €20,000 fine is the smallest related to racism of all of those handed out during the tournament, but not by much, and it comes against a set of fans that have previous. It was one of five bills so far handed out for racist abuse by supporters, with Croatia's governing body (HNS) receiving the strictest punishment (€80,000) after their group game against Italy, but that came as a collective rap "for the setting-off and throwing of fireworks, and the improper conduct of supporters (racist chants, racist symbols)" as Uefa explained in its official release.
Still, that most hefty of fines was much less than Bendtner was asked to pay.
It can be considered – by deducting the standard fine for the firework use – that the racism displayed cost the HNS around €50,000 of the overall sum, meaning that five separate racist incidents have been punished by a total of €190,000 in fines. On top of that, Croatia's two counts of racism come on top of a previous offence in 2008, when the HNS were forced to pay €18,800 for chants at England's Emile Heskey.
In a modern game in which such relatively small amounts are generated at the drop of a hat, the governing body could be doing much more to make a statement over such acts. It is not as though it is beyond Uefa's means to hand out more severe sanctions, as proven by the astonishing fine and ban given to Bendtner. It simply serves to emphasise that while the governing body want to be seen to be taking action, in the grand scheme of things they are barely scratching the surface.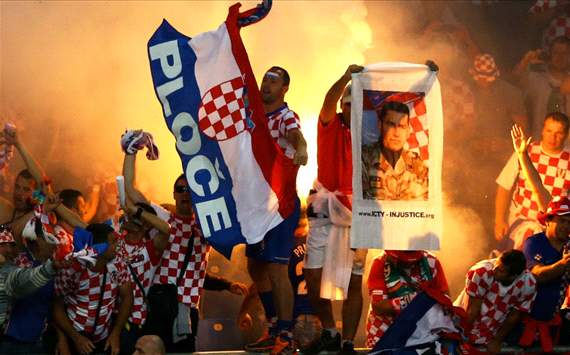 Croatia fans | Their behaviour cost their governing body €135,000 in fines
That complete overreaction to Bendtner only serves to highlight that much stiffer punishments need to be dished out if lessons are to be learned in other areas. Demanding such small amounts for crowd trouble and displays of racism, then fining Bendtner so heavily for showing his pants, is like opening a swear jar at a cost of a penny per word, then demanding €50 from somebody who sticks their tongue out.
Show Racism the Red Card chief executive Ged Grebby told Goal.com that he felt massively let down by the differing levels of punishment between the Bendtner incident and the behaviour of the Croatia fans.
"It suggests that if you upset our sponsors that you will get a bigger fine than a team whose fans are guilty of racism and that is unwelcome," he said.
"It is a shame because the overall message on anti-racism has been really strong and that has come from Michel Platini at the top [down] to the billboards at the grounds.
"All in all we are happy with the way Uefa have been dealing with racism but it just seems to me that this fine for the Croatian FA is simply not big enough."
In 2010, Fifa donated its disciplinary fines from the World Cup to the Football for Hope Centres which were being set up around Africa between 2009 and 2012, but Uefa has reiterated its intention to make no further stand against racism in the distribution of June's intake.
Maybe given the large number of racism-related incidents which have been involved in this year's huge €506,000 sum, a change in policy could be made on this occasion, with the entirety being given to Football against Racism in Europe. It is a charity which Uefa already lists among the beneficiaries of its Core Partnerships programme, and may well get a reasonable cut anyway, but as a statement of intent in battling against the game's and society's ills, such an act would be a great answer to those who have questioned the governing body's intentions over racist incidents.
As things stand, it does send a positive message that they have looked to punish local bodies for the misbehaviour of supporters, and there should be some measure of recognition given the totals involved from fines, but there needs to be a clearer structure set in place and a more considered approach regarding what is more damaging to football and to the continent in general.
The game of football consistently proves itself to be in a position of great power, uniting people like nothing else can – the Euro 2012 fan zones alone are proof of that. And it is high time that priorities are sorted at the top of the game in order that we all move forward together. Taking a more hard-line stance on misbehaving supporters? Good. Deeming five separate acts of racism comparable to two players showing their waistbands? Bad.
Uefa clearly still has a lot to learn.