ANALYSIS

By Sergio Stanco
Italy
's quarter-final win over England has given them a massive boost in terms of motivation, while also bringing out their physical and psychological experience at a vital stage of Euro 2012. But as they prepare for their semi-final fixture against Germany, they will be fully aware that from now on they come up against countries of equal standing in all of those categories.
Despite all of the talk of disadvantages thrust upon them by the fixture schedule, the
Azzurri
can still dream of glory, just so long as the strikers finally begin to pull their weight. Against Roy Hodgson's side on Sunday, Italy dominated to a ridiculous extent, with nearly 40 shots at goal over the 120 minutes, yet they risked being hit by a sucker punch and even went behind in the penalty shoot-out before finally pulling through.
During Euro 2012 so far, coach Cesare Prandelli has used almost all of the forwards at his disposal, with only Fabio Borini yet to get a look in. However, but for the 2-0 win over the Republic of Ireland, all of Italy's games have been started with Mario Balotelli and Antonio Cassano as the strike partnership, despite them having yet to fully repay the
commissario tecnico
's faith
The feeling among many is that Prandelli will again pick the same pairing to start on Thursday night, but to shuffle his pack a little may be to surprise Joachim Low with a new angle of attack. After just four goals in four games, Prandelli may do well to think of every possible options. But while there are many alternatives that come to mind, each have its benefits and drawbacks.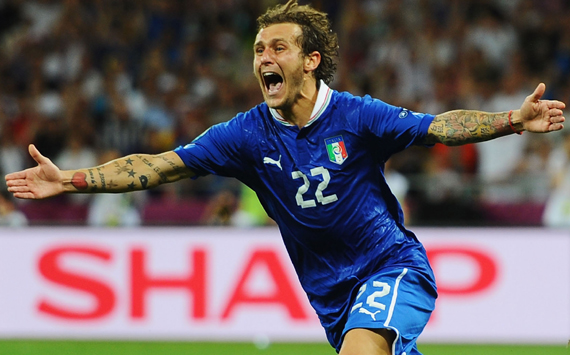 Alessandro Diamanti is in superb form, has shown that he can handle the emotion of the big stage, and even proved that he can run with the new responsibility of being Italy's 'go-to' man with his substitute performance against England, playing just behind Balotelli. Other than the Balotelli-Cassano partnership, the introduction of the Bologna playmaker is the option most likely to be taken by Prandelli.
That would be because Diamanti would provide an extra boost from a tactical point of view, offering something new for Low to think about. The Germany coach's favoured 4-2-3-1 is likely to be stretched that little bit more by having a true playmaker to deal with between the lines.
Playing with two men (Riccardo Montolivo and Diamanti in a 4-3-2-1 'Christmas Tree' formation) behind Bastian Schweinsteiger and Sami Khedira, two good midfielders who maybe lack a little something when facing their own goal, could be decisive, forcing one of the two central defenders to often be more mobile, leaving Balotelli with more one-on-one opportunities in the penalty area.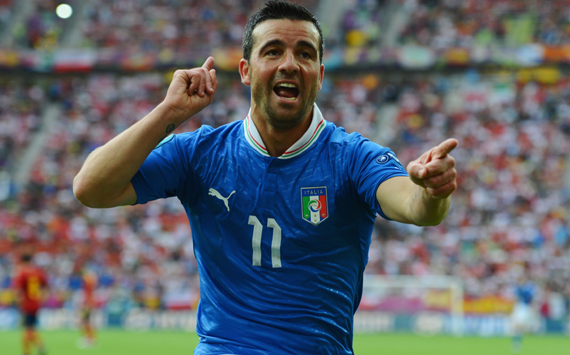 In such an important match, it is unlikely that Prandelli would drop somebody with the physical force of Balotelli, especially after he was so vital against England. Mario again found difficulty in front of goal, but his work against John Terry and Joleon Lescott on Sunday was fundamental for the
Azzurri
.
He made some errors in terms of ball control, and on another day it may have cost Italy in terms of the rhythm of their play, but he still took the attack to Roy Hodgson's men almost single-handedly at times. Still, it is true that up against tall but sometimes cumbersome defending from Mats Hummels (a phenomenal defender, but prone to the occasional lapse) and above all Holger Badstuber, the pace and incision of Antonio Di Natale could be deadly.
But again, it is tough to leave out Balotelli due to his tactical importance and Toto's attributes do not necessarily suit Mario's game. That means a start for 'Toto' is unlikely, though not impossible.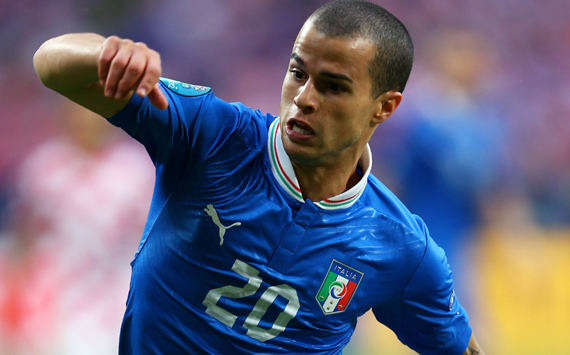 The
Azzurri
attacking hierarchy appears to have been set: Balotelli, Cassano, Diamanti, and then the rest. Diamanti wasn't expected to have much of a say pre-tournament, but was used against Ireland (ahead of Sebastian Giovinco) and then against England (even preferred to Di Natale), leaving him high in the pecking order heading into the Germany fixture.
For Giovinco it is a particularly galling turn of events, having performed so well after coming on against Spain in the opening game of Group C. He added a new dimension to the attack and showed great desire, but will probably have to settle for a role as a substitute at best from here on in.
Somebody like him though, as with Di Natale and Diamanti, could be a real determining factor in the big games to come. That is particularly the case against Germany, who could be split open at the back if Giovinco were allowed to get in amongst, and beyond, Badstuber and Jerome Boateng. Such a ferret of an attacker could really punish immobile defenders, and Low's side have a couple of them.
Fabio Borini, too, could have the similar kind of effect, but he seems likely to spend Euro 2012 only as a spectator.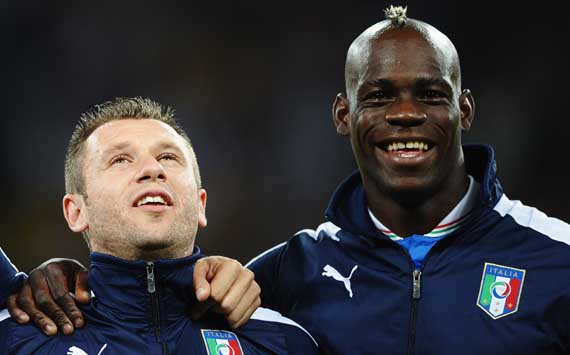 And so to the pairing leading the race to start against Germany. We do not believe that Prandelli will surprise everyone by reneging on his beliefs, nor exclude from the starting line-up the players that he has decided to base his project around.
His choice, though, will not only come from the heart, it would also be a rational tactical decision. Balotelli's role would be to beat Germany up through the centre, pulling Badstuber and Hummels out of shape as he did Terry and Lescott. That in turn would allow Montolivo to work between the lines, switching back into the midfield three as Andrea Pirlo, Claudio Marchisio and Daniele De Rossi make their advances from behind.
In this setup, though, the key is Cassano. The AC Milan man would be free to roam out to the wing as he loves to, getting into the face of Boateng from where he can cause the most harm to Germany.
To do that, though, the very best Cassano needs to show up in a way he has yet to do at Euro 2012. Now he has a golden chance. 'Il Talentino' can send Italians to paradise if he gets it right.