Jimmy Floyd Hasselbaink

Euro 2012 Columnist

WATCHING ENGLAND WAS LIKE GOING BACK IN TIME
I was very disappointed with England's display against Italy, they were so one-dimensional. Watching them play was like going back 10 years.
The Three Lions had some joy in the first half, but in the second half and extra-time they just kicked the ball quickly to Andy Carroll, who was asked to hold it up, usually lost it and that was the end of the move.
As coach, Roy Hodgson needs to work on a different shape, move with the times and leave the 4-4-2 behind. England need to move to a more international 4-3-3 system, where it is harder to break you down through the middle.
It was so easy for Italy to play through them that it was embarrassing at times. I do not even think the
Azzurri
played that well.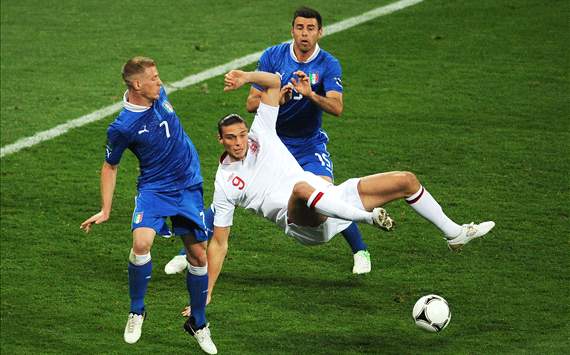 England just picked up the ball, hit it to Carroll and he had to hold it up while the other players were miles away
Hodgson's side did not really work hard enough to stop Andrea Pirlo. They could have messed up his rhythm by playing three in midfield and giving him less time on the ball.
Ashley Young was defending more than attacking, and it felt like it was a game for someone like Alex Oxlade-Chamberlain, who can keep the ball and is tactically sound.
England may have had a lot of trouble going into the tournament with injuries, and it was not the strongest squad on paper, but the problems concerned tactics as much as personnel. England had no chance from the start of the quarter-final because they were too square. It was very easy to play through their lines and Cesare Prandelli's team gave them constant problems.
England should have started with just one striker against Italy, and I would have gone with Wayne Rooney, but there were no problems with Carroll or Danny Welbeck.
Like the English, Germany have a big striker in Mario Gomez, but the Germans use him differently. They pass the ball around and do not just launch it to him from the back. They cross the ball only when they get near the box.
England just picked up the ball, hit it to Carroll and he had to hold it up while the other players were miles away. You are not going to have a chance if you play like that.
It is going to be very difficult for the older players like Steven Gerrard, Frank Lampard and John Terry to carry on with England; time catches up with everyone eventually. It is now time to bring in Jack Wilshere, Kyle Walker, Welbeck, as well a few others coming through the ranks, and build a new system around them.
DO NOT BE TOO HARD ON UNFIT ROONEY
Rooney had a so-so tournament, but we should not be too harsh in our analysis of him.
He needs the players behind him to give him the right ball. I would have preferred to have seen the Manchester United forward higher up the pitch and getting more chances than playing as deeply as he did in his two matches.
In terms of his physical condition, I know from experience that if you do not play any matches you are not going to be fit; you only get fit by playing and not by training, however hard you train.
I know people say the FA could have organised matches for him, but who is going to play with Rooney? His team-mates would have been overworked.
And, then, there is the subject of which teams you play against. You cannot play other international teams because they are either playing other matches or on holiday, and you cannot just play against pub players because Rooney could get injured. It is not easy.
GOMEZ IS THE PICK OF A BAD BUNCH
It has not been a great tournament so far for centre-forwards and I have no idea why, to be honest. It is very disappointing.
| | |
| --- | --- |
| The great disappointment has been Karim Benzema; I do not think he had one shot on goal for France | |
Robin van Persie had his problems, partly because certain players like Wesley Sneijder were not in great form, while Fernando Torres has not been as involved as I expected.
But the great disappointment has been Karim Benzema. I do not think he had one shot on goal for France, which was really strange.
Gomez has been the striker who has impressed me the most at the tournament. He has bounced back really well from missing so many chances in the Champions League final, which could have really affected his confidence.
DO NOT RULE OUT PORTUGAL AND CRISTIANO RONALDO
Germany look very solid but I have a sneaky feeling Portugal can upset Spain and even win the tournament.
The
Seleccao
are a counterattacking team and are really good at hitting teams on the break, so playing Spain will suit them. They have players that play in La Liga and are comfortable when the other team dominates possession.
Paulo Bento's side look really united and have a defence and midfield that do a good job. Cristiano Ronaldo has surprised me a little bit; he has played for the team, scored three goals, could have scored quite a few more and has looked really dangerous.
Germany have such a good squad but that might be their downfall. Joachim Low might not know who to pick and he has a dilemma over his attacking players. What do they do with Lukas Podolski? What about Gomez and Miroslav Klose? I would pick Gomez because he is such a big lump and is so dangerous in the air. He is more of a threat in the box.