Cristian Nyari


Germany Expert

Follow on
COMMENT
Mesut Ozil
's coach at Under-21 level, Horst Hrubesch, called him 'Germany's Messi' while the Spanish press singled him out as the "German [Zinedine] Zidane" prior to his move to
Real Madrid
. Suffice to say, there was never a shortage of pressure on Ozil but he has handled it admirably over the years.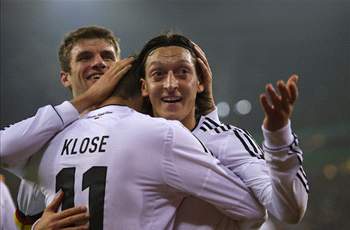 Ozil was crucial in Germany's historic unbeaten qualifying campaign, scoring five goals and assisting seven
In a little over two years, Ozil has gone from debutant to irreplaceable in Joachim Low's team. He is Germany's brain and creative engine and the focal point of all their attacks.
And even though an assembly line of talented young playmakers is coming through Germany's football academies, none have come close to replacing him.
Ozil was a crucial part in Germany's historic unbeaten qualifying campaign, scoring five goals and assisting seven in the nine games he played.
The 23-year-old is also coming off an impressive individual season with Madrid, in which he helped his side wrestle La Liga away from Barcelona and did so in record-breaking fashion, finishing as the league's leading assist-provider along the way.
In fact, few players create more goals than Ozil. In his last four seasons, he has directly assisted a mind-bending 131 goals for club and country, a stat that even the great Xavi would applaud.
It is no surprise then that he was tipped as one of the stars to watch at the European Championship in Poland and Ukraine. If Germany were going to live up to their potential Ozil was going to be the man to get them there. But after a subdued performance in Germany's group phase, people are wondering where the Ozil of 2010 is? Why has Germany's golden boy failed to live up to his usually high standards?
Part of it was circumstantial and had to do with Germany's opponents. Germany were only the ninth team since the group stage format was introduced in 1980 to top their group by winning all three games, and in the proverbial 'Group of Death' no less.
Germany out to prove doubters wrong But Germany did that at a cost, namely through a more cautious conservative approach which consequently also dulled their attack and Ozil's game. Low made no secret ahead of their opening game that part of the focus was on preventing Nani and Cristiano Ronaldo from using their pace to get behind the defence so both of Germany's wingers, Thomas Muller and Lukas Podolski, were tasked with helping out their full-backs and staying further back than they normally do.
Indeed, by playing closer to their full-backs, Germany's wingers overcame some of the most dangerous attacking players at the tournament but it also deprived Ozil of an outlet up top. Gone were the usual link-up options, the runs from Podolski into the box to use his left foot or Muller's trademark cuts inside.
And while few strikers are more clinical in front of goal than Mario Gomez, there is some truth to his incompatibility with Ozil. His game is more reliant on the service around him rather than carving chances out for himself.
Germany's other option, Miroslav Klose, on the other hand, is a more creative and mobile striker who looks to combine outside of the box and sets up plays as much as he finishes them. In qualifying, Ozil and Klose flourished and benefitted from each other's presence, developing an almost blind understanding.
That is not to say Gomez is incapable of being that outlet but it might be a case of the two still feeling each other out. Either way, one thing was clear, Ozil simply lacked the necessary support, something that even Low admitted following the Denmark game: "What was missing sometimes were options to pass. And he needs the others to run correctly to do it."
How Germany's opponents lined up against them did not help matters either; Portugal and Denmark too being particularly defensive in their matches.
Low remains steadfast in his support and expects Ozil to 'explode' just as he did in South Africa
Ozil commented after the Portugal game about how difficult it was to break down a team defending with eight or nine men in their own half, struggling to find the right runs from his team-mates or the channels to play his deadly passes into. Being Germany's primary playmaker has also made him their opponents' No.1 target.
"It was apparent that the Portuguese wanted to take me out of the game," he said before the Denmark match. It is no surprise then that Ozil had his best performance of the group stage against the more attack-minded Netherlands in a more open game.
It could also be a case of fatigue. Germany have had to endure some of the hottest weather at the Euro 2012 and Bastian Schweinsteiger remarked after the Denmark game just how exhausted he was, both physically and mentally.
Against what will undoubtedly be a very defensive Greek side, Ozil could prove decisive in a game of few chances but he must remain undeterred by the circumstances and rise to the occasion.
Low remains steadfast in his support and expects him to 'explode' at anytime now just as he did two years ago in South Africa where his performances improved as the tournament progressed, but it will be interesting to see if Germany can improve alongside him as the stakes grow higher.