Mike Paterakis


Greece Expert

Follow on
ANALYSIS
One of the most beautiful aspects of football is its ability to create powerful metaphors. How many times have we heard about the David versus Goliath story, the small team managing to prevail over powerful opponents. Or the Odyssey of the club returning to glory after years of disappointments.
In a modern turn of the events, no other game serves better as the ultimate metaphor of the ongoing financial crisis in Europe than the Germany versus Greece quarter-final. The rich and powerful Germans, the brutal economic kings of the continent, against the fiscally irresponsible but harshly punished Greeks. Two very different schools of thought trying to prevail, one over another.
Unfortunately, reality is far more complex than a bedtime story. The financial disaster looming over Europe has many more factors, which would not be easy to explain even if we had at our disposal many empty chapters ready to fill (never mind that we are not specialists on this field). However, people tend to understand the simple things better and as a result, after two years of financial downsizing and unbearable pain, some of the Greeks have found a new arch-nemesis in the face of German Chancellor Angela Merkel.
The German premier has become an iconic symbol for all the negative things Greece is suffering. There is not a single day that goes by without a cartoon in the local press making fun of her. Not a single day without a negative comment on her unfortunate handling of the crisis.
THE VIEW FROM GERMANY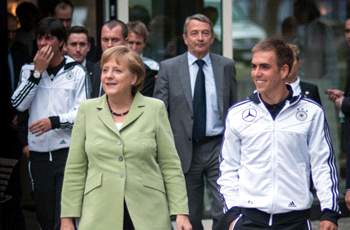 CLAAS PHILIPP, GERMANY EXPERT

Of course, the political situation is also an issue in Germany. The players and Joachim Low dodged press conference questions on the subject, which was probably the sensible thing to do.

Sadly, German tabloid newspaper Bild couldn't leave it at that and published headlines such as 'Poor Greece, the next bankruptcy is for free' and 'Against Jogi, no bailout fund will help you'.

Former Schalke player Hans Sarpei (a good friend of Kyriakos Papadopoulos) joked ahead of Greece's last group match: "They are the only nation that can be knocked out of the Euro two times."

Other than that, the German media has, thankfully, been quiet - eventually we have to bear in mind that the situation is not funny for the Greece population at all.
Long story short, Merkel's hardheaded (and obviously failed) demand that Greek governments impose harsh austerity measures with the hope of de-escalating Greek wages and thus making the Greek economy more attractive to foreign investors is justifiably viewed by Greek citizens as an unrepentant interference to their domestic politics.
In the recent Greek general election, which was held last Sunday, the Chancellor and her allies did not hesitate to take a clear position and support the leader of the conservative party, Antonios Samaras against leftist Syriza leader Alexios Tsipras. Samaras eventually won the stand-off and took an oath as the country's new prime minister.
In light, though, of such an impact by the Merkel front, many Greeks have come to see her influence as an alternative form of occupation or colonialism and those agreeing with Merkel's demands as participants in a collaborationist government sharing many similarities with the Vichy Regime in France during World War II (or the Tsolakoglou government, as was the case in Greece, when the Axis powers made Georgios Tsolakoglou prime minister during their occupation).
Predictably, Merkel's decision to watch the quarter-final from the VIP boxes of the PGE Arena in Gdansk has allowed Greek fans to fantasise about taking part in a virtual battle against the armies of the ruthless 'queen'. And with their chants and their banners they believe that they will express their inner anger for all to see.
As far as they are concerned, Greece's players have tried to calm things down. That said, they have not hesitated to dedicate their victories to the struggle of Greek people and voice their disapproval of their country's treatment mainly by the German tabloid press.
"We are annoyed at the comments we see on the Internet and in the newspapers, because our country has problems," Dimitris Salpingidis said. "People have so many problems in their everyday lives. We're really hoping that we can put a smile on their face."
Kostas Katsouranis dedicated the victory over Russia to the people at home. "We are extremely happy [to reach the quarter-final] because of what our country is going through," he said. "For our friends, our families and us. We gave us all a reason to be happy."
The veteran midfielder was twice as careful (and cynical) 72 hours later when he was asked about politics by a German reporter in a press conference. "For any political questions you have, we have a new prime minister that you can call."
Few realize, though, that no other country's football philosophy has affected the Greek national team more than Germany's. Five Greek internationals play or have played for Bundesliga clubs (Sokratis Papastathopoulos, Kyriakos Papadopoulos, Fanis Gekas, Giorgos Tzavelas, Nikos Liberopoulos and Kostas Mitroglou). At the same time, Jose Holebas was born in Germany, is fluent in German and speaks almost no Greek.
"I know our opponents very well," said talented Schalke youngster Kyriakos Papadopoulos. "I have played against them many times. That is not so important. We have good players in the Bundesliga. That's a great advantage for us, our familiarity with our opponents."
And let's not forget the architect of the biggest upset in the history of football. The beloved to all Greeks, but German-born coach Otto Rehhagel, responsible for the shock victory in 2004, is followed by the famous 'Rehhaglis', who at times appears to sympathize more with his adopted country more than his native one.
"Underestimate Greece at your peril," Rehhagel warned German journalists. "With their passion they are capable for anything."
Of course, Rehhagel, just like the Greek and German internationals, will not get into politics. The fanatics, unfortunately, will do and the misconceived idea that Greek or German people are happy to harm each other will probably flourish during the game. The true football lovers, on the other hand, will be able savor 90 minutes - or more - full of passion and joy.