EXCLUSIVE
By John Carlo Brandi
Football Against Racism in Europe (FARE) has revealed the full details behind Uefa's decision to charge the German Football Association (DFB) for the improper conduct of their fans.
Uefa announced the charge on Tuesday after FARE reported that supporters unveiled a neo-Nazi banner inside the stadium during their Group B encounter with Denmark, which took place on June 17.
Goal.com
has now also learned that FARE's video cameras caught what appeared to be extreme-right German supporters in Lviv before die Mannschaft's final group game. The fans were waving banners containing '
Gott mitt uns
' - words that Nazi armed forces wore on their belts during World War II.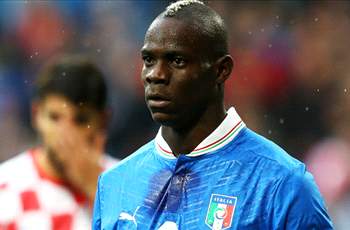 "It's not important how high the fines are, but that there is a fine, that's the main thing" - Football Against Racism in Europe

Rafal Pankkowski, co-ordinator for FARE's Euro activities, told Goal.com: "The incidents at the match between Germany and Denmark weren't the first. I wasn't there myself, but our monitors told me.
"Before kick-off, some German fans, supposedly part of the extreme right, judging by the clothes they wore and their behaviour, were seen in the city of Lemberg [Lviv].
"They had some banners, one of which had '
Gott mit uns
' written in Gothic letters on it, a slogan the German Wehrmacht had on their belts in World War II."
Worryingly, these have not been the first race-related incidents to unfold during the competition in Poland and Ukraine. The Croatian FA were fined €80,000 for their fans' alleged racial abuse of Italy forward Mario Balotelli, including accusations that a banana was thrown on to the pitch.
Elsewhere, thousands of Russian supporters embarked on a nationalist march through Warsaw in the lead up to their Group A match with Poland, sparking numerous fights to break out on the streets.
FARE's co-ordinator added that although the locals have mostly been very friendly during the tournament, there is a very serious flip-side which must be addressed.
He stressed that while their job is to report the events, which they do with monitors at each fixture, the key to cracking down on racism is that Uefa then takes decisive action.
"We, the FARE have independent monitors at every game at the Euro as part of our 'Respect Diversity, Football Unites' campaign, and if there are any kind of racial incidents, we report them to Uefa," he added.
"There is a partnership between FARE and Uefa just for that reason.
"Overall it's amazing how friendly, helpful and hospitable most of all Polish and Ukrainian people are, celebrating the Euros as a multinational event, but of course there is the other side of the coin with these incidents happening at the Poland v Russia match, and of course the Balotelli issue, among others.
"It's important that these issues are dealt with. These things happen, our job is to monitor and report it to Uefa, but the key for the tournament is that these are dealt with.
"I don't have an overview of all incidents Uefa took care of. It's not important how high the fines are, but that there is a fine, that's the main thing."
The DFB refused to comment when contacted by Goal.com on Thursday.