Ivan Rakitic
believes that
Croatia
can disrupt
Spain's
free-flowing football when they face them in their final
Euro 2012
group game by following
Italy
's example and attacking their midfield.
Slaven Bilic's side go into their final Group C game against the world and European champions in second place, level on points with Vicente del Bosque's men, knowing that a win would see them progress as group winners.
And the Sevilla midfielder believes that their opponents are beatable, and suggested that his side can take heart from the way in which Italy attacked the midfield, forcing the world champions to make mistakes.
"It is possible to attack this Spain, after all Switzerland beat them in the [2010] World Cup," the 24-year-old told reporters.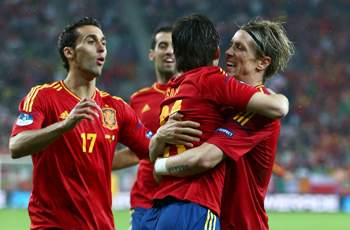 "They are humans, have their flaws, make mistakes, and we have to exploit those mistakes" - Rakitic on Spain

"They are humans, have their flaws, make mistakes, and we have to exploit those mistakes.
"When the chance comes up, we must grab it. We proved our quality, now we decide on our own destiny, and of course we have a great confidence.
"I guess we are all aware of the fact that Spain will have a possession. We have to be aggressive, don't allow them to cut into attacking third easily. The Italians showed us how to oppose Spain - the midfield must be aggressive."
Rakitic will come up against two of the best midfielders in the world in Andres Iniesta and Xavi when they face Spain on Monday, the 24-year-old could not chose between the two, adding that their whole squad is of the highest quality.
"Oh, what a choice. I guess that is picking the better one out of two best players in the world. I would prefer if we could stop them both equally, that would be perfect," he continued.
"But, they have 23 fantastic players, two teams that could win this tournament, and who ever plays he'll be dangerous."
The Spanish side have dominated major tournaments over the last four years, winning the World Cup in South Africa after the last European Championship in Austria and Switzerland, all the while playing an attractive 'tiki-taka' brand of football.
The Croatian praised Del Bosque's side for their approach to the game, but stated that they will not just be there as spectators, and will aim to match Spain at their passing style.
"They invented this type of football, but I hope we'll have a chance to show them that we can play the same. We'll try to keep the ball as much as possible, and try to play our version of tiki-taka," he added.
Everton striker Nikica Jelavic has been in good form for his country so far at Euro 2012, scoring in their opening 3-1 win over Republic of Ireland.
And the forward is looking forward to the challenge of facing big names such as Sergio Ramos and Gerard Pique, but admitted he may not see much of the ball.
"They are top players, and I'm glad that I'm having a chance to confront them, to see how good I am. I hope that two touches will be enough to score," the 26-year-old said.
"It is going to be difficult match, probably with not that many chances, and we have to use every single one that pops up."
Despite only having four days to work towards the next game, Jelavic went on to assure Croatia supporters that their side will be ready.
When asked if the short preparation time is an issue, he replied: "Actually, it's not. If you think about those things as a problem, then you'll have a problem. Four days are enough, we have a great coaches, we are all healthy and ready for the match".
If Croatia and Spain draw 2-2 (or 3-3, 4-4 etc), Italy will be knocked out of the competition regardless of their result against the Irish. However, the former Rangers man insisted that the team will set out to win the game.
"We don't think about that," he stated. "We are going to approach this match as any other and try to win. We did the same against Italy and Ireland, and we'll try to do the same now. Other people's problems are not ours.
"We know all about them, they know all about us, there are no secrets. If you ask me, Spain and Germany are the favourites to win this tournament, together with Croatia. We are going to play for a win."
Croatia and Spain kick off at 20:45CET on Monday.