Jimmy Floyd Hasselbaink

Euro 2012 Columnist

HUNTELAAR IN, SNEIJDER OUT
Netherlands must beat Germany if they want to qualify for the knockout rounds. If they draw, they may have to defeat Portugal by a big margin in their final game, which is a tough ask.
Holland lack pace at the back, so an attacking formation would be their best form of defence. I would play Klaas-Jan Huntelaar as the centre-forward and drop Robin van Persie just behind him because the Schalke striker is the only Dutchman who has been scoring regularly year after year.
Van Persie has played as the number 10 throughout his career and it is only this season that he has been the focal point. He has been tremendous in 2011-12 and that is why he should play.
I would drop Wesley Sneijder to accommodate Van Persie in a deeper role. He did not perform that well against Denmark and he has not had a terrific year. Sneijder and Van Persie were both disappointing, in fact.
I would field Arjen Robben and Dirk Kuyt on the flanks. Robben played exceptionally against Denmark, although he did not look like scoring. Kuyt provides energy to the team and you need that against Germany. You also require someone like Kuyt to cover in midfield when Robben and Van Persie are attacking.
Hasselbaink's Netherlands
starting XI v Germany

(4-2-3-1)
Stekelenburg
V. d Wiel, Heitinga, Mathijsen, Schaars
N. De Jong, Van Bommel
Robben, Van Persie, Kuyt
Huntelaar
Holland do not score ugly goals. That is a problem when it comes to winning matches. You need people in your squad who can score goals in every situation - from knock-downs, scrimmages, whatever. They do not have that. They play a beautiful passing game and they score perfect goals through delightful combinations.
However, perfect goals do not happen all of the time in football. Most are scored from transitions or turnovers and opponents committing mistakes. When Holland make their first pass, the majority of the time it goes backwards. That is a problem. You could see that against Denmark.
Germany are always solid and a good tournament team. They are a better all-round XI than the Dutch. They did not do anything particularly impressive against Portugal but still won 1-0. They know how to score goals and win, which is the difference between them and Holland.
In Mario Gomez, they have someone who can score all kinds of goals - tap-ins, headers, whatever. He is a giant in the penalty box. Thomas Muller, Mesut Ozil and Lukas Podolski can also score goals.
The only weak point is Jerome Boateng, who is not a right-back. I also believe Holland can target the left-sided centre-back Holger Badstuber and get something out of him.
The game is in Holland's hands. They have to make the running, which is going to be difficult. Germany do not have to win. A draw is good enough for them because they will fancy themselves to beat Denmark and top the group.
VAN DER VAART SHOULD KEEP HIS MOUTH SHUT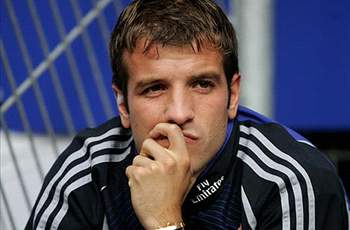 Van der Vaart is vying with Sneijder and Van Persie for one position - this is a battle he cannot win

I am not surprised to hear rumours of infighting in the Dutch camp. That is nothing new with Netherlands.
The problem is everybody has got something to say and the Dutch players sometimes think they are better than they actually are.
There were always problems when I played for Holland. It was quiet at the last World Cup but feuds happen too often. For Rafael van der Vaart to come out and complain after a defeat is nonsensical.
Where would Van der Vaart fit into this team? He cannot play on the wing because he is not quick enough and can not play in the middle of the park because he does not track back or defend.
With Van der Vaart, you can only play 4-3-3 with him behind the striker. He is basically vying with Sneijder and Van Persie for one position, and that is not a battle he is going to win.
ADRENALINE CLOUDS OPENING GAME CONCLUSIONS
You cannot draw too many conclusions from the opening round of matches. In the first game, adrenaline gets players through.
After the second round of group games, we will know which teams are genuine contenders to win the tournament.
For me, Italy were quite impressive and I did not expect that. But I want to see how they get on in the second game when they are not the underdogs and will need to set the pace.
TORRES' GOAL-SHYNESS IS PSYCHOLOGICAL
Before the tournament started, I tipped Fernando Torres to be the top goalscorer. After watching him miss those chances against Italy, I am not so sure now.
He definitely looks very sharp but I think it is psychological for him when it comes to scoring.
After the season he has had, squandering those opportunities makes things difficult for him and it will not be easy for his mentality to change.
Jimmy Floyd Hasselbaink is a former Netherlands international who sits 10th in the Premier League all-time top scorer chart with 127 goals following spells with Leeds United, Middlesbrough and, most notably, Chelsea.