Clark Whitney

In Lviv


Follow on

COMMENT
To fans and pundits around the world, the consensus is nearly unanimous: there is no better European footballer than Cristiano Ronaldo. An elite player even in his early years, he reached the pinnacle of personal achievement in 2008 as he won the Ballon d'Or following a Champions League-winning campaign with Manchester United.
Since then, Ronaldo has reached even greater heights - at least individually - as a Real Madrid player. Only the exceptional talent that is Lionel Messi has denied Ronaldo multiple more Ballons d'Or. But in 2012, CR7 is once more a leading candidate for the prestigious award.
Following tallies of 33 and 53 goals in his first two seasons, respectively, Ronaldo had his best haul yet in the most recent campaign, a staggering 60. At club level, Ronaldo earned an arguably greater achievement than Messi, leading his side to Liga glory as the Argentine lifted the Copa del Rey.
But Ronaldo cannot only rely on his record with Real to lift him in the Ballon d'Or voting: Messi scored 18 more goals for club and country, and his assists tally was double that of the Portuguese. Ronaldo needs something special to edge him ahead of his rival. And to his advantage, he now has an opportunity that Messi does not: Euro 2012.
He knows that here, Messi is not around. It's his chance to prove himself.

- Pedro Candeias of Expresso

As Pedro Candeias of Portuguese newspaper
Expresso
asserts: "He knows that here, Messi is not around.
"It's his chance to prove himself, that he can be as decisive for his national team as he is for Real Madrid," Candeias told
Goal.com
.
Following the 1-0 defeat to Germany, Ronaldo now has as many as five more games to make an impression of himself that Messi does not. There are fewer opportunities and there is less room for error than in La Liga, but on the other hand, in just 450 minutes of play, the Portuguese can cement his status as Messi's superior - at least for this year.
"He needs to step up, clearly because he's the best European footballer around,"
SIC TV
's Antonio

Reis

told Goal.com
. "He needs to step up to show that he can lead, like Eusebio and [Luis] Figo. If he doesn't do that, I don't know if his career in the national team will be well-remembered."
Nor will Ronaldo's season be remembered in the eyes of Ballon d'Or voters should he flop at Euro 2012. While the tournament offers an opportunity for him to rise above Messi, it also gives outsiders like Mesut Ozil, Robin van Persie, and Andres Iniesta the chance to impress - and for Ronaldo to prove he still is only capable of impressing at club level.
Players who struggle at international tournaments rarely are given consideration in Ballon d'Or voting, but those who shine for country are often given an extra boost. Juventus' 2005-06 Champions League campaign ended in the quarter-finals, but due to his brilliance in Italy's World Cup campaign, Fabio Cannavaro was awarded with football's greatest individual honour in November of 2006. Zinedine Zidane, the greatest midfielder of his generation, only won the Ballon d'Or once: it is no coincidence that this came on the heels of France's 1998 World Cup win.
The list goes on and on, but perhaps most telling is the voting of Matthias Sammer following Germany's 1996 European Championship win. Should Cristiano fail at Euro 2012, he may be condemned to the same snubbing his Brazilian namesake suffered that year after the best individual season of his career.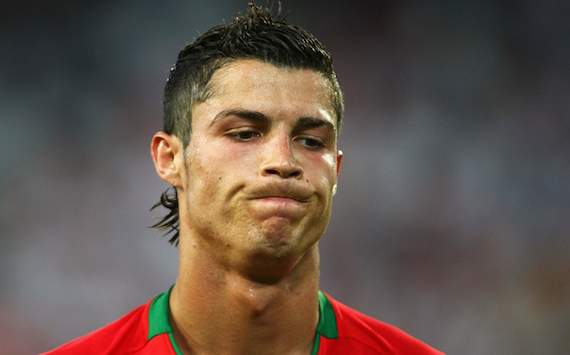 High hopes, low results | Ronaldo has struggled for Portugal since the 2006 World Cup
Having fired a blank in Portugal's loss to Germany, the pressure is on for Ronaldo, and not for the first time. The attacker has long been the subject of negative judgment in his homeland, having scored just five goals in four major international competitions since Euro 2004.
"In Portugal, we are waiting for Cristiano Ronaldo to make a big statement here in the Euros," says Reis.
Now the Seleccao have a mountain to climb as they face a Denmark side they have beaten just once in their last four encounters. And according to Reis, the captain Ronaldo especially will feel the pressure.
"It's all or nothing [on Wednesday], if we lose we will go home," he said. "For a team with the best player in Europe, it's bad."
Ronaldo is, in part, limited by his current national position as a winger, a role he will likely occupy again versus Denmark after Helder Postiga was confirmed in attack once more. Playing in the final third of the pitch and in a wide area, he relies on service from his team-mates and cannot lift his team-mates in the way that Deco did in the 2000s. Playing at a level higher than those around him can be frustrating, according to Candeias, who believes "he defends less, and always tries to get the ball just by screaming for it."
However, Reis is confident the superstar can replicate his Real Madrid form. He said: "Ronaldo is much better under pressure.
"What he needs is just one goal, and then the flow will come."
A winner against Denmark would be just the perfect medicine to give Portugal some hope in Euro 2012, and to keep alive Ronaldo's aspirations of finally overcoming Messi in the Ballon d'Or voting. Heroes rise and fall in games like these: it's now up to the captain to prove which he is.
Follow Clark Whitney on