COMMENT
By Stefan Coerts and Yanick Vos
Euro 2012 has not been Netherlands' tournament so far - and most definitely not Rafael van der Vaart's.
The midfielder, an undisputed starter at Tottenham, has to settle for a spot on the bench with Oranje. Wesley Sneijder has been the preferred option in his favourite attacking-midfield position, while national coach Bert van Marwijk has opted for the likes of Ibrahim Afellay and Nigel de Jong in the other roles that Van der Vaart could occupy.
And that hurts.
"The coach has made up his mind. He has certain preferences and I'm not one of the players he prefers. I don't feel like I can do anything to make him change his mind," Van der Vaart complained in a thinly-veiled criticism. "I have to admit that it's not an easy situation for me. Some days I feel better than others, but I'm obviously disappointed."
It appears to be a matter of time before the players go public with their criticism of Van Marwijk. Every member of the squad has a certain opinion about the coach's policy, but are wisely keeping it to themselves. Urby Emanuelson employed a different tactic, though. The AC Milan midfielder stated that Van Marwijk has lost his credibility after omitting him from Oranje's Euro 2012 squad. Van der Vaart will share that opinion.
| | |
| --- | --- |
| A vice-captain with 97 caps under his belt should know better than to behave like a spoilt kid, and support his team-mates instead | |
It's pretty clear: There's a lot of unrest in the Netherlands squad. After the opening loss to Denmark, they desperately need the full three points against Germany. Everybody should be fighting for the same goal if they are to beat Joachim Low's men. That's not the case, though.
Of course, Van der Vaart wants to beat Germany, too - but he desperately wants to be part of the team who do it. It's crucial for a coach to make sure that his substitutes remain happy as well; That your benched players are unhappy not to be playing is a good sign, however, it's gone one step further in the wrong direction. Frustration and huge disappointment are setting the tone.
How different the situation is in the German camp, where established stars such as Per Mertesacker and Miroslav Klose have to settle for a spot on the bench, too. Unlike Van der Vaart, they have the professionalism to put the team's interest before their own.
"All I can do at this point is be patient and wait for my chance. And that chance will definitely come at some point. I don't feel any jealousy toward [Mario] Gomez. That would be unacceptable. He is in superb form, and once again showed that [against Portugal]," Klose commented on his substitute role.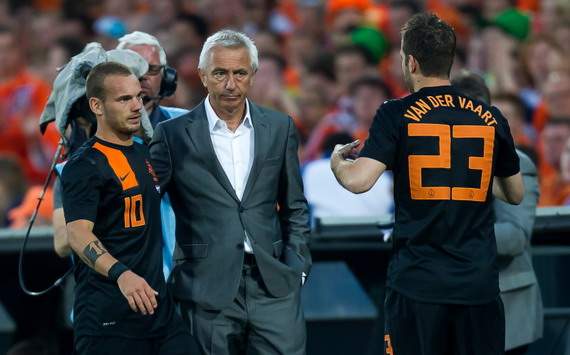 Wes over Raf | Van Marwijk embraces Sneijder as Van der Vaart looks on
Everybody in the Dutch team is now focusing on the game against Germany, including Van der Vaart, who had some harsh words for the Nationalelf. The Spurs star has voiced his opinion that the Euro 2008 finalists have only three outstanding players in their ranks with Mesut Ozil, Mario Gotze and Bastian Schweinsteiger, adding: "Their defence is okay, but nothing more than that." His comments will have reached the German team as well by now, with the aforementioned trio feeling flattered but the remaining 20 not so much.
Dutch arrogance? That's probably it. The Germans will only have a good laugh about it, though. Because ever since Die Nationalmannschaft recorded a 3-0 win over Oranje last year, they are perfectly aware of how things really stand. They'll feel that Van der Vaart is in no position to make such comments after warming the bench against Denmark. It only emphasises the Germans' imperturbability, who are one of the favourites for the European title.
Oranje are no longer among those teams, and the 29-year-old perfectly symbolises their fall from grace. Rather than complain about his situation, the attacking midfielder should take a good look at Klose to see how to behave in his situation. A vice-captain with 97 caps under his belt should know better than to behave like a spoilt kid, and support his team-mates instead.