Duncan Jenkins

Euro 2012 Columnist


Follow on
Hullo and welcome to Duncan Jenkins' review of the opening round of fixtures at euro 2012, with me Duncan Jenkins.
The football world has now seen every team at euro 2012 and that includes me. my mam met another new fella on friday night and i am delighted to report she's hardly been home since, meaning i've seen every kick of every ball. My mam's not coming home - football's coming home L.O.L.
A turner for the books
In my "day one preview" I put my head above the parrot pit and said the prospect of the first two games was totally boring. for all intensive purposes I was bang wrong and late on friday night I was forced to eat a huge slice of crumble pie after a great pair of opening games.
Poland's keeper Woichejch Szhechesny saw red in a 1-1 draw, but the Poles will be annoyed they didn't make the extra man count against ten man Greece, who also had a man sent off.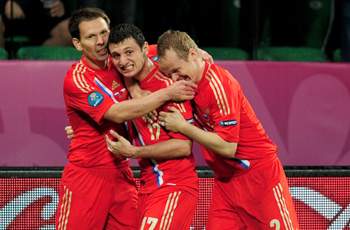 "i have a feeling the russian's could well enjoy a really good run in the tournament unless they get knocked out"
Russia said "auf weidersehn pet" to the cezchs blowing them away 4-1 in a game that was evenly balanced firmly in russia's favour. on that evidence i have a feeling the russian's could well enjoy a really good run in the tournament unless they get knocked out, while the Cezchs look a team going nowhere. they'll be going home soon.
The gruppa del morte
Day two brought us to group B, which is known in the industry as "the gruppa del morte" . Holland and Denmark met in a repeat of the last time they faced each other but with a very different result this time.
The Danes shocked "de oranges" 1-0 after R.V.P and co missed literally hundreds of guilt edged chances. They will probably be a bit disappointed with that but on the other hand I can only imagine the amount of Danish pastries that were consumed during the wild celebrations in Denmark that night. Probably hundreds and rightly so, they are absolutely deliscious.
Germany took there time against Portugal in what was a very dull affair. Gomez missed a few chances but julie obliged with a 72nd minute header to win the game for the Germans and improve on there 100% record so far.
Portugal once again failed to get the best out of C.R.7 who spent most of the game demonstrating with his team mates. ronaldo is the greatest portugalese footballer ever imho onion, even better than eusebio A.K.A "the black pele", and i feel the camp Real Madrid star needs to be at the centre of the tension. he should play as a false nine instead of a winger, and the fact the useless postiga was preferred up front must of been a real blow to Ronaldo's enormous self of steam.
The third group, group c (3)
Defending champions Spain changed there national anthem from "viva espanya" to something very poor and deservedly paid the ultimate price with a 1-1 draw against italy. vincente del bosque could not resist showing off his tatical mouse with the tournaments first false 9. i absolutely love false nines and was delighted to see the false nine – cess fabregas - score the goal.
Slovia failed to qualify but there deadly rivals croatia looked a side with ability and lots of temperament when they beat the republic of ireland 3-1. The Irish will be staring deep into there stew with Spain and Italy coming up and they need to pull a real miracle out of the fire now.
Jools rimay is still breathing
England got an increditable draw against France but it was not pretty. Roy Hodgson set out his stool and it really stank the place out, but it worked for the English players who look like they've bought into Roy's idea.
In the groups other game the Ukraines took on Sweden in the birth place of the chicken kiev, Kiev. The home team ran out 2-1 winners with veterinarian striker Andrei Shevchenko scoring both goals.Itt was a superp way to end the first round of games and the tournament is really cooking with gas now.
Opening round conclusion
That concludes my round up of the opening round of matches.