Mike Paterakis


Greece Expert

Follow on
COMMENT
In the spacious indoor-arena-turned-media-center of Legionowo, at the outskirts of Warsaw, the mood was light. It was Saturday morning, the day after the Euro 2012 opener, and the Greek internationals were relaxing from the previous night's game against Poland.
The 1-1 draw was not the ideal result, but not a bad one either. The reporters shadowing the team were still taking vividly about the game, when Kostas Katsouranis took the stand for the usual daily press conference. Before anyone had asked a question, the Panathinaikos midfielder rushed to say: "We'd rather lose the game, than see Avraam get injured like this. Honestly, a thousand times we'd prefer it."
His reference was for Avraam Papadopoulos. The Olympiakos defender had suffered a torn ligament that would rule him out for the next seven months and his team-mates were clearly more upset with his bad luck than thinking about their upcoming game with Czech Republic. Of course, there is no player that will not feel sorry for his team-mate, if something bad happens to him.
Yet, it's something telling for the team that Avraam's injury is still the number one talking point in the Greek camp. No other topic has been covered more. Even referee Carlos Velasco Carballo's calls, which many believe that deprived the Galanolefki from a glorious victory on the opening day.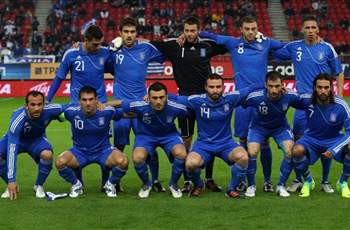 "It's something telling for the team that Avraam Papadopoulos' injury is still the number one talking point in the Greek camp"
"We are like a family," explained Sotiris Ninis, who too had sustained a ligament tear earlier this season. "That's why we want Avraam to return back to us strong and healthy." However, Papadopoulos' injury has not just a mental affect on Greece.
When Fernando Santos names his line-up for Tuesday's match with Czech Republic, he would have been forced to field a back line completely different from the one he planned to deploy months ahead of the tournament. Apart from the 28-year-old ace, Greece have also lost Sokratis Papastathopoulos, via the harsh red card he saw against Poland, and as a result Kyriakos Papadopoulos is the only full-back left at Santos' disposal.
The Portuguese manager is now forced to move Katsouranis back - next to Kyriakos, as he did during the premier when Papastathopoulos was dismissed - but it appears that his bad luck has no end in sight. If Santos considered his problem solved with Katsouranis' move, now has to find a solution to another riddle. Who will replace the Katsouranis?
The first choice for Santos was Giorgos Fotakis, but the PAOK midfielder picked up a thigh rupture that makes him highly doubtful, although he took part in Greece's last training session on Monday evening.
In case he doesn't make it, though, then Grigoris Makos will be the obvious choice for Greece's midfield alongside Giannis Maniatis and captain Giorgos Karagounis. According to a different scenario, Ninis will be moved back at the midfield and his place in the right wing will go to 19-year-old Kostas Fortounis, who went in as a substitute against Poland and improved greatly his team's offensive game. Santos has another reason to prefer Fortounis.
He combined perfectly with Dimitris Salpingidis, who after scoring Greece's only goal, has secured a place in the starting XI. It should be noted nevertheless that despite the endless problems, Santos plays it cool. "I'm sure that Greece have enough options to find any solution needed" he insisted in the pre-match press conference.
After all, he knows his players best and it seems that he has a tremendous faith in their ability to fight back when things get tough. "Greeks have this characteristic, to respond well to difficult challenges and to surpass themselves to get the result they want."
With his team's performance in the premier he has any reason to believe so.