Max de Haldevang




Russia Expert



SPECIAL REPORT
A long, bloodied history of conflict, a protest march through Warsaw to mark Russia Day planned ahead of kick-off, and a stinging response rumoured to be in preparation from Polish hooligans.

It would appear the scene is set; Tuesday evening's Poland v Russia Group A game might just prove a mere footnote in what is threatening to be the worst day of violence since the start of Euro 2012.

Sporadic incidents have already seen many injured and dozens arrested in Euros-related violence in the past week, but in truth the first few days in the tumultuous atmosphere of Poland & Ukraine have not been anywhere near as bad as some feared.

However, that could all change in Warsaw on Tuesday.
"Welcome Russian Guests," read a number of stickers plastered all over Warsaw. Look a little closer, though, and a pistol pointing at the viewer underlines the sign is not quite as friendly as first appears.

There is a long and bitter history of animosity between Poland and Russia, replete with centuries of invasions, oppression and massacres.
Many thought that when Poland broke away from the USSR in 1989, the last act had finally been played out. But old wounds remain, and tensions re-escalated when the Polish president Lech Kaczynski died in a plane crash over Russian land two years ago.

As such, when Russia keeper Vyacheslav Malafeev predicted that "things are going to get hot" in the match between Dick Advocaat's side and the co-hosts on Tuesday, you can be sure that he did not just mean events on the pitch.

Hostilities started kicking off between between the two countries almost as soon as the tournament began. A brutal assault on a Polish steward by Russia's fans during their nation's match against the Czech Republic was followed by attacks on Russians, who were drinking quietly in a bar in faraway Lodz, by Polish hooligans.

The press in Russia then reported hordes of Poland fans shouting "Russian whores" and other choice words outside Russia's team hotel after the victory over the Czechs. Fortunately, confrontation was averted as Advocaat's players and the team's supporters were still in Wroclaw.
What may cause more problems than the actual match, though, is a march of thousands of fans scheduled to take place before kick-off to celebrate 'Russia Day'. This occurs every year in Moscow and the Russia Supporters' Union has agreed with local authorities for supporters to march two kilometres from the centre of Warsaw, up to the stadium in time for the match.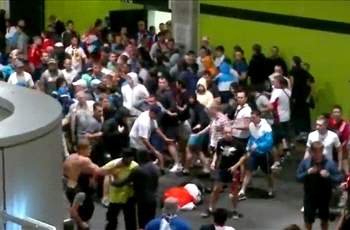 "A brutal assault on a Polish steward by Russian fans was followed by attacks on Russians in Lodz by Polish hooligans"
With 30,000 Poles and 10,000 Russians expected in the stadium for the encounter, and a further 100,000 supporters set to pack out the Fan Zone around the ground, the threat of conflict weighs heavy.
In fact, as soon as the Russian fans' march was announced on the supporters' website, floods of threats from Polish supporters appeared in the comments section. One user summed up the general feeling, threatening: :WE ARE WAITING FOR YOU. WE - THE BEST HOOLIGANS IN THE WORLD!"

Those "waiting" are likely to get especially riled if, as often happens in Moscow, fans choose to bring Soviet flags and memorabilia with them. The hammer and sickle is banned in Poland and evokes similar feelings for many Poles as that of a swastika.
Sergei Fursenko, president of the Russian Football Union, has been very clear on this point.

"There should not be any political motives there," he said. "If anyone tries to show such motives, they will be strongly rebuffed by the police."

But Polish authorities are sounding worryingly naive on the matter and Sports Minister Joanna Mucha says that she is not anticipating fans to be brazen enough to brandish Soviet symbols.

"We don't expect trouble or any inconvenience for locals. We were provided with a promise that their march is all about joy and togetherness," she said.
"We will monitor the situation and there are no special forces prepared from the police … but they will be ready to intervene in numbers."

Even if violence is somehow avoided during the march, it seems there is very little chance that the game itself and its aftermath would pass without trouble.

Dougie Brimson, a hooliganism expert and screenwriter of the film 'Green Street', told Goal.com that Russian and Poland are "two very heavyweight mobs" and it seems they are certain to clash at some point in what he calls "potentially the most dangerous game of the tournament".

Violence and racism amongst Polish fans has been well documented in the build-up to the tournament and the behaviour of fans in Russia is similar; when the Sbornaya were knocked out of the 2002 World Cup, a group of supporters went on a rampage around Moscow, causing the deaths of two of their own countrymen, injuries to 50 and considerable damage to the capital itself.
More recently, a Spartak v Zenit domestic derby this year saw 150 people arrested.

But as Dmitry Zelenov, a columnist for Russian daily Sport Express, writes, the stakes and tension will be much higher in this historically-fuelled clash.

"For many fans, the chance to fight on an international level is cool and honourable," he wrote. "Even more so when the opponents are as seasoned combatants as the Poles.

"I am sure that that brawl with the stewards will not go without consequences."

It is certainly looking ominous.