Euro 2012
is finally set to get underway for England and France, and the anticipation is already building for current and former Three Lions players alike.
Meanwhile it's a different story for Ireland, who have already had their bubble burst by a disappointing defeat to Croatia.
Inevitably containing a bizarre contribution from Joey Barton, here is the latest edition of
Goal.com
's
Word on the Tweet...
"Can't wait for game. We're ready"
Wayne Rooney
is doing nothing to help the nervous
England
fans, ramping their expectations up early on.
"Good luck Wazza I will be watching it in the green monkey bar!!"
Everton
captain
Phil Neville
sends his well-wishes to the former Toffee. One assumes he is on holiday.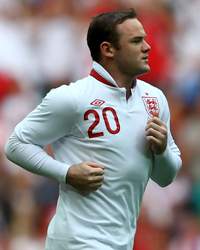 "Good luck @Alex_OxChambo tonight go enjoy it mate!!"
Neville
strikes again, after rumours of
England's
starting line-up are leaked.
"1 thing I'm sure of today is we won't get beat, trust me! we will frustrate the French then sucker punch them!!"
Rio Ferdinand
gives his backing to the boys after a torrid few weeks for the
Manchester United
man.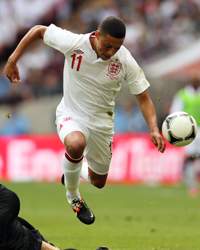 "Looking forward to the game later good luck to the boys!"
Tom Cleverley
also looks ahead to the big game.
"Good Luck to Youngy and Harty tonight. Smash it up boys"
Liam Ridgewell
sends his best wishes to his mates
Ashley 'Youngy' Young
and
Joe 'Harty' Hart
.
"England v France tonight - it'll be a tough match for both teams. What do you think the score will be? I'm going for a draw."
Meanwhile,
Patrick Vieira
is sitting firmly on the fence. Hope he doesn't get any splinters.
"What a game by Rafa. I think he is the best sportsman Spain has ever had. Very happy for him. Congrats to Nole too. What a competitor!"
Cesc Fabregas
takes in
Rafael Nadal
's French Open final win which resumed on Monday after being rained off (whilst Fab was busy scoring in the 1-1 draw with
Italy
).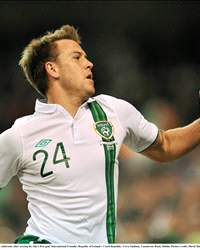 "Training this afternoon should be a chance to put some smiles on the lads faces after last night. #wecanstilldoit"
Simon Cox
is hoping for a better outcome next time around after
Ireland
's disappointing 3-1 defeat to
Croatia
.
"Off to the gym to throw some weights around. Let's get back on it."
And
Cox
reveals his unusual technique in the gym. Hope no-one gets hurt!
"Why would any self respecting pet owner put a dog in a bloody pram? Is it not degrading enough to the creature to make it sleep in a cage..."
And it wouldn't be
WOTT
without a tweet from
QPR
captain
Joey Barton
, this time giving his opinion on the treatment of dogs. I don't know either...