ANALYSIS
Tighter than anticipated and nervy until the final minute; Germany and Portugal's introduction to Euro 2012 in Lviv provided the promise of plenty to come in the so-called Group of Death.
Having seen the Netherlands shocked by Denmark in Kharkiv only an hour earlier, both sides emerged from the blocks with a sense of apparent unease, with the axis already shifted in a group of expected instability.
Mario Gomez's winner in the 72nd minute leaves Joachim Low's men as favourites to progress, but many questions remain about which sides will actually make it to the knockout stages.
Goal.com
's experts take a closer look.
1. Portugal and Ronaldo still need a No.9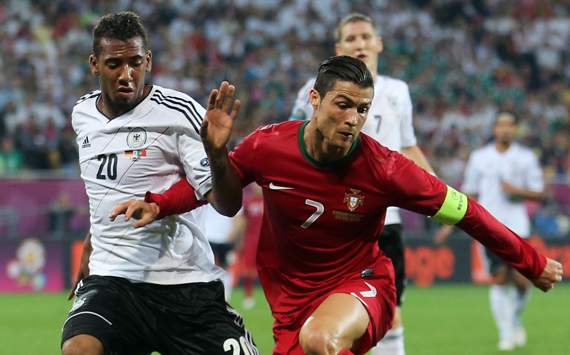 Defeat by Germany provided clear evidence that Cristiano Ronaldo will be a marked man at Euro 2012.
The Real Madrid star's every touch was pressured by a phalanx of attentive Germans, and the marshalling of the Seleccao's most potent attacking threat is symptomatic of a greater problem: the enduring absence of a world-class striker.
Not since 2006, when Pauleta retired and Nuno Gomes lost form, have Portugal come close to possessing a world-class centre-forward - and the long wait continues. Alongside Ronaldo and Nani yesterday, Helder Postiga formed the ineffective tip of the Seleccao's attacking trident.
However, the Real Zaragoza forward is unable to occupy defenders to buy Ronaldo some respite, or exploit the space created by the stellar talents of his skipper. Bustling Besiktas centre-forward Hugo Almeida provides an alternative, but is regarded as even less clinical than Postiga.
There is one bright spot on the horizon. Benfica's highly-rated Nelson Oliveira produced a promising cameo as substitute last night and many fans are now praying the 20-year-old will start the Seleccao's critical game against Denmark next Wednesday. After another night of defenders snapping at his heels, possibly Ronaldo shares the same view.
- Stephen Gillet | Portugal expert

2. Netherlands on a knife-edge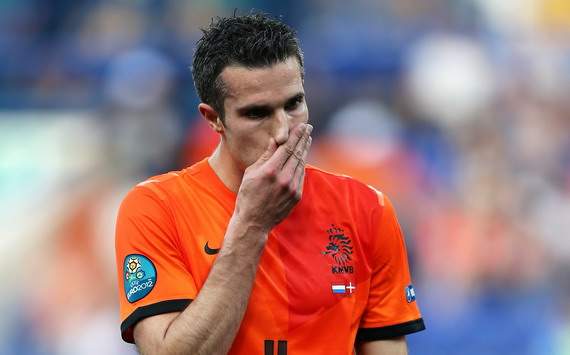 Germany didn't really convince in their first match and, despite their respective results, the Dutch were better, scuppered only by failing to convert their chances.
Still, Joachim Low's men could cause one of the biggest casualties in the tournament if they defeat the Dutch in what is now a decider in Kharkiv, and that's something that German fans will always remember given the two sides' acrimonious history.
To do so they have to improve tremendously as surely Robben and company won't be so inept in front of the goal as they were against Denmark. Beating the Dutch won't be a straightforward task.
It can be done, but a better performance by Germany's key offensive men is needed. Ozil was good but too intermittent, Podolski wasted too many chances, Gomez failed to hold the ball and Muller was non-existent. Against Portugal that was enough but against a much more talented Dutch side, fighting for its life, Germany must raise their game.
- Martin Langer | Euro 2012 correspondent

3. Hummels proves his international pedigree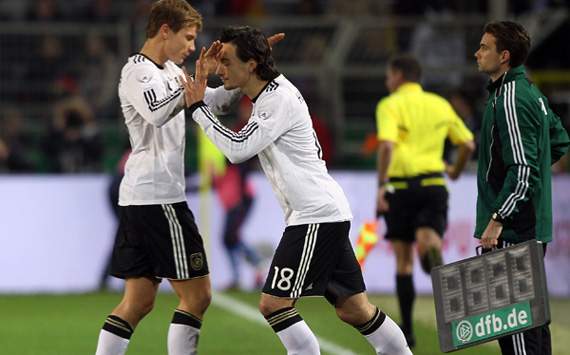 After omitting Mats Hummels from Germany's final test match against Israel, Joachim Low made a quick 180-degree turn in reinstating the Dortmund man into his starting XI.
And Hummels repaid his coach's faith in turn. The centre-back put his previous failures behind him as he delivered the kind of performance so typical of his play at club level, but which until tonight had been missing in a Germany shirt.
He has all the talent to be the defensive star of Euro 2012 - more than two years as the Bundesliga's best centre-back is enough of a pedigree - and after an excellent display against Portugal, he heads into the Netherlands match full of confidence.
- Clark Whitney | Euro 2012 correspondent

4. Portugal can survive the group of death

After winning just one of their last six matches, the Seleccao stepped onto the pitch at the Lviv Arena afraid of Germany's attacking potential and showed too much respect for Joachim Low's men.
Portugal had more chances to score than Germany, yet they were speculative during the first half, in which the Germans had a Barcelona-like 62 per cent of possession of the ball. As soon as Mario Gomez broke the deadlock, Portugal controlled the game and were close to scoring on two occasions in the last 18 minutes.
It was only when they found themselves losing that they realised that the game was in their hands. The Seleccao, and especially coach Paulo Bento, were punished for not risking pushing forward and for taking too long to make substitutions.
With matches against Denmark and Netherlands coming up, Portugal will certainly feel that they if they show the same attitude, a top-two finish is within their reach. But with just one goal scored in the last four games, they will require more efficiency to get more than a moral victory.
- Luis Mira | Portugal expert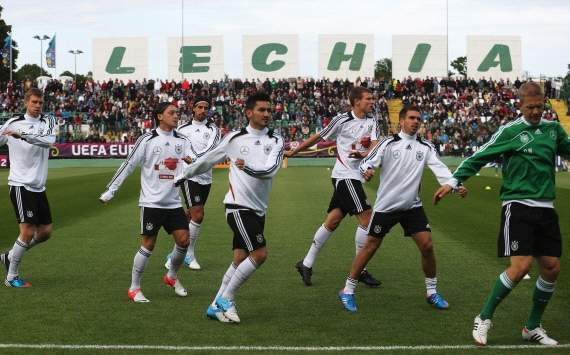 Despite an underwhelming and a somewhat atypical performance, Joachim Low's team took a giant step forward with their narrow win over Portugal.
If their loss to Spain at the World Cup proved anything it was that Germany needed to expand on their initial game plan. Perhaps down to youthful exuberance and inexperience, Germany's excitable and direct approach was never conducive to wins against more organised and dangerous sides.
Against Portugal, Germany displayed a more conservative yet more mature performance. It was the kind of caution that is sometimes necessary against bigger opponents and perhaps a hint of what is to come against sides like France and Spain, both of whom Germany have lost to recently.
Both full-backs were more reserved and focused even if it meant limiting their attacking game while Hummels and Badstuber displayed the kind of confidence in defence that has been lacking in recent matches, helping Germany to their first clean sheet in a competitive match in over a year.
It was not a perfect performance by any means but it was an effective execution of a divergent gameplan. Tactical variety is the cornerstone of any winning side and Germany took a step in the right direction here.
- Cristan Nyari | Germany expert