Greg

Stobart




In Kharkiv



A series of violent incidents connected to Euro 2012 across Poland and Ukraine have overshadowed the start of the tournament with the Championship just two days old.
Video footage has emerged on the internet of Russian supporters attacking stewards inside Wroclaw's Stadion Miejski following their side's win over Czech Republic in their opening Group A match on Friday night.
"Uefa is aware that at yesterday's Group A match in Wroclaw between Russia and the Czech Republic there was a brief and isolated incident involving a small group of around 30 fans who attacked a handful of stewards," read a statement from Uefa.
"The situation was quickly and efficiently brought under control. The local police are aware of the incident and investigating.
"The cause of the incident is not currently known but we are studying the security reports and available images. Uefa remains entirely committed to the safety and securityof all fans and spectators at all matches of EURO 2012."
Elsewhere, local media reported that a Spanish football fan was found murdered in the Donetsk region after nearly a month after going missing as he holidayed ahead of the European Championship.
And there are also unconfirmed reports of clashes between rival fans in the host city of Lviv in Ukraine and Lodz in Poland.
Polish sports minister Joanna Mucha confirmed in a press conference that there were 16 reports of violent incidents and 314 people treated by medical staff in incidents connected to Euro 2012, meaning those which happened in either stadiums or fan zones.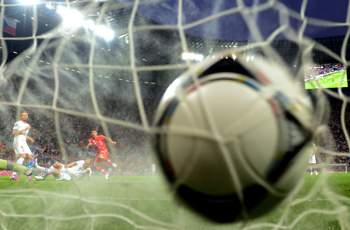 "The situation was quickly and efficiently brought under control. The local police are aware of the incident and investigating" - Uefa statement on violence at Stadion Miejski
It marks an unsavoury start to Euro 2012 and confirmed fears which were raised ahead of the tournament that it could be marred by incidents of violence and racism.
Tournament organisers have already had to deal with allegations of fan racism after Netherlands players were targeted by locals during a training session in Krakow, Poland, on Wednesday.
Meanwhile, four stewards are understood to have been taken to hospital for treatment following the violence in Wroclaw, the footage of which shows Russia fans beating one man to the ground and kicking another in the head.
Wroclaw police spokesman Mariusz Sokolowski confirmed the incident in the 40,000-capacity venue.
He said: "I can confirm that this happened at the stadium.
"The attackers were from the group of Russian language fans. We are trying to identify them. Police have the security footage from the stadium, we are looking into it."
In the small town of Makiivka, near Donetsk, local news reported that three men have been arrested on suspicion of murdering a 46-year-old Spaniard who was reported missing a month ago by hotel staff.
Paloma Antoranz, head of press for the Spanish national team, said they were seeking confirmation from the relevant authorities. She said: "We have no official confirmation. We are in touch with the embassies in Madrid and in Ukraine but there is no confirmation at this stage."
Meanwhile, eyewitnesses in Lviv reported clashes between a small group of Russians and local Ukrainians as they left the fanzone before being separated by the police.
Reports in Russia have also claimed that Polish hooligans in Lodz attacked Russian-speaking football fans. The two countries will face each other in their second Group A match in Warsaw on Tuesday.
While the police were keen to play down the reports, it leaves Uefa and the authorities in Ukraine and Poland facing questions about their preparations for Euro 2012 and fears over whether the violence could escalate.
The second day of matches takes place on Saturday with two games in Group B as the Netherlands face Denmark in Kharkiv and Germany take on Portugal in Lviv.