EXCLUSIVE
By Rob Stewart | England Expert
They say it is the hope that kills you and if that is the case then England could end up feeling invigorated by Euro 2012.
Public expectations have been lower than ever as Roy Hodgson's side embark on their quest for glory, but that might well work in his squad's favour in Poland and Ukraine over the coming weeks.
It will take a superhuman effort by England to win the competition but they should at least be able to restore a bit of the pride that has been fading since Euro '96, as disappointing campaigns at international tournaments have coincided with the Premier League going from strength to strength.
They might have been depleted by injuries to the likes of Kyle Walker, Frank Lampard and Gary Cahill and undermined by questionable selection decisions, such as Martin Kelly getting the nod over Rio Ferdinand, but there is still a chance that England could confound those who expect them to fail.
And they might not be as pretty to watch as they were in their warm-up games with Belgium and Norway, but no one back home will be complaining if they follow Greece and record a series of backs-to-the-wall wins.
But in Hodgson they might just have the man who could inspire his charges to success because he is at his best when he is up against it with underdogs, as he proved during his time with Fulham and West Bromwich Albion.



"Let's hope his [Hodgson's] critics end up with egg on their faces"





- Paul Parker
"If you can look at what he achieved at the hard end of the table with Fulham and West Bromwich Albion then it shows he has a lot about him as a coach and manager," former England international Paul Parker told Goal.com.
"He started at the bottom of the ladder and he's really fought to get up there and in football terms England are not at the top of the ladder and they have always had to battle their way through tournaments.
"So maybe Roy just might be the ideal person. Having players who play without fear will be crucial this summer and Roy has shown at West Brom and Fulham that he can do that."
It might not have worked out for him at Liverpool but he has a habit of getting teams to punch above their weight, and that is what he will have to do this summer because he has just two top-class players in his midst in Wayne Rooney and Joe Hart."
There is certainly no mention of a 'Golden Generation' in Krakow and the relatively small number of England fans who have headed into Eastern Europe is testament to exorbitant hotel prices and the acceptance that their country will not be gracing the competition for very long.
The class of 2012 are already being branded no-hopers but that could be a blessing in disguise. Sir Bobby's Italia 90 campaigners were also being written off and look what happened to them.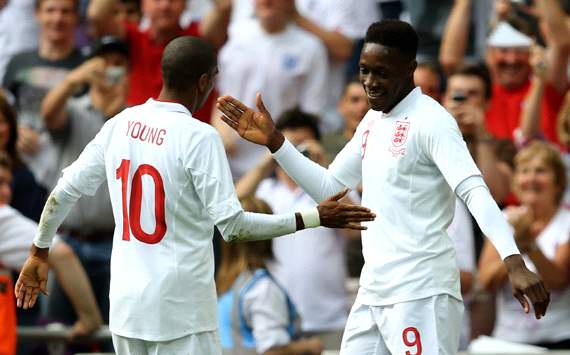 Team-mates for club and country | Young and Welbeck need to translate United form
Inspired by then-Tottenham midfielder Paul Gascoigne, they moved to within a penalty shoot-out of a World Cup final against Argentina.
This time around they will have to rely on Rooney but their predecessors have shown what can be done with a bit of togetherness, resilience and flashes of quality.
Former Tottenham boss David Pleat said on BBC Radio Five Live earlier in the week that this was the weakest England squad to go into a major tournament since the 1966 World Cup and it is difficult to disagree with the way he lamented its "average" make-up.
However, if Hodgson plays his cards right then there is no reason that the whole should not be stronger than the sum of its parts, as it was in 1990 under Robson.
"There are similarities between Roy and Bobby Robson," added former Manchester United defender Parker, who played a key role in helping England reach the World Cup semi-finals in 1990.
"At Ipswich Bobby turned a yokel team into a major European outfit and took them closing to winning the old Football League and everybody now has the utmost respect for them.
"In a certain way it is similar what he has achieved, although no one will ever do what Bobby did with a small-town team, but throughout football people have a lot of respect for Roy Hodgson for what he has done and the way he has done it the hard way.
"He has earned respect from foreign players and foreign coaches which is very tough. How many top English players are playing abroad at the moment. People at home have to give him a chance and back him and let's hope his critics end up with egg on their faces."