Jens Lehmann

Euro 2012 Columnist


Why I do not see Germany as favourites
If Germany survive the group stage it would be a success. After a disrupted preparation, I do not see us as favourites to win the tournament, even though of course some have predicted so after our strong performances in 2011.
Why Bayern Munich players were given four days off after the Champions League final remains a mystery for me. Before the 2006 World Cup I was sent off in the final against Barcelona. No-one really asked me how I felt and 36 hours later I was playing for the national team in Geneva.
That the players had a short preparation time makes it very difficult to win the title this summer. Within the squad, with Bastian Schweinsteiger, Per Mertesacker, Miroslav Klose and Mario Gotze, there are players who are not fully fit, which is usually necessary to win a tournament.
A training camp of between two or three weeks is absolutely necessary for a successful tournament. Therein, each player is brought to peak fitness and drilled to automatically play in the team's system on the pitch.
Despite the difficult circumstances, Joachim Low has proven that he is an absolute professional. I heard from someone who visited several pre-Euro training camps that the Germans was by far the best: the facilities at the hotel and especially the atmosphere were excellent.
The DFB is doing everything possible to offer players the best possible conditions. As such, the players are obliged to perform well.
The questions Low still has to answer
There are plenty of questions remaining for Germany ahead of the opening fixture with Portugal on Saturday.
What will happen if Manuel Neuer is injured? Who will play?
I have not seen him use his long throws, regarded as one of his strengths, for a long time. Normally a goalkeeper refrains from playing such passes when he is in pain. Should Neuer pick up an injury, Low would need a miracle to win the title.
He is, for me, better than Gianluigi Buffon and Iker Casillas because he is bolder and more versatile in his abilities. The young Pole Wojciech Szczesny is at a high level too, and right now, everyone is full of praise for Petr Cech. The English see their goalkeeper, Joe Hart, as the world's best.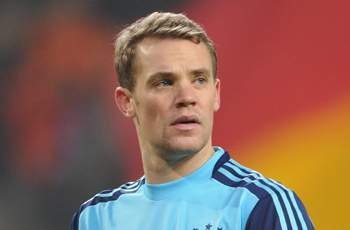 Should Neuer pick up an injury, Jogi Low would need a miracle to win the title
In defence, Low will keep it open over who he uses in the full-back positions. I had thought of Marcel Schmelzer on the left and Philipp Lahm on the right. But on the international stage, Schmelzer has never played anywhere near his level in the Bundesliga for Dortmund.
Further to this, it is striking that Low has never really spoken confidently of his Dortmund players. He does not trust them to play on a high level internationally.
It will probably be Jerome Boateng on the right, and Lahm on the left. Boateng must play more aggressively, because he has been too passive there. I suppose Holger Badstuber and Mertesacker will play in defence due to their greater international experience.
In midfield, Thomas Muller, Mesut Ozil, Lukas Podolski, Toni Kroos, and Sami Khedira. I trust the latter, above all, to have the ability to organise and to run because he learned much in his young age. Should Schweinsteiger be properly fit (he looked good in Capri), he would probably replace Kroos. In attack there is the agony of choice.
Low has a big dilemma in attack. Mario Gomez with more goals, a successful Champions League campaign and impressive fitness, or Klose coming back from an injury with no Champions League experience this season, but years of success in the national team? We must trust Low to make a good decision.
Euro 2012 an important challenge for Poland and Ukraine
Just before the start of the European Championships, you realise that when pumping petrol, shopping, or even at home, that pictures of football players are all over everything.
The excitement ahead of this summer's competition is partly due to the Champions League final between Bayern and Chelsea a few weeks ago. The drama and tension, how the outcome was unpredictable, literally until the final shot, made the game uniquely attractive. Even people who did not care much for it were pulled in by the emotion and excitement of their fellow man, captivated by its spell.
We hope to see the same level of drama in the European Championships this year, of course. For the third time, two countries will co-host: after Netherlands and Belgium, and Switzerland and Austria, for the first time two Eastern European countries will play host. It is a great challenge but a chance to show the world they are able to organise such a high-profile event.
Regardless of the political situation, it will be important for the people, especially in Ukraine, that fans from Europe and all over the world will come to see its beauty. And this opportunity ought to be given to them, much like in 2006 when the world could hardly believe what a beautiful and friendly country Germany had become.
Many players who starred for their national teams in Germany told me that they were particularly impressed by the enthusiasm that they encountered and I hope those playing in Euro 2012 will leave this year's tournament with similar feelings.
Jens Lehmann is a former Germany international, who was a figurehead in Arsenal's 'Invincibles' campaign where he was an ever-present during the club's unbeaten 2003-04 Premier League season. He also holds the record for the most consecutive clean sheets in the Champions League after going 10 games in Europe without conceding a goal.