NATIONAL STADIUM, WARSAW


Opened: 2011
Official capacity: 58,145

Highest attendance: Yet to stage a match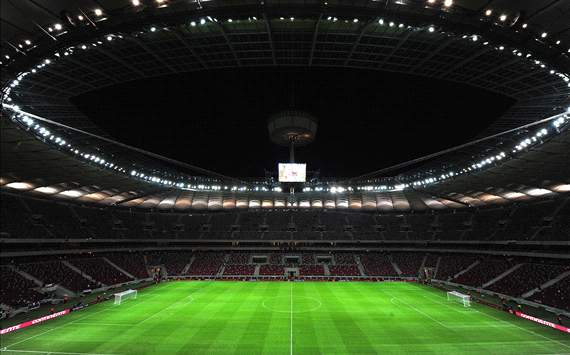 Euro 2012 Matches
Jun 8: Poland vs Group A2, 18.00 CET
Jun 12: Poland vs Group A3, 20.45 CET
Jun 16: Group A2 vs Group A3, 20.45 CET
Jun 21: Group A winners vs Group B runner-up, 20.45 CET
Jun 28: Semi-final 2, 20.45 CET
Located
The ground sits on the site of the former stadium Stadion Dziesieciolecia, in the centre of Warsaw. Due to its location, the stadium is easily accessible by bus, rail or tram.
Atmosphere
Difficult to determine as the stadium is newly built. The true test will come when it hosts the opening Euro 2012 fixture on June 8, but a uniquely constructed roof should add to intrigue.
Did You Know?
The stadium features a needle, held together by cables, in its centre from which the roof canopy unfolds over the pitch.