Craig Levein's men have an almighty task ahead to secure a playoff spot when they face the world champions on Tuesday, but not all hope is lost for the Tartan Army
COMMENT

By Jonathan Birchall
Scotland
know what it's like to be underdogs, but as
Craig Levein
's men travel to
Spain
to face the world champions, never has their own personal Goliath seemed so great.
Needing a win to guarantee a Euro 2012 qualification playoff spot, the Scots are coming up against the game's finest international side, who have won all seven of their group matches so far as they look to become the first team in history to buffer a World Cup win between two European Championship successes.
However, with a one-point advantage over the Czech Republic, the Tartan Army's march to Alicante may not be a hopeless cause. By equalling the result of Michal Bilek's side on Tuesday evening, Scotland will advance to the playoffs.
Goal.com
have compiled a list of five hopes that Scotland will be clinging on to at the Estadio Jose Rico Perez. It's not going to be easy, but for the Scots, it never really is.
SUMMON THE SPIRIT OF PARIS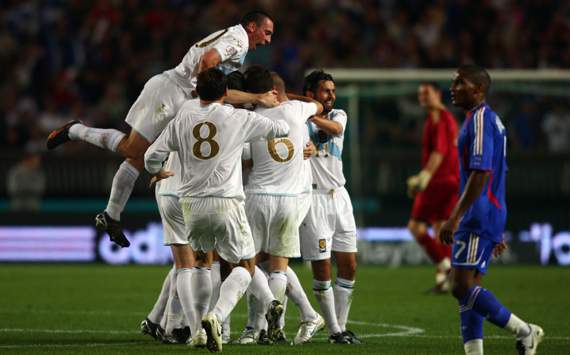 Despite having not appeared in a major tournament since 1998, the Tartan Army won't have to delve too deeply into the history books for some inspiration ahead of their travels. For only four years ago, the Scots took on one of the game's giants, and won.
Then under the guidance of Alex McLeish, Scotland travelled to Paris and delivered the showing of their lives, and were rightly rewarded with a magnificent 30-yard strike from James McFadden to secure all three points and take them to the top of Group B. They eventually finished third behind Italy and the French, but ahead of Ukraine in an epic qualifying group.
World Cup finalists and on their home turf, Les Bleus simply couldn't breach McLeish's charges, with Craig Gordon denying Franck Ribery, Nicolas Anelka and David Trezeguet in breathtaking fashion before McFadden's goal just after the hour mark made it two wins over Raymond Domenech's men for the Scots in less than a year
It was quite possibly the single greatest away performance by Scotland since they beat world champions England 3-2 at Wembley in 1967. Similar heights will be required in Alicante.
TURN THE MIDFIELD BATTLE ON ITS HEAD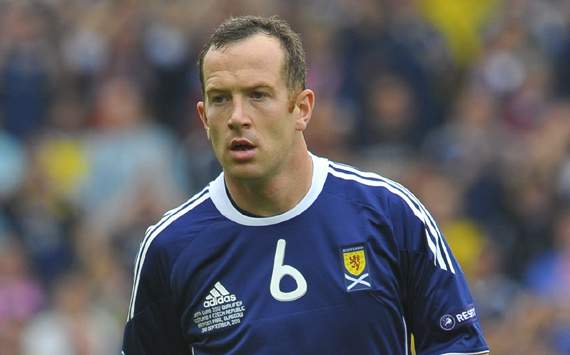 Tongue may firmly be placed against cheek when Scotland fans compare Barry Bannan to the Spanish midfielders that he'll come up against on Tuesday, but for the 'Scottish Iniesta' and his midfield partner Charlie Adam, it is a stage where both can prove whether they have the nous to become Scotland's next great midfielders.
With the likes of Jim Baxter, Jimmy Johnstone and of course Adam's current club manager Kenny Dalglish having transcended mere national awe, Adam and Bannan have some way to go before they can be treated with anywhere near as much approbation, but it is certainly encouraging to see ball-players dictating the Scottish play. And with a combined age of only 46, it is a pairing with scope to blossom, particularly when protected by the tireless Darren Fletcher.
Bannan's versatility will likely see him played on the right in Alicante with Adam central, but their interplay has the ability to, for a few moments at least, stand up to that of the Spanish.
GO BACK IN TIME AND PLAY A STRIKER IN PRAGUE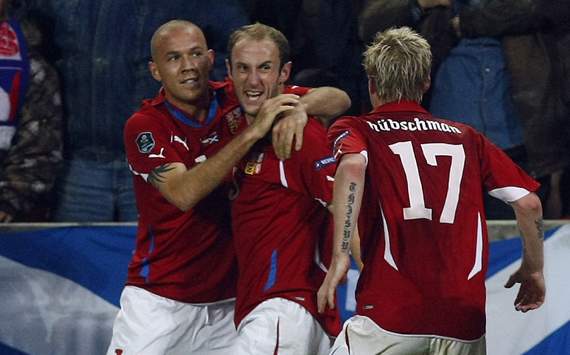 Levein defended his infamous 4-6-0 formation in the Scot's 1-0 defeat to the Czechs 12 months ago, but whether you saw the strikerless set-up as wisely pragmatic or embarrassing cowardice, you can bet your bottom dollar that it won't get a second showing in Spain on Tuesday.
By dropping Kenny Miller and overloading the midfield, Levein tried to stifle the Czech Republic but it backfired as soon as Roman Hubnik headed the hosts into a lead from Tomas Rosicky's corner on the hour. Stifled by their own tactics, Scotland had little chance of fighting their way back into the match with only half an hour left.
"Are there any regrets? No. I still say it was the best way to go about this match. We have lost and people can say that if we played one striker or two we would have won the match, but I don't agree with that," was Levein's analysis following the loss but such negativity hung over the Scottish game and now, a year later, threatens to be the result that could cost Scotland a place in the playoffs.
If Scotland fail to make the playoffs, that night in Prague will rank alongside a 2-2 draw at home to 10-man Belgium in 2001 and a lifeless defeat in Georgia in 2007 as costing the nation a chance to end a generation-long exile from major tournament finals.
BECOME LITHUANIA FANS FOR A NIGHT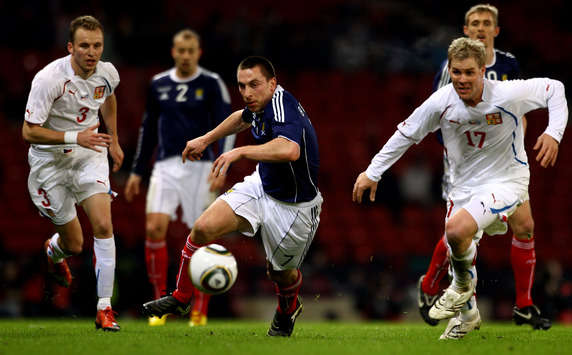 The key fact for Scotland as they head into Tuesday night's match is this: at least match the Czech Republic's result against Lithuania and they'll be in the playoffs.
With Levein's men on 11 points and the Czechs on 10, a repeat of Lithuania's 1-0 win in Prague last year will mean that Spain can win by however many they like and Scotland would still be in the playoffs.
The Fifa rankings are of course viewed with understanding suspicion, but having sat second in May 2006, the Czechs are now placed 40th, only one place ahead of Burkina Faso. Indeed, they are still above the Scots but with only two wins from nine in 2011, Bilek's side are a shadow of their former selves.
Scottish fingers will be crossed for Lithuania, still minnows of the European game, to complete their illustrious opponents' fall from grace. It certainly appears to be the Tartan Army's best hope.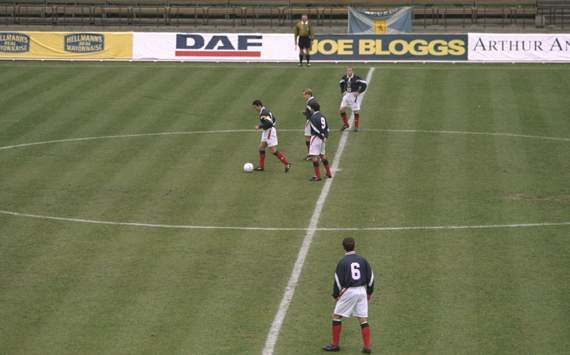 Scottish football and farce never seem to be far apart, and usually in a negative sense for the Scots. However, the tale of 'One team in Tallinn' saw the Tartan Army coast to victory, for a short while at least.

In October 1996, the Scots travelled to the Estonian capital as part of their eventually successful World Cup qualification campaign and, having trained at the Kadrioru stadium on the Tuesday night prior to the fixture, complained to Fifa over the floodlights at the ground, deeming them to be inadequate. As a result, it was agreed that the game would be rescheduled for the afternoon as opposed to the evening, much to the disgust of the Estonian FA.

The home side failed to travel to the stadium in protest, leaving the Scots on the pitch without an opponent and their fans chanting:"There's only one team in Tallinn". The match was abandoned immediately after kick-off and a 3-0 win was awarded to Scotland, at least until Uefa decided to bend their own rules and order a replay in Monaco. The Estonians showed up this time and clung on for a 0-0 draw.

Now facing arguably the greatest international side of all time, you wouldn't blame Levein for hoping that Xavi et al get the kick-off time wrong at the Jose Rico Perez stadium. Scotland are yet to lodge a complaint about dodgy Spanish floodlights... but watch this space.