COMMENT
By Kris Voakes | Italian Football Editor
Ghosting in behind the defence in the attacking left channel, Riccardo Montolivo received the ball and then delivered a deft lob off the underside of the bar and into the net. It's easy to remember the Fiorentina man's goal against Spain in August, not only because it was an excellent finish in a victory over the world champions, but also because it was one of the few truly positive contributions he's ever made for his country.
Last night against Serbia there came another opportunity for the former Atalanta player to announce himself as a midfielder of international calibre, but instead he failed miserably. With Italy having the better of possession overall but gaining very little in the way of territory, there was a real need for them to hold on to the ball in the home side's half in order to release the physical and mental pressure on their defensive minded players.
MATCH FACTS | Serbia 1-1 Italy


Shots
On Target
Possession
Territory
Corners
Bookings

Serbia
12
5
38%
53%
3
4

Italy
8
5
62%
47%
1
1

Montolivo, though, proved again that he is not the right man to direct proceedings in attack. Not that it should really come as much of a surprise, given that during his club career he has almost exclusively played in positions behind the trequartista role that Cesare Prandelli has asked him to fill for the Azzurri.
Originally tasked with roles as a right-sided central midfielder, then an orthodox right-midfielder, Montolivo has more recently made one of the two holding roles his own in the Viola colours. But as he becomes more and more used to the slower pace of the fetch-and-carry responsibility in the centre of the park, it is increasingly at odds with the less forgiving nature of the higher, more creative spot.
Up against Dejan Stankovic and Ljubomir Fejsa to begin with on Friday, he was unable to find the time or space necessary to lead the Italian side in an attacking sense. Instead it was Andrea Pirlo who was put under pressure to dictate the Azzurri's offensive play from his deeper regista position. For all of the movement from Antonio Cassano and particularly Giuseppe Rossi, there was only so much they could do without the creativity in the middle, especially as neither Christian Maggio nor Giorgio Chiellini were as mobile from the full-back slots as Prandelli would have hoped.
From the centre of midfield there were indifferent performances from Daniele De Rossi and Claudio Marchisio, though the latter could at least boast a goal inside 54 seconds when latching onto Rossi's through-ball and slotting under the wrong-footed Bojan Jorgacevic. Pirlo was the Azzurri's best player in the centre, with 89 per cent of his passes finding their target as he turned defence into attack.
MONTOLIVO's KEY MATCH STATS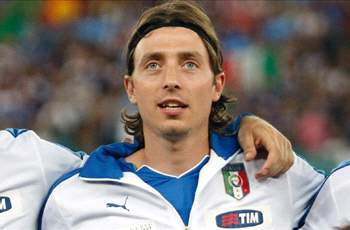 TOTAL SHOTS
GOALS
ASSISTS
PASSING SUCCESS
TACKLE SUCCESS
0
0
0
78%
25%
PLAYER RATING

4.0
Utterly anonymous for far too long a spell in the game. Got into one good position in the right channel around the hour mark, but couldn't supply the final ball. Mercifully substituted for Aquilani for the last nine minutes.
Behind him Italy were generally unconvincing, with Andrea Barzagli and Leonardo Bonucci looking equally uncertain whenever the ball wasn't in the air. Meanwhile, neither full-back did too much to stop crosses coming in at all during the 90 minutes, with Maggio in particular having a poor evening up against the always dangerous pairing of Aleksandar Kolarov – who tested Gianluigi Buffon on numerous occasions – and the lively Zoran Tosic.
It all pointed to a rather clunky Azzurri display, and Serbia's goal was a microcosm of the game as a whole, Branislav Ivanovic hooking the ball home from off the ground as Italy looked to push out towards Tosic's shot without anyone paying any attention to Ivanovic or Marko Pantelic. Though Pantelic could easily have been flagged offside, it would have been an injustice had the home side not taking something from the match.
All things being equal, Prandelli could easily overlook last night's performance given Italy's status as one of Euro 2012's earliest qualifiers, but to overlook the Montolivo issue in particular would be a backward step on the coach's part.
Realistically speaking, there are only so many changes the Azzurri boss can make for Tuesday's clash with Northern Ireland, and in any case there will only be so much he'll be able to learn against the relative minnows. But Montolivo's display – or lack thereof – in Belgrade has forced his hand.
The bank of friendly matches to come before June 8 just became more important.
Follow Kris Voakes on