Goal.com's Paul Macdonald assesses whether the clubs should have intervened to stop Spain's world champions from risking injury on Lithuania's shocking surface...
The pitch at the S. Darius and S. Girenas stadium in the Lithuanian city of Kaunas, where Spain play their Euro 2012 qualifier against the hosts on Tuesday evening, is not fit for purpose. Whatever grass that once covered its surface has long since died, and has been compensated by piles of sand. Lines such as the centre circle and the boxes have been scrawled on top. Groundsman rake, with futility, as their tools simply create a dustbowl. A clear image of what the reigning champions have faced upon their arrival, can be found
here.
La Furia Roja visit the eastern European outpost this evening, looking to solidify their position at the top of Group I. Four wins out of four has given them a healthy six-point lead at its summit, and Vicente del Bosque's side face virtually no threat of failing to progress and defend their title in Poland and Ukraine next year.
All the more ridiculous then, that this fixture is still, at the time of writing, being discussed as potentially taking place. Sending some of the finest players in the world out on such an inappropriately-maintained field represents an unnecessary risk for all concerned. Del Bosque himself has already slammed the conditions, while Real Madrid full-back Alvaro Arbeloa has expressed his own personal concerns at being asked to play on a pitch light years from what he has become accustomed to, in virtually every stadium he has ever played in.
UEFA have, typically, proven non-committal and uncooperative. Delegate Raymond Koch arrived in Kaunas yesterday, and proclaimed that the match referee would make the final verdict on whether the game should take place.
What is the need to play the fixture now, you may ask? Group I has five teams after all, one less than all but two of the other sections, theoretically meaning that time should be available to fit the fixture into the calendar at a later date, when the Lithuanians are able to get their surface even within the proximity of international standard. The unfortunate answer to that solution is money. The RFEF are profiting rather well from peddling the draw of the world champions' to the highest bidder, and unfortunately meaningless friendlies are more valuable than the health of a player, or so it seems.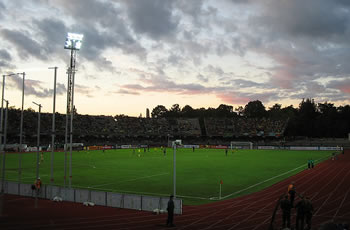 The S. Darius and S. Girenas Stadium - before sand replaced the grass
Spain's team is packed with players battling for major honours at domestic level, and clubs should not suffer concerns as to the welfare of their charges when on duty for their countries, and certainly not as a result of dangerous pitch. Barcelona and Real Madrid face a monumental month in their seasons, which could potentially contain four Clasico clashes - why should either club be robbed of a key player at this pivotal time, because of fixture bureaucracy from governing bodies (UEFA, and also the RFEF) who have the propensity to handle situations such as this woefully?
Conspiracy theorists claim that Del Bosque, in order to facilitate smooth selection of players from Spain's big two in future, will consider leaving out as many Barca and Real Madrid players as possible from his starting line-up, should the game go ahead. Such an idea is crazy, and one that would have the likes of Villarreal and Athletic Bilbao ready to wage war should any of their replacement players return crocked.
However, the value of a footballer these days continues to grow inexorably, a notion that Barcelona and Madrid are only too aware of. Like other teams who allow their players to leave for international week, there is little to be gained from their side of the deal. If the RFEF won't make the stand for them, while UEFA just want the fixture played, the clubs themselves should have considered the drastic step of recalling their players - and it could have been led by the two most influential institutions.
The debate over whether this surface meets the criteria of what a football pitch should be has been shoddily constructed - will someone do the right thing and postpone the fixture before we see a player injured? Perhaps the clubs need to step in, before one of their own returns on crutches.