Following outstanding performances against Belgium and Azerbaijan, Holger Badstuber has made a serious bid for a starting role in Jogi Loew's Germany.
Before tonight's match between Germany and Azerbaijan, I wrote that the hosts might need a tactical change in order to overcome what would surely be very defensive opposition. A change was indeed made, albeit not in the expected form. In order to alleviate a numerical mismatch, German central defenders swept into the vacuum of space that often existed in the centre of the park, and such runs opened up the game.
While Per Mertesacker (before his early injury) advanced a few times until he eventually encountered opposition and ran out of ideas, Holger Badstuber shined with the ball at his feet. The 21-year-old defender distributed the ball exceptionally well, and delivered more than one defence-splitting pass tonight. His beauty that led to Miroslav Klose's first goal was the kind of pass one would expect from an experienced playmaker, not a centre half. Late in the game, Badstuber rose to head in a corner, marking his first international goal, and punctuating a flawless international break.
By now, many readers are probably asking what all the fuss is about. The ability to create and score goals against European minnows would seem to be as good an indicator of a defender's value as Lionel Messi-like dribbling skill is suggestive of a goalkeeper's quality: good for the occasional Youtube video, but otherwise useless.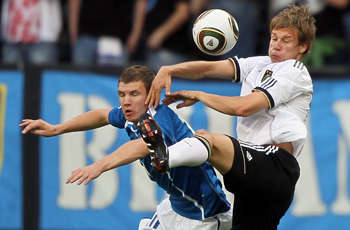 But Badstuber's productivity against Azerbaijan was indeed important on a variety of levels. For the game at hand, his willingness to move forward offered another option for Germany to earn three points. He was never, ever caught out of position, and had enough confidence to play the ball as though he were naturally a midfielder. Azerbaijan had little interest in marking a defender, but were eventually forced to pay attention to Badstuber, which opened up space for German attackers.
Even if Badstuber's forward runs will never be observed against greater opposition, the skills required for tonight's performance are valuable to any team striving for status at the highest level. Contrary to popular belief, having a defender who is comfortable with the ball is of tremendous benefit.
Against skilled, high-pressing teams, such a defender is less likely to make costly errors, and in his deep position, will always be afforded more time on the ball to make an intelligent (albeit long) pass than will a midfield architect.
But most importantly, Badstuber realised that in the absence of injured World Cup star Arne Friedrich, his chance to cement a permanent starting role was waiting this weekend. For the youngster who last year made a rapid jump from reserve player to regular starter at Bayern Munich, an exemplary defensive performance against Belgium was not enough; he had to make an impact against Azerbaijan.
Facing a team that would not attack, the only way to make himself stand out was to showcase his prowess with the ball. He did just that, and now Friedrich (and Mertesacker, for that matter) are now left to worry about their respective statuses in Jogi Loew's squad. Thanks to Badstuber's outstanding performance, Germany's long-awaited defensive reform may have just begun.
Follow Goal.com on

. Get the latest football news direct... Check out Goal.com's

page; be part of the best football fan community in the world!