Anyone who witnessed France's 1-0 loss to Belarus on Friday evening will be well aware of the problems les Bleus presently have on the park ahead of Tuesday's trip to Sarajevo, where they'll meet a confident Bosnia side, but new coach Laurent Blanc has been played into a corner partly by the poor planning of his own national association, the FFF, who have given 'Le President' needless obstacles at every turn.
Even last February, when the fixtures for the Group D Euro 2012 qualifiers were negotiated, it was clear that there would be a change of coaching staff at some point before the Euro hostilities started, so the scheduling of les Bleus' matches seemed crazy. Belarus at home was a fair encounter to start with, but for France to agree to travel to Bosnia second was lunacy.
Blanc takes his side to the Balkan state for what will undoubtedly be the hardest game of the entire qualifying campaign. Quite why anyone thought it would be a good idea to have this encounter so soon after an inevitable backroom reshuffle is anyone's guess, though it was a high-risk policy that appears likely to backfire.
Admittedly the sheer depth of the lows hit by France in the World Cup could not be predicted, but even after the South Africa saga the FFF have done their best to hamper the progress of the national side.
With 'Le President' petitioning for leniency on the part of those players supposedly ring leaders in the infamous Knysna strike, the FFF chose to ignore the man they'd just given the future of French football. Captain Patrice Evra, arguably the best left-back in the game, was slapped with a five-match ban, while Franck Ribery, les Bleus' sole creative threat during World Cup qualifying, was suspended for four games. Nicolas Anelka's mammoth 18-match suspension had prompted him to go into an early international retirement, while Jeremy Toulalan wasn't selected on the back of his one-game ban.
Each of these figures had the potential to be a key member of Blanc's set-up, though Anelka had intimated his desire to quit the international game prior to the FFF's iron-fisted intervention.
Deprived of two of the nation's most senior international figures, France are worryingly short on genuine international experience and even shorter on international goals.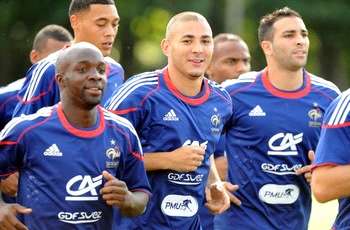 Hope is now being pinned to the shoulders of Karim Benzema, who has a chance to rise from the ashes of a disappointing first season at Real Madrid to become a genuine star for les Bleus. A frequent member of the substitute club at the Bernabeu, the former Olympique Lyonnais striker had a campaign riddled by injury problems and mediocre form.
Now back in the spotlight, where the 22-year-old loves to be, it is the time for him to deliver.
Injury dictated that the Lyon-born player would be unable to feature on Friday night against Belarus, but fate seems to have played into the hands of the striker, who has suffered from a year of bad luck.
Fortune is not smiling on Blanc at present, however, and the former Girondins de Bordeaux boss would desperately like a change of fortune before Tuesday evening is out. Should les Bleus once again come up short, qualification to Ukraine and Poland 2012 will suddenly seem a very complicated prospect.