At the 2010 World Cup, Germany comfortably scored more goals (16) than any other team. It would naturally follow to suggest that Germany are the greatest attacking country in the world. Taking one step further, it would seem a fair judgment that Germany ought to be able to score more goals against Azerbaijan than any other team in world football. But to make that assertion would be to make the error of ignoring tactics.
During this summer's tournament, the majority of Germany's scoring opportunities came from situations in which
die Mannschaft
made the push from the edge of their attacking third to the final shot within a few seconds. I hesitate to use the word "breakaway," because not all such situations came from end-to-end runs, though they had a similar effect: 11 of Germany's 16 goals were scored with three or fewer defenders either in the penalty area and within 15 yards of the goalscorer.
Germany's quick-passing style was well suited to the World Cup, and particularly effective during the knockout rounds. Facing teams that dared to run forward,
die Mannschaft
were afforded free space on the counterattack, and used it to lethal effect.
As runaway group favourites in Euro 2012 qualifying, Germany will not be able to play as they did this summer. That much was evident in their opener against Belgium. Their victory may have been deserved, but it was hardly convincing; the Germans had two good scoring chances the entire game, and took advantage of a major defensive error to score the only goal of the match.
Every time Germany attacked, the Belgian defence would race back in unison and beat them to the penalty area. Lone striker Miroslav Klose was always double-teamed, and even Thomas Mueller had trouble finding open space into which to run. Lukas Podolski was anonymous. Mesut Oezil had nowhere to play his trademark through balls, and Germany struggled.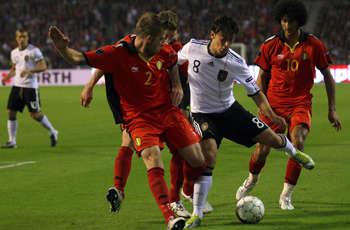 On Tuesday, Germany will face a much more defensive team. Azerbaijan are expected to place in the bottom two of Group A, and playing on the road, will be very hesitant to move into their attacking half. They may not have the same quality in defence as did Belgium, but the minnows will most certainly have numbers: expect as many as eight defenders hovering in or around the penalty box at any given time.
In such a game, opportunities to counterattack will be nonexistent, and due to the sea of bodies in the penalty area, Oezil's through balls will have little potential of hitting their intended targets. Germany need another means by which to create goals.
Perhaps the most obvious answer is to focus on set pieces. Converting from free kicks and corners have not been Germany's strongest point in recent years, but with appropriate personnel, they could be. Toni Kroos remains the Germans' most accurate striker of the ball, and though his playing time at the World Cup was limited, he might even start against Azerbaijan following Podolski's forgettable performance in Belgium. Set pieces also offer the chance for defender Heiko Westermann to showcase one of his lesser-known skills, his knack for heading in decisive goals.
Another potential source of goals is a bit of individual brilliance in the thick of an organised defence. Philipp Lahm has been known to regularly provide a couple gilt-edged chances with his trademark attacking runs, and as many saw against Ghana at the World Cup, Oezil is not only a skilled passer, but a real threat from distance. Mueller offers the physicality to hold off the notoriously powerful Azerbaijani defenders, and he and Klose are usually ruthlessly efficient in front of goal. Then there's Podolski, who seems to always be worth a goal or two against minnows, Kroos, who has been known to score from 30 or more yards, and substitute Marko Marin, whose one-on-one ability is unmatched in Germany.
Whatever the source, Germany will likely need only one goal to earn a victory on Tuesday. If they get it early, as they did twice in World Cup qualifiers, more are likely to follow. However, that first goal cannot be taken as a given. As this German team is well aware, focus and motivation are crucial, and can overcome even a large gap in skill. Only with a synthesis of all the above will Germany be able to take three points.
Follow Goal.com on

. Get the latest football news direct... Check out Goal.com's

page; be part of the best football fan community in the world!