No member of Jogi Loew's World Cup squad is assured his position.
Throughout August, most of the news surrounding the German national team concerned its captaincy. Would ageing hero Michael Ballack take the reigns after missing the World Cup with an ankle injury? Or would coach Joachim Loew choose Ballack's summer stand-in Philipp Lahm?
The answer was revealed at a Wednesday press conference, when Loew announced: "After a personal, open and trustful talk with Michael Ballack, I have decided that he will continue to be captain of our team."
But that was not all. Crucially, Loew also suggested that Ballack's place in his team was not assured.
"At the moment, Bastian Schweinsteiger and Sami Khedira are first choice in defensive midfield," Loew told reporters. "I frankly told [Ballack] that he's not ready yet and that the World Cup has created a new situation."
"But if Ballack comes back and finds his way into the team, he will be captain too. If Ballack doesn't play, Lahm is captain."
Ah, the qualifier. "IF" Ballack plays, he is guaranteed his captaincy. But the 33-year-old's starting role is anything but assured.
Loew's decision (or indecision depending on your opinion) underlines just how uncertain his best available squad has become. While many countries are desperate for even one creative midfielder, Loew might have well over a dozen qualified options emerge within the next two years.
But for now he must focus on the present. While Ballack has yet to reach full fitness, other World Cup absentees, such as Rene Adler, Heiko Westermann and Christian Traesch, as well as newcomer Sascha Riether, now have opportunities to compete for starting roles.
For Westermann, a spot in Loew's line-up for tomorrow's match against Belgium is almost guaranteed. A first-team regular before his injury, the Hamburg man has had a strong start to the 2010-11 campaign, and should start in place of injured centre-half Arne Friedrich.
Adler has not had the same luck. In the same press conference in which he named Ballack captain, Loew also clarified that Manuel Neuer, who stood in for then-No. 1 Adler at the World Cup, would retain his starting role for the immediate future. Like Ballack, Adler will have to impress at club level, and wait until selected.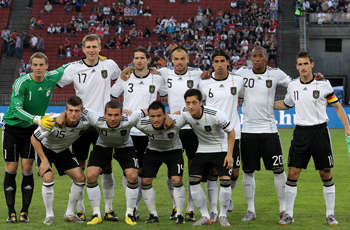 None of the above will walk into Germany's Euro 2012 team.
Westermann, Adler, Traesch and Riether are not the only ones who will be under the spotlight for Germany. Forgotten boys Mario Gomez, Stefan Kiessling, Toni Kroos, Marko Marin, Holger Badstuber, Marcell Jansen and Piotr Trochowski may have struggled for playing time at the World Cup, but will undoubtedly have their opportunities. They may not all play against Belgium, but will take hope from the fact that just four members of the starting XI from Germany's first World Cup qualifier against Liechtenstein managed to start at this summer's tournament.
Germany's World Cup squad may have turned many heads en route to a third place finish in July, but at the moment, no player's role is safe. Nearly two years remain for Loew to make squad adjustments, and the competition will be fierce. It's been 14 years since Germany last won a major international tournament, but due to a veritable glut of options in all areas of the pitch, that streak may soon come to an end.