The Facts
The problem of crime has long been in the minds of tourists, visitors and residents of South Africa, and that's especially true ahead of the 2010 World Cup. In in a beautiful country with so much to offer, the looming threat of criminal danger has stuck out as one of the main scourges keeping the country from being amongst the best in the world.
The United Nations Interregional Crime and Justice Research Institute have conducted research on the victims of crime in the country, which shows the picture of South African crime as more typical of a developing country.
These statistics show that South Africa has lower rates of violent crime than most African and South American countries, but due to the fact that South Africa is often compared to the developed world, the crime rate is considered high when measured against the likes of England, the US, Italy, Germany and other first world states.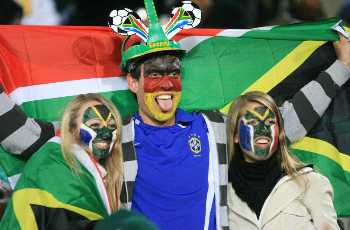 Measures Are In Place To Protect Fans And Players
But the base figures are only instructive in context. South Africa, of course, is a very diverse society, and that is reflected in the crime statistics. Most crime occurs in townships and isolated areas away from the normal tourist destinations, so in most cases tourists are not affected by crime during visits to the country.
To give an example, according to Statistics South Africa, more than 460,000 British people visit South Africa every year. Most visits are trouble-free. 139 British nationals required consular assistance in South Africa in the period April 1, 2008 – March 31, 2009 for the following types of incident: deaths (48 cases), hospitalisations (23 cases), and arrests for a variety of offences (23 cases). During this period, assistance was also requested with regard over lost or stolen passports (871 cases).
South Africa is a huge tourist hub, with 11 million tourists making there way to the country every year. That number will be higher this year due to the World Cup, and those in charge of keeping tourists and residents safe are aware of this. The country has always placed a very high emphasis on the safety of its visitors. Of course those who live in the townships will find cause for complaint there, but for the tourist it is a source of reassurance.
The Fiction
Of course, where there is crime involved, hysteria may follow. There have been many exaggerated stories in the media during the run up to the tournament in South Africa, and a number of those tales include issues of crime and security.
One story even had the ridiculous statistic claiming that of all tourists that come to South Africa on an annual basis, only one per cent return home, while the others all die in the country. This is utter nonsense - airports would have little need for departure lounges if that was the case - but in the midst of widespread panic even patently ridiculous articles like the aforementioned find an audience.
Such scaremongering has done more harm than good. Portraying the entire country as a criminal war zone has had a negative effect on the country's credibility, and many South Africans are upset at the international media for sensationalising crime in the rainbow nation, with certain ridiculous reports suggesting that South Africa is the most dangerous place in the world.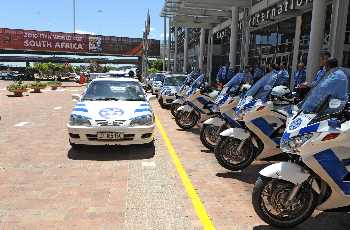 South African Police Services Prepare For 2010
The truth is that crime is a problem and it does affect people in the country, but certain measures can be taken to avoid becoming a victim of crime, and the South African government, Local Organising Committee and police force are working hard, together with Interpol and international law enforcement agencies to allow for a safe and secure World Cup with a great focus on controlling crime.
Quote Unquote, What The Experts And Those In Charge Are Saying
A great deal of work has been, and is being, done with regards to securing the event in terms of crime, hooliganism and terrorism. Recently, Local Organising Committee CEO
Dr Danny Jordaan
confronted fears surrounding spectator safety at the World Cup.
"Our responsibility as an event organiser is to have a plan safeguarding everyone coming to the event," he said at a press conference. "That is why we will have 45,000 additional police recruits and 41,000 additional police officers."
Jordaan added, "This world is uncertain and unstable, not just for one country. If you look at the track record of South Africa, it has hosted more than 150 major events since 1994, including the Rugby World Cup, the Cricket World Cup, last year we hosted the Indian Premier League, after India was deemed unsafe, and (rugby union's) British and Irish Lions and (football's) Confederations Cup - and there was not a single incident. We are comfortable but we will be vigilant.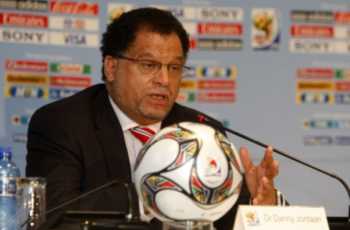 Danny Jordaan Is Confident Of A Safe World Cup
"Currently we have 11 million tourists coming to South Africa. We want 15 million by 2014, but can only get there if nothing happens in this World Cup. We want to maintain our reputation for hosting safe and secure events."
South African president
Jacob Zuma
has also spoken out to allay concerns about security at the 2010 World Cup, saying crime has already been cut and visitors will be protected.
"The fact is, we have brought down crime already. We are therefore very confident on this. When we say we are ready now for the World Cup, we include security in that," Zuma said at a press conference during his state visit to Britain a few months ago.
"We are ready to protect those who come. If there are those who are sceptical or feel concern, they must know this matter has been addressed. They will come to South Africa safely and leave safer," he added.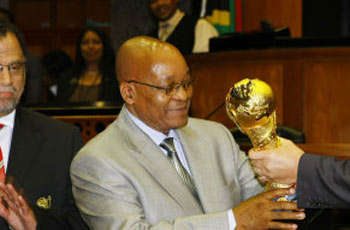 President Zuma Wants To Welcome The World
For SAPS spokesman,
Vishnu Naidoo
, the hard work and preparation that is being put in now will ensure a safe World Cup in South Africa this year.
"We are working tirelessly to ensure this is one of the best tournaments that FIFA has hosted. We want people to come and enjoy themselves, secure in the knowledge that we will do the policing," said Naidoo, according to
FIFA.com
.
South Africa has successfully delivered close to 150 major sporting events, including the FIFA Confederations Cup and the Indian Premier League last year, with no major incidents. However, the 2010 FIFA World Cup is a far larger affair and, in response to this, the SAPS has increased their capacity, having now taken delivery of R665 million worth of new equipment. This includes six helicopters, ten mobile command vehicles, 100 high performance vehicles, unmanned aerial vehicles, body armour and water cannons.
Besides the investment in equipment, the SAPS have also recruited 55,000 new police officers over the last five years. This force will be complemented with an additional 41,000 officers, who have gained invaluable experience in handling major sports tournaments. These security forces will be charged with border control, route security, city security, stadium security and crowd management during the tournament.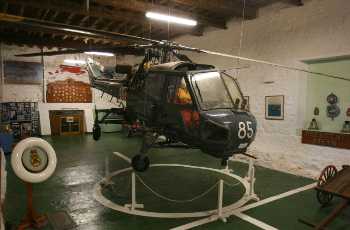 The National Defence Force Is On Hand
"We have managed to allocate more than the required capacity for the tournament," said Naidoo. "So there is going to be high visibility of police officers during 2010. Visibility of police officers has proven to be the most effective strategy to combat crime."
For the tournament, South Africa has trained a number of highly specialised units that will focus on reacting to situations as they arise. The Public Order Police will manage crowd control and any threat of organised fighting or hooliganism. These 8,500 officers completed a year-long training programme with the French National Gendarmerie in November 2009. The Gendarmerie are experts in crowd management and gained substantial experience in the 1998 FIFA World Cup in France.
Another highly trained unit, the Tactical Response Team, has been developed to deal with more serious complaints. "The goal was to have these teams in all the major cities, Johannesburg, Pretoria, Cape Town, Port Elizabeth and Durban, by the end of December, but we have already gone beyond this target," revealed Naidoo.
The security forces for the 2010 FIFA World Cup have been involved in simulation exercises used to prepare officers for any eventuality, ranging from chemical, biological and radioactive attacks to hijackings, hostage situations and major disasters, both natural and unnatural.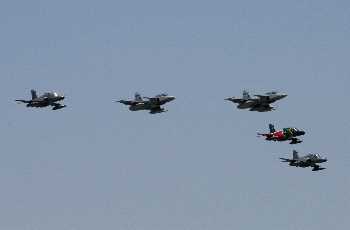 The SA Airforce Is Prepared To Deal With Terrorism
In addition to South Africa's increased security, Interpol has also pledged their commitment to support the country during the tournament. The international police organisation will be establishing an office in South Africa, offering support in movement control and the authenticating of passports.
Interpol has also developed a Dangerous and Disruptive Persons (DDP) database for the 2010 FIFA World Cup. This database can be used to identify people who are involved in any form of organised crime or organised fighting. Once a person is recorded on this database they will not be allowed into South Africa.
"We have various proactive measures to stop identified criminals from entering our country. We are in contact with our counterparts in World Cup participating countries, and then we have an intelligence community that is constantly gathering information. In order to get into South Africa these people will have many obstacles to get through," said Naidoo.
All of these initiatives form part of the legacy programme for the World Cup, Naidoo explains. "Once these systems are in place they will last long after the World Cup. We will keep using these relationships and equipment to ensure a safer region and a safer country. South Africans will benefit from us hosting the tournament long after July 2010."
"Right now our priority is to deliver a safe and secure tournament. Over-confidence is tantamount to complacency, and we don't want to be complacent," said Naidoo. "We want people to come to South Africa and enjoy themselves, so we are going to be firm but friendly."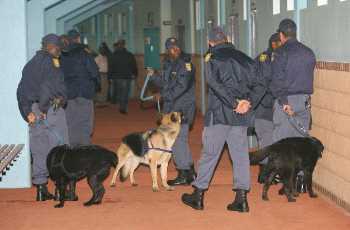 South African Police Services
According to Deputy National Police Commissioner
Andre Pruis
, approximately 600,000 people attended the 16 matches at last year's Confederations Cup, and few incidents occurred.
"During this period, only 39 cases of criminal conduct were reported, which could be directly linked to a stadium or the immediate vicinity of a stadium while people were entering or exiting or going back to their hotel rooms," he said at a press conference last year.
He said the majority of cases recorded during the Confederations Cup were theft, especially of cell phones, with five robberies, mugging of wallets, one case of reckless driving, two more of corruption, one incident of using counterfeit money and one case of assault.
A special detective team acted swiftly to respond to the burglary case at the Pretoria Hotel, where two suspects entered the hotel rooms of Brazilian nationals.
The detectives managed to nab the burglars who were convicted and sentenced to ten years imprisonment each. "This incident indicated the effectiveness of a dedicated court system for the Confederations Cup which will be duplicated for the 2010 FIFA World Cup."
The security precautions taken by South Africa in the run-up to the World Cup meet the highest standards, a security expert from Germany's parliament said recently.
Frank Hofmann
, acting chairman of the parliamentary committee on home affairs in Berlin, was speaking to the German press agency DPA after an information-gathering visit to South Africa.
"We are very impressed by the professionalism of the security forces, especially at the leadership level, as well as by the preparations for the World Cup in general," Hofmann, an MP for the official opposition SPD, said.
German football fans who want to visit South Africa should not be put off by "sensational headlines", according to Hofmann, concerning the reported high security threat to visitors, which, in his view, has no factual basis.
Many of these headlines have come out in the past year with Danny Jordaan asking the media to only report facts, and not rumours. The sensational headlines and stories are hurting ticket sales in Europe, coupled with the economic downturn, but unfounded reporting should not be having such a negative effect on the sales.
Hofmann said British tabloids were particularly to blame. The politician was impressed by South Africa's close co-operation with security forces from participating countries, including Germany, and international agencies such as Interpol, on its security arrangements.
"The South Africans have every reason to be confident, given their World Cup preparations," he said.
The South African Police Service (SAPS) presented the government's security plans for the 2010 FIFA World Cup to the police representatives and chiefs of security of the participating countries during a two-day workshop held on March 4-5 at the Home of FIFA in Zurich.
The discussions, which also included representatives of FIFA, the 2010 FIFA World Cup Organising Committee South Africa, the South African government and INTERPOL, saw a very fruitful exchange of information, and all stakeholders expressed their confidence in the plans.
"FIFA definitely has trust and confidence in South Africa. We saw that the 2009 FIFA Confederations Cup was well organised, so now it is time for the whole world to put its trust in South Africa's ability to host the 2010 FIFA World Cup. Security is a matter for the government, and we have received adequate guarantees in this regard, so there is no reason to have any doubts. The FIFA World Cup is about enjoyment, and I am convinced that we will have a wonderful festival in South Africa," said FIFA President
Sepp Blatter
at the press conference held in Zurich.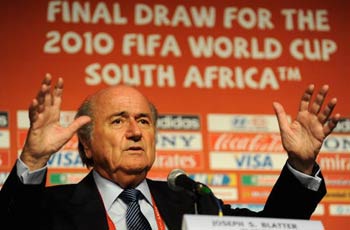 Sepp Blatter Believes In A Safe World Cup
The South African National Commissioner of Police
Bhekokwakhe Cele
, who provided an overview of the event security, law enforcement and national security plans, added, "Today everybody agrees that this will be a wonderful event. The security personnel in place will be supporting teams, fans and all participants to make sure that they enjoy a fantastic event.
"We have received very positive feedback from the delegations representing the teams and we will liaise with them to ensure that their security needs are taken care of. We are sure that this preparation will also leave a legacy in all areas of security for the country after the competition."
Representing INTERPOL Secretary General
Ronald K. Noble
at the security workshop, Director of Police Operational Support Services
Brian Minihane
said, "The workshop has provided an important platform for the law enforcement community worldwide to review and enhance security planning and coordination in the run-up to the FIFA World Cup, during which INTERPOL will be providing South Africa's police force with key operational support on the ground."
"We are very happy that this two-day workshop has helped to tackle all the issues that might previously have been unclear in relation to security. I am now entirely confident that we have all the ingredients for a safe and successful World Cup and that we will enjoy it," concluded
Andy Holt
, lead on football matters for England's Association of Chief Police Officers.
"We are very grateful to the teams, the police and the security representatives for their support and cooperation in such an important matter, and for their confidence in us. We have successfully hosted other great sporting events in recent years, including the 2009 FIFA Confederations Cup, and we are certain that this will be the case again in 2010," said Organising Committee CEO
Danny Jordaan
, at the conference.
A Sporting Comparison – The Cricket vs The Football World Cup
In 2003 South Africa hosted an incredibly successful Cricket World Cup, with traveling fans and teams pleased with the tournament in general. The event was well supported and impeccably run, and in a high-scoring final in Johannesburg, Australia defended the title they had won four years previously in England.
The cricket event provided no security breaches and all logistical and transport systems ran smoothly during the weeks of the competition. A number of cities provided the venues and the touring teams were treated to a great tournament.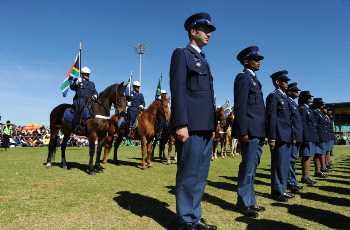 More Police Numbers For 2010
A report was compiled after the 2003 Cricket World Cup by the Barbados Free Press. The report said, "Foreigners were generally very satisfied with the event and South Africa. Crime reported was at insignificant levels. 3% of visitors experienced an incident of crime whilst here.
However, 99% of visitors (and 94% of those affected by such incidents) said they would return again. Overall, safety and security - which were the foreigners' number one concern before they arrived here - showed the biggest improvement in rating from before to after the event." That means that 99% of the visitors to the Cricket World Cup said they would recommend South Africa to other people.
It would be useful to compare the above statistical information with a country like Australia, as the website
TrueCrimeExpo
does. According to the Australian Institute for Criminology, just over 2% of tourists were victims of crime in Australia during 2005 - a statistic not too different from that of South Africa. And despite all that, 94% of overseas people regard Australia as a safe travel destination.
The Institute also mentioned that 158 Australian tourists were killed in foreign countries between 1995 and 2003 at a rate of 5.8 per million. Not a single Australian was killed in South Africa during that time. 93,027 tourists from Australia and New Zealand visited South Africa in 2004 alone.
Of course it needs to be noted that the scale of the Cricket World Cup is a great deal smaller than the expected scale of the 2010 Football World Cup, but the two can be used to demonstrate South Africa's ability as host nation, as well as a decline in crime over the years.
In 2003 the total police number was around 130,000, but for the football World Cup this year the South African police alone will amount to 193,000. Added to that the international police number and those drafted in from the army, defence force and general security companies, and the police presence will be an impressive one.
In 2003, the total number of event police for the Cricket showpiece was 4 600, but at the 2010 event the number will be 32,000. The Cricket World Cup lasted six weeks with 33 matches played, while the football equivalent will be a four-week affair consisting of 64 matches. It is also notable that violent crime levels are down from 2003, with murder and aggravated robbery reduced statistically.
Security Of The Players
Along with the safety of fans, the safety of players is a top concern for the government and organizers of this year's World Cup. An extensive security operation will be put in place at all hotels being used by the 32 World Cup teams in South Africa.
"The enthusiasm of some fans, ever present nature of international terrorism and intensively competitive nature of the World Cup necessities that the organising committee and government should ensure that the most effective measures of security are implemented," according to a FIFA document on the issue.
It says that "security services will monitor the floors occupied by the teams on 24-hour basis", with access to hotels strictly limited to individuals with the appropriate accreditation.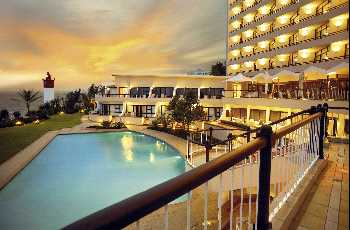 Beverly Hills Hotel - Greece's 2010 Base Camp
FIFA has also given reassurances about travel to and from matches. The document read: "Team buses will be checked and cleared on site by SAPS (South African Police Service) Explosive Unit before each journey."
According to Deputy National Police Commissioner
Andre Pruis
, the team's were constantly monitored during last year's Confederations Cup.
He said all participating teams were protected and escorted at all times by dedicated security forces en route to and from training sessions, matches and travelling between the host cities. Their movements were also monitored by the National Joint Operational Centre by means of a tracking system. "This protection will continue until the last team has left the country," he said.
Security In The Host Cities
In every single big city in the world there will always be certain parts that you would probably not like to venture alone into; there are some streets that you just won't use after dark. There are places like this everywhere - New York, Rome, London, Beijing; just ask someone who lives there and they will be sure to warn you about some danger zones.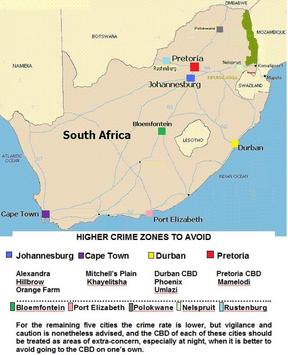 The same applies to South Africa, there will be an abundance of safe locations that will amaze and entertain you in between football matches. Remember to listen to the locals, stick to mainline routes and always avoid places that a local would avoid. Make friends with South Africans and speak to them frankly, they will understand your concern and reassure you about where to go and where not to go.

According to The South African Institute of Race Relations (SAIRR)'s latest provincial review, the Limpopo province is the safest region of South Africa, which means that the host city of Polokwane (which means place of safety) is the place with the lowest crime rate.

The report went on to name Gauteng province as having the highest rates of aggravated robbery and motor vehicle theft in the country, meaning that Johannesburg and Pretoria fell into this category, although these two cities also have the highest population rates, so it is natural that stats would be higher there.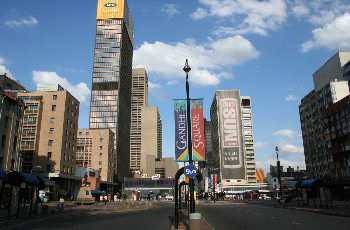 Johannesburg CBD
Johannesburg, like other major international cities, has specific risk areas. You should avoid an area in downtown called Hillbrow. There is a high level of muggings around the Rotunda bus terminus in the Central Business District, so be vigilant there. Avoid townships such is Alexandra unless accompanied by a registered tour guide, as these areas have higher crime rates. Travellers may also wish to consider avoiding local commuter and metro trains, especially between Johannesburg and Pretoria, as criminals often target these areas.

In general, avoid isolated areas such as empty beaches in the coastal cities of Durban, Cape Town and Port Elizabeth, or rural areas in between large cities. Be particularly vigilant on long quiet roads between host cities or in more remote areas. Travelling in a group when making longer journeys is a good idea.

Cape Town is a beautiful city, but Mitchell's Plain and townships like Khayelitsha should be avoided by tourists as a precaution, as these areas pose more of a threat than other parts of the city. The cape flats area has a gang problem and it is therefore better to avoid that district entirely.
Cape Town Business District
Bloemfontein in the Free State boasts a relatively low crime rate in comparison with the other big cities, but as is the case in any foreign city, be cautious and vigilant. The same can be said about Nelspruit, where crime is at a lower level, but street crimes such as muggings still prevail.
Statistically Rustenburg is not as dangerous as Johannesburg or Cape Town, but it is still a region with a fair amount of crime and no chances at any time should be taken in and around the city. Keep your wits about you and seek local advice on the matter of crime and general safety wherever and with whomever you go.
Police stations are situated throughout all of the host cities and additional police presence will be visible throughout the country during the event.
South Africa Today, Brazil Tomorrow
South Africa is on the brink of proving itself as the 2010 host nation, but the 2014 host nation, Brazil is connected to the African country in a similar way, especially concerning security. While event security has been on the top of the Organising Committee and government's agenda for quite some time, a look to the future shows that the South American nation will probably be fighting the same fight over the next four years.
Brazil and South Africa are both countries with great amounts of inequality in terms of the gap that exists between the very wealthy and the extremely destitute. A huge portion of the two populations live in poverty, and this inevitably leads to a higher crime rate, as a number of poorer people turn to a life of crime to support families and themselves. According to the World Bank, "one-fifth of Brazil's 173 million people account for only a 2.2 percent share of the national income.
The incidence of violent crime, including muggings, armed robbery and sexual assault is high, particularly in Rio de Janeiro, Recife and other large cities. Carjacking is also common, particularly in major cities. Criminals often use guns. Gang-related violence is common throughout the State of São Paulo. Crime levels in slum areas are very high, with victims of crime being seriously injured or killed when resisting perpetrators.
During peak tourist seasons, large, organised criminal gangs have reportedly robbed and assaulted beach goers, while 'express kidnappings', where individuals are abducted and forced to withdraw funds from ATM machines to secure their release, are common in major cities including Rio de Janeiro, São Paulo, Brasília, Salvador and Recife.
People have been robbed and assaulted when using unregistered taxis. Petty crime such as pick pocketing and bag stealing is also common. Thieves often operate in outdoor markets, in hotels and on public transport, while piracy still occurs in the coastal areas of Brazil.
The fact is that Brazil is not the safest place in the world, but the global community of football fans need to stand behind one of history's greatest football giants in an effort to help them host a fantastic World Cup in the knowledge that supporters, teams and those in charge of the game believe in their ability to do a great job.
It is what South Africa needs now, and what Brazil will hopefully get in 2014. It may not be the safest place in the world, but crime is a global curse, not a South African or Brazilian one, and the fact is that both countries are working hard to create a safe environment for all involved to enjoy the beautiful game.
Safety Tips To Follow Throughout The Country
- Listen to the locals: If you are unsure of where to go or whether an area is safe, ask a South African, they are friendly and accommodating people and will in most cases be happy to help.
- Avoid carrying around large amounts of cash: As in any foreign country, there are criminals who can spot a tourist and will be looking for opportunities.
- Avoid certain areas within bigger cities, which are known for higher levels of crime: Ask a local or speak to the local police to help find out about these.
- Wherever possible, travel in groups at night: Opportunists may be out and about at night, and a wise person sticks with other like-minded people to avoid being targeted.
- Have the relevant emergency numbers on hand: Police, Paramedics, Tow Truck Companies (look out for a Traveller's Guide piece soon with this information).
- Keep expensive items such as video camera's and laptops concealed in areas where there are many people or in unfamiliar places.
- When in doubt about a situation, make use of the help of police officers or even the many private security companies, which operate in the big cities to protect businesses and individuals.
- To avoid problems with lost or stolen documents, keep photocopies of your documents such as passports with you in a separate place to your actual document.
- Do not give personal or financial account information details to unknown parties. There are international fraud rings operating in South Africa, as there are in other parts of the world, which may target visitors, foreign businessmen and charities.
- Visitors should carry the phone number and address of the hotel, guesthouse, or B&B on their person. If lost, one might need directions back to their accommodation.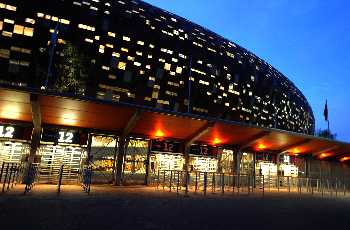 Soccer City - The Final Venue
At the end of the day it is important to note that crime is not just about poverty, as in many of the poorest places of the world, crime rates are the lowest. The reasons for crime are complex, but in general it is only when all social classes come together and work collectively to stamp out crime that rates go down. South Africans are making this effort to create a safe World Cup, and to secure a brighter and safer future once the fans of the beautiful game leave the Rainbow Nation.
Finally, be careful and don't do anything you would not do in any other big city of this world. Follow the rules, use your common sense, but don't be paranoid and enjoy a safe trip to one of the most interesting and beautiful places on this planet.
No trip to South Africa is complete without a visit to its most beautiful and sunniest city. Durban offers much more than sandy beaches, safaris, casinos and the World Cup, for information on what to do and see, please click here
Become a fan of Goal.com International on Facebook! Just click onto Facebook.com/Goal to join the beautiful game's leading fan community...