Welcome to the Goal.com 50! In this special series, Goal.com editors worldwide vote for the top 50 players of 2010-11. We count down to the announcement of the winner on August 22 with profiles of each and every player who made it into the top 50...
"I give myself tough goals," a bullish Nuri Sahin told
Kicker
last July. "And in this case it means that I want to be the best." When asked whether he could compete with Bayern Munich's Bastian Schweinsteiger and Mark van Bommel, he replied, "I am close to them."
At the time of his comments, Sahin was a starter for a modest Bundesliga club and a substitute for Turkey. Though he had steadily progressed since making his debut as a 16-year-old in 2005, the Ludenscheid native ended the 2009-10 campaign miles behind Schweinsteiger, who nearly won a treble with his club and starred at the World Cup for Germany.
"Nuri Sahin is going to become one of the best midfielders around in Europe in the next few seasons."


- Paul Breitner

Many baulked, but Sahin would later prove that his self-confidence was justified. Over the course of the 2010-11 season, the Dortmund man not only outplayed Schweinsteiger on two occasions, but was arguably the Bundesliga's best player. Like his club, the Turkish midfielder entered the season unobtrusively, and ended it a champion.
MOMENT OF THE SEASON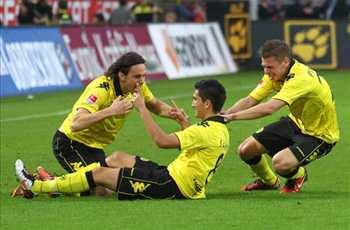 BUNDESLIGA:
BAYERN MUNICH 1-3 DORTMUND

For the second time of the year, Sahin outplayed Schweinsteiger, this time in Munich. He managed to dictate the tempo, led by example at both ends of the pitch, and most notably scored a brilliant goal from distance to give BVB the lead.
Used as a midfield fulcrum, Sahin was perhaps the most critical piece to the jigsaw puzzle that was Jurgen Klopp's tactical system. He was entrusted with the role of following the ball around the pitch, offering unparalleled control and distribution, as well as a fair amount of ball-winning skill, and creativity in the attacking half. Having come of age in a matter of weeks, Sahin accepted responsibility as the conductor of BVB's orchestra. With him in charge, Dortmund earned a commanding lead in the Bundesliga standings, one they would not relinquish before season's end.
In terms of attributes, Sahin can most closely be compared with Xavi and Cesc Fabregas: his immaculate feel for the ball and ingenious possession play - knowing where to pass and where to run, even in a crowded midfield - are his most eye-catching attributes. Based on playing style, he looks much like a graduate of Barcelona's
cantera
.
However, Sahin is distinct from his Spanish counterparts due to the way he has been coached. At Dortmund, Klopp moulded the unrefined Sahin into his ideal ball-playing defensive midfielder. Last year, the 22-year-old had a new sense of tactical discipline, and ran harder than ever before. The rationale was quite simple: a player of his skill in possession should be near the ball at all times, be it in attacking or defending areas, wide or in the centre.
With his talents so specifically directed, Sahin flourished. By season's end, he had captured the attention not only of Turkey boss Guus Hiddink, but Real Madrid's Jose Mourinho. Dortmund had made one fatal mistake in negotiating his most recent contract, allowing a clause that would allow him to be released for €10 million. Mourinho jumped at the chance to bring him to the Spanish capital, and the player completed his move in May.
"In terms of attributes, Sahin can be most closely compared with Xavi and Cesc Fabregas ...
based on playing style, he looks much like a graduate of Barcelona's cantera.
"
At Real, Sahin now joins fellow Germany natives Mesut Ozil and Sami Khedira. The 22-year old faces plenty of competition, but that should not faze him; over the last 12 months he made the jump from mediocrity to the elite. And now, under one of the best coaches football has ever seen, he looks to make the next step in his career. Last season's target was Schweinsteiger. This season, perhaps, he'll take aim at the very top.