Welcome to the Goal.com 50! In this special series, Goal.com editors worldwide vote for the top 50 players of 2010-11. We count down to the announcement of the winner on August 22 with profiles of each and every player who made it into the top 50...
The 2010-11 campaign was a tempestuous one for Schalke, who were near the Bundesliga's relegation zone in mid-season before a resurgence of form saw them advance to the Champions League semi-finals and win the DFB Pokal. Results included the highest of highs (a 5-2 win away to Inter) and the lowest of lows (a 5-0 loss to Kaiserslautern) for the team as a whole. But for goalkeeper Manuel Neuer, the past 12 months have been a resounding success.
After making a good account of himself at the World Cup, Neuer affirmed his class and much, much more. A string of heroic performances in big matches saw his stock rise swiftly, and by season's end, many gave him the title of the world's best goalkeeper.
"In my time at United, it is probably the finest display of goalkeeping I've ever seen against us."


- Sir Alex Ferguson on Neuer's
Champions League performance

For many, the shot-stopper's heroics against Manchester United in the Champions League semi-final first leg - one in which he made half a dozen miracle saves in the first-half alone - will be remembered as the display that catapulted him into the world class category. But in truth, it was just one of three similarly phenomenal performances he made during the year. In domestic matches against Bayern Munich and Borussia Dortmund, the Gelsenkirchen native was downright heroic.
MOMENT OF THE SEASON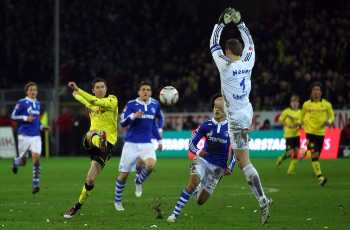 BUNDESLIGA:
DORTMUND 0-0 SCHALKE

Just months after Schalke were shamed on home soil by arch-rivals BVB, Neuer conjured arguably his finest performance of the season. He made a series of one-on-one stops and reflex saves, ensuring a draw.
Neuer's influence in key fixtures reminds football fans of just how valuable a goalkeeper can be. The saves he makes showcase his reflexes and judgement, but those are only a fraction of his game overall.
In terms of athleticism, Neuer is peerless: he is not only 1.94 metres in height, but at 25 years of age, is in the midst of his physical prime. He has the leaping ability to claim balls most others cannot, the pace and acceleration to come off his line and stop danger before it has a chance to develop, and enough arm strength to accurately throw the ball well past the midfield line.
The man from Gelsenkirchen also has uncommon skill with the ball at his feet, and by his own account, would be suitable to play as an outfielder in the German third tier. When played back to him, he has the ability to take as few touches as necessary, and deliver a precise pass to avoid putting his team under pressure.
There are several goalkeepers with world class shot-stopping ability. There are many with good ball control, and more with elite physical attributes. But the synthesis of all three qualities is exceptionally rare. Neuer boasts all of these and more.
Recalling the performance that propelled him to international superstardom, Neuer did his club a huge favour in sparing what could have been an even greater humiliation against Manchester United. But that match also proved to be the final nail in the coffin for his Schalke career. Having served for more than 20 years, he had clearly out-grown his hometown side.
"Neuer's influence in key matches reminds football fans of just how valuable a goalkeeper can be."
Neuer has since joined rivals Bayern in a move that was controversial for not only fans in Gelsenkirchen, but in Munich. He has settled in recent weeks, and can now more realistically pursue goals of domestic and international glory. A critical season awaits Bayern and Germany as they look to make good on the potential they have shown in recent years. Both sides have their weaknesses, but between the posts, could ask for no better.