Welcome to the Goal.com 50! In this special series, Goal.com editors worldwide vote for the top 50 players of 2009-10. We count down to the announcement of the winner on August 10th with profiles of each and every player who made it into the top 50...


In the Raul-less era at Real Madrid he may want to return to being CR7, but when it comes to this year's iteration of the Goal.com 50 it seems Cristiano Ronaldo remains very much CR9.
The disappointment for the fleet-footed Portuguese winger, however, will be that his trophy tally with his new club was stuck resolutely on zero in 2009-10. While the world record €94 million transfer from Manchester United last summer may have finally given the 25-year-old the dream move he had been angling after for much of the previous two seasons, it wasn't a triumphant start to life in Spain's capital.
Despite some fine individual performances, Madrid were edged out by arch-rivals Barcelona in an embarrassingly two-sided Liga campaign and found themselves bewilderingly knocked out of the Copa del Rey after a first-leg thrashing by lowly Alcorcon. But it was perhaps in the Champions League where the biggest disappointment occurred, as Ronaldo and company, expected to go all the way to a home final at the Santiago Bernabeu, instead slumped out in the last 16 at the same venue against a well-drilled Olympique Lyonnais side.
A trophyless season after a €94m transfer fee might seem like a return on an investment even London's bankers would be embarrassed with, but on a personal level Ronaldo's first season with los Blancos was worthy of high praise.
With fellow high-priced purchase Kaka failing to hit his stride in new surroundings, Ronaldo at times carried Real on his shoulders as he tried valiantly to keep pace with the Catalan giants. 26 goals in 29 league games (and an astonishing seven in just six Champions League displays) was a fine return from the statuesque forward, getting back to the goalscoring form of his most memorable season at Old Trafford while predominantly providing the width behind lone striker Gonzalo Higuain in Manuel Pellegrini's side.
He hit the ground running, scoring a penalty just 35 minutes into his league debut against Deportivo La Coruna, and proceeded to score in all of his side's next four games — all victories. The goalscoring run soon ended, but the wins kept coming. Unfortunately, an injury in a World Cup qualifier against Hungary at the beginning of October forced him to miss over a month of domestic action, and he returned to the fray arguably too late to have a decisive impact in the first Clasico of the season — which was decided by Barcelona's own expensive summer purchase, Zlatan Ibrahimovic.
That was his one major lay-off of the campaign, however, and Ronaldo led his team in a dogged pursuit of their rivals for the rest of the season.
The early Champions League exit was the most obvious aberration, even if Lyon's goal at Stade Gerland seemed to lead a charmed life, but Ronaldo did at least score a crucial early goal at the Bernabeu that threatened to give his side the platform they needed to progress.
And that was perhaps where Ronaldo really showed his mettle last season. The goals flowed, but it was his leadership and personal example that really impressed.
Cristiano Ronaldo

Moment of the Season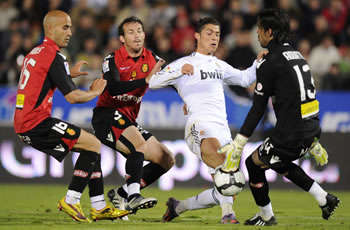 His first Real hat-trick in a tricky away game against Champions League-chasing Real Mallorca, which kept the club's slim title hopes alive
He earned rave reviews for his diligence and preparation in training, and seemed to take to the pressure, expectation and responsibility that comes with being the world's most expensive player with remarkably little concern.
Gradually growing into the talisman during the course of his six-year stay at Old Trafford, with his new side Ronaldo seemed to take to the role almost instantly.
And no better was that demonstrated than in the title run-in, as Madrid strived to pounce on any Barca slip-up after Pep Guardiola's side had again got the better of their opponents in the ultimately title-defining second Clasico in Madrid. Ronaldo was nothing less than a revelation under such circumstances, making a decisive contribution in every one of the six games following the Barcelona defeat (eight goals, two assists) as he tried to drag his side to a last-gasp title triumph.
His most notable performances came in two back-to-back games, against Osasuna and Real Mallorca, in which he scored five goals (including a hat-trick and a last-minute winner) against two European football-chasing teams to lift his side to maximum points; at a time when anything less would have been catastrophic.
In the end Barca's perfect finish ensured the efforts were all in vain, eventually costing Pellegrini his job, but, in the second age of the Galacticos, Ronaldo left no one in any doubt that it was his star that shone the brightest.
After domestic disappointment, the summer World Cup in South Africa was expected to be the fitting stage for the 2008 Ballon d'Or winner to confirm his undoubted quality, and perhaps belatedly make the season a winning one. But again, the outcome was somewhat underwhelming; Portugal escaped their relatively difficult group with surprising ease, before being bundled out of the competition in the first knockout round by a patently superior Spain side.
Ronaldo's individual performances were equally poor, he only truly excelled in one game, against a below-par North Korea, and failed to make an individual contribution against his Iberian neighbours when his country most required it. Indeed, Ronaldo's international record became a real source of consternation this term, his goal against the Koreans was his first international strike for the better part of 18 months, and his first competitive finish for the Seleccao since Euro 2008.
In light of such performances, old accusations insinuating Ronaldo to be nothing more than a
poseur
who doesn't perform on the big occasion threatened to raise their ugly heads once more. But maybe he was just distracted; soon after the World Cup his first child, Cristiano Ronaldo Jr., was born, surprising seemingly everyone but himself and the mother, giving him something of an excuse for his average summer displays.
Hopefully a summer spent relaxing in the United States, albeit with supermodel girlfriend in tow, will have finally given him the chance to clear his head after a year of dramatic upheaval.
With his mind once again fully focused on football and compatriot Jose Mourinho now ensconced at the Bernabeu, Ronaldo returns to Madrid for his sophomore campaign safe in the knowledge he is now working for a born winner, someone fully capable of helping the club to the trophy wins it craves.
If 2009-10 was disappointing by Ronaldo's own incredibly high standards, only a brave man would bet against a stellar return to the game's top echelons next term.