By Enis Koylu
"I've done everything. It's hard to give more. I've played all the games, won all the trophies. It's now or never."
Franck Ribery's assessment of his chances of landing the Fifa Ballon d'Or in January proved oddly prophetic.
Back then, he was an outside bet to win the award, but he had earned the right to be considered among the best three players in the world after a wonderful previous season with Bayern Munich. The Bavarians won the treble; Ribery was the star man as he finished second in the 2013
Goal 50
and he arguably deserved more than third place in the race for the Ballon d'Or.
In the six months since Cristiano Ronaldo won Fifa's biggest individual prize, though, the Frenchman's stock has plummeted and, having reached his 31st birthday in April, his days of challenging for such honours seem to be behind him.
Ribery's descent from one of the world's brightest stars to a player left out of this year's Goal 50 began in the immediate aftermath of the Ballon d'Or ceremony. The former Olympique de Marseille man was injured at the time and his return from a back problem was brief. Following an initial layoff, he was forced to undergo surgery just a few days after making his comeback thanks to the same back problem. The injuries completely ruined his rhythm.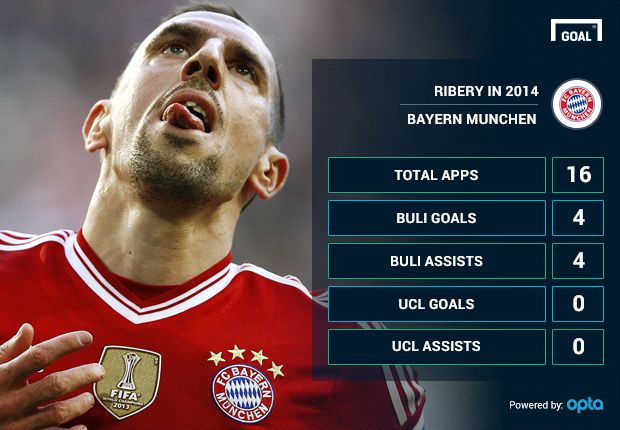 As he was sidelined, Bayern edged ever closer to the Bundesliga title and continued their Champions League campaign. With Ribery injured for the first leg of the last-16 tie against Arsenal, Arjen Robben began to take centre stage and usurp the Frenchman as the side's most productive player.
When he returned to the fold, he looked a shadow of the player who had terrorised defences in Germany and beyond in 2013, desperately short of ideas and unable to offer the same penetration as before.
There was no better example of the new Ribery than the Champions League drubbing against Real Madrid, when he was barely able to make any sort of impact as Bayern slumped to a 5-0 loss. He was cruelly robbed of a chance for redemption when yet another injury ruled him out of France's World Cup campaign.
Of course, fitness problems contributed to his end-of-season malaise but were Ribery's problems deeper than that? He had long campaigned for the Ballon d'Or and clearly felt that it was his year after the kind of trophy-winning exploits which Ronaldo and Lionel Messi couldn't match.
Despite his protestations that he "wouldn't need sleeping pills" if he was pipped to the award, it clearly meant a lot to him and Bayern legend Oliver Kahn believes that the Frenchman was not coping well with the loss.
"It's been ages since the Ballon d'Or," he said in April. "Of course, it is hard for a sensitive player like him not to win the Ballon d'Or after winning the treble. The Ballon d'Or is an individual thing, but it shouldn't be about the individual Franck Ribery, but about Bayern Munich."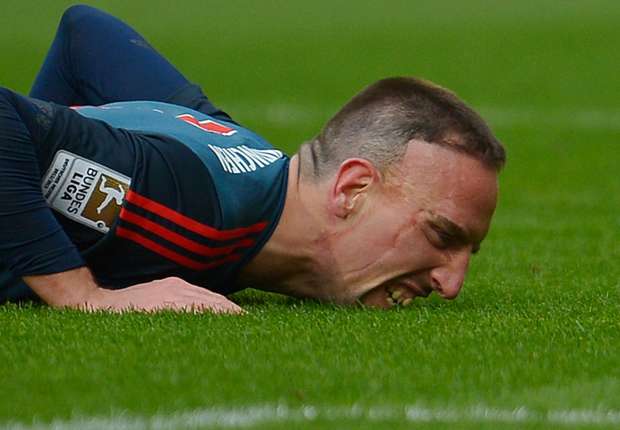 Frustration | Ribery failed to live up to his own standards after missing out on the Ballon d'Or
There was also the Zahia Dehar scandal that Ribery was caught up in. Though found not guilty in court, the strain of having to face charges for an alleged crime as serious as sex with a minor cannot be dismissed.
But there could be light at the end of the tunnel. Though this was, perhaps, his last chance to shine at a World Cup for France, Ribery's prolonged break this summer could see him put his fitness worries behind him and motor on.
He put in a highly impressive performance in the pre-season Telekom Cup and his goal against Borussia Monchengladbach was an example of the kind of magic he showed repeatedly during the treble win of 2013, steaming past his marker and bamboozling an onrushing goalkeeper with a deft chip.
Ribery admitted in the wake of the game that he was using the new campaign to get over the immense disappointment of missing the World Cup and hinted that he was frustrated with his recent fitness problems.
"Injuries happen from time to time but it was especially bitter just before the World Cup. I don't want to think about it. I'm looking forward to the new season. Of course, I'm not 100 per cent fit, but I have no more pain. I lost my rhythm. My game lives on aggression and speed."
There are still signs of life, but for now Ribery has a year of disappointment to look back upon and he joins the likes of Iker Casillas and Andrea Pirlo as ageing stars who missed out on the Goal 50 this year. It seems unlikely that he will ever challenge for top individual honours again.
Click HERE to see the full list for the 2014 Goal 50
HAVE YOUR SAY
Do you agree with our list of the world's 50 greatest players of the 2013-14 season?
Get involved via our Goal 50 section this month
. Give us all your views on the debate by commenting below and by getting in touch on
Facebook
or
Twitter
using the hashtag #Goal50.
Follow Enis Koylu on