From arrogance to impotence. England treated the early World Cups with disdain and didn't even bother to turn up at the game's greatest stage until 1950. But instead of wowing the world with their fantastic football, they fell flat on their faces. Back in Brazil this summer, the Three Lions fared even worse - but this time their campaign was much more humiliating. And now, with no players in the
Goal 50
either, the state of the sport in its founder country - at national and grassroots level - has never been so bad.
Defeat to United States in 1950 is still considered one of the World Cup's greatest upsets. England expected to win that competition and show their superiority to the watching world. There was, perhaps, a false sense of security as they allowed their finest footballer, Stanley Matthews, to travel on a goodwill tour of Canada in the middle of the tournament. At Brazil 2014, by contrast, little was expected - and even less was achieved.
This time, the team won just one point from three matches and back in Belo Horizonte (scene of the shock defeat to USA in 1950), they managed their best result on this occasion - a goalless draw with Costa Rica. Very little to write home about.
It was a stark contrast to 2002, 2006 and even 2010, when England players often told the media amid bold bravado that they would win the World Cup. It didn't seem likely then; it seems even less likely now.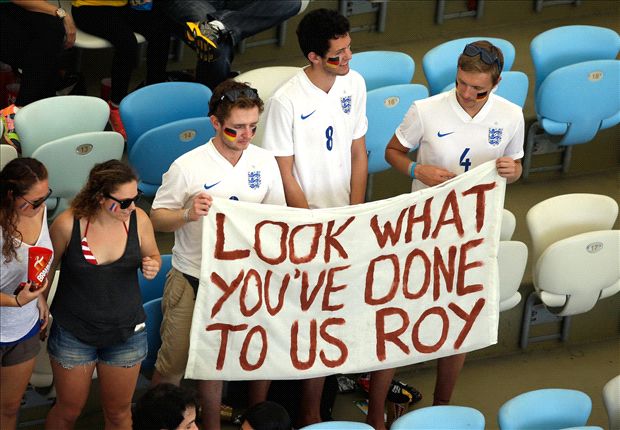 FRUSTRATED FANS
| England's supporters had hoped for much more in Brazil
After the game against Costa Rica, coach Roy Hodgson praised his players. "The fans gave these players an ovation and that's because they saw something - they can see there are signs of a bright future with these young players," he said.
Really, Roy? While Costa Rica, a country with a population of less than five million, celebrated topping the sector en route to the last eight, England went home with one point, just two goals scored and a 24th-place finish - below teams like Ecuador, Bosnia and Herzegovina and Iran.
Yet as World Cup winner Bastian Schweinsteiger stood in the mixed zone at the Maracana after Germany's victory in the final against Argentina and spoke of improving after "failure" in the previous two tournaments (in which his side had been knocked out both times at the semi-final stage), England remain strangely optimistic.


Germany's low point came at Euro 2000, when they were knocked out in the group stages. Then, even England beat them, although Kevin Keegan's team also failed to make the second round. After digesting that disappointment, the Germans opted for a complete change of direction by building for the future and two years later they found themselves in the World Cup final, then as semi-finalists in 2006, in the last four again in South Africa and ultimately winners in 2014.

"It's no coincidence that Germany won the World Cup," Diego Simeone wrote in his final column as an ambassador for Goal and Sony. "It was a question of growth, hard work, patience, building a strong project, advancing along the right road and ending up where great projects end – as world champions."

As Germany have grown consistently stronger, England have fallen into decline. With their so-called 'golden generation', the Three Lions made the last eight in 2002 and like Germany, lost out to Brazil. Back then, there was little between the two teams and it is worth remembering that Sven-Goran Eriksson's side thrashed the Germans 5-1 in 2001. In Munich, of all places.

Some 13 years on, England are light years behind both Germany and Spain. Those two nations took a long, hard look at the state of their teams and made significant changes. At youth level, players began to emerge and although it took time, the foundations were put in place for future success.

Spain struggled consistently at the highest level, but behind the scenes, they were winning at Under-17, U-19, U-20 and U-21 level. They were sewing the seeds of success and a change of style in 2008 brought a change of fortunes. England never seem to take those tournaments at youth level so seriously and when they do, they barely make a mark anyway.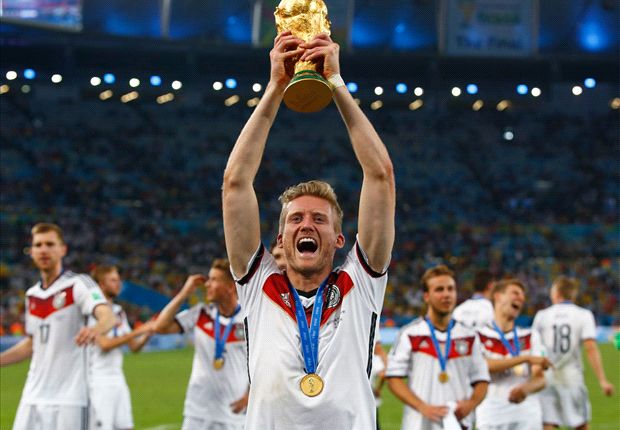 A PROPER PLAN | While England lag behind, Germany grew after just one failure

The spectacular success of the Premier League is more a hindrance than a help. Top footballers are brought in from all over the world, but often there is no place for English talent to thrive. Very few English players, meanwhile, are keen to try their luck with a move abroad. The result is an England side filled with many players unable to hold down a starting spot for their club sides and a lack of overall talent - reflected by the absence of a single Englishman in this year's Goal 50.

A study earlier this year by CIES (Centre International d'Etude du Sport) showed that the English Premier League has the second-highest percentage of imported players of the 31 countries researched, at 60.4 per cent - behind only Cyprus.

But the problem is not restricted just to the senior sides, either.

"I think there are too many foreigners in the academies," former Germany and Liverpool midfielder Dietmar Hamann wrote in a recent column for Goal in his role as a Sony World Cup ambassador. "This is different in other countries. Bayern Munich are reluctant to bring in non-German youth players. In England it is the opposite."





"Bayern are reluctant to bring in non-German youth players. In England it's the opposite"





- Former Germany midfielder Dietmar Hamann


"Look at last season and a match between Manchester City and Bayern Munich in an under-21 Champions League fixture. City had two or three English players while Bayern featured only two or three foreigners. There is no reason to believe English youngsters at 16 or 17 are less talented than Spanish or German kids, they just don't get the chance. Last season, Manchester City won the Premier League title with only six English players in their 27-man squad. Of those, only Joe Hart started regularly. Compare that to Bayern – and their players helped Germany to become World Cup winners."

Tentative steps have been taken with a view to changing the culture of the English game, with Glenn Hoddle brought in by the FA to help shape a brighter vision for the future.

Hoddle, in his prime a player with wonderful technical tools who was under-appreciated and often inexplicably ignored by England, has long believed in changing coaching at youth levels, even setting up his own academy to give a second chance to talented youngsters discarded mainly because of a lack of height and physique in the UK.





"Youth development hasn't been our top criteria for 30 years. They really need to focus on that"





- Former England player and coach Glenn Hoddle


"We've got to make our players as good as the young Spanish, French, Dutch and African players - that is the task," Hoddle said last year. "It hasn't been our top criteria for 30 years. But they really need to focus on that. With every coach the main criteria should be how do we get players at a young age to master that football."

That may be the aim, but currently it seems a long way off. With a humiliating World Cup exit not even a surprise and now no players in the Goal 50 either, 'English' football at its core is currently in a sorry state. Things, as they say, can only get better ...

Follow Ben Hayward on