In light of Ashley Cole's
shooting a work experience student with an air rifle
at the Chelsea training ground,
Goal.com
has taken a look back at other gun-related incidents that have affected the world of football.
Andres Escobar
Former defender Andres Escobar was shot and killed in Medellin, Colombia upon returning from the 1994 World Cup.
Escobar was involved in an own goal against host nation USA that contributed to his national side being dumped out of the competition, but the happily engaged 27-year-old's bad luck didn't end there. While exact details of the shooting are still uncertain, a witness and personal friend claims that Escobar, provoked into defending himself over the honest mistake he'd made while out one night, was shot six times by individuals who felt the defender had no grounds to be talking back.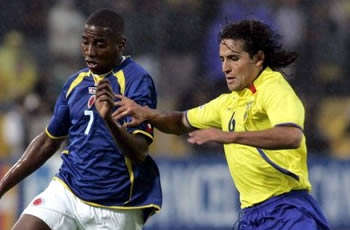 Still Loved | Escobar is still fondly remembered in Colombia as 'The Gentleman of Football'...

Rene Osei Kofi
Not long after signing a contract with Dutch giants Ajax, Rene Osei Kofi was sent on loan to Almere City – a club that would eventually have the Ghanaian player sacked as a professional footballer.
During a spat with team-mate Christian Ghandu in the Almere dressing room in 2010, Kofi left in a rage before returning from his car with a loaded handgun. The 18-year-old was reportedly talked out of firing upon Ghandu by his fellow players, but he had already done enough damage to effectively end his footballing career.
Salvador Cabanas
Shot in the head from point blank range in Mexico City in January 2010, Paraguayan forward Salvador Cabanas miraculously survived to tell the tale.
The cause of the shooting is not fully clear, as the player's wife claims he was reacting to a robbery while other reports claim the 30-year-old may have been fired upon after taunting drug lord Jose 'JJ' Balderas Garza in the bathroom of a club. Cabanas' short-term memory loss sees him still shy of a full recovery, but the once-prolific goalscorer still strives to play again in the future.

Giving Thanks | Cabanas held a press conference to thank those who prayed for him...
Luciano Re Cecconi
Scudetto-winning midfielder Luciano Re Cecconi, joined by Lazio team-mate Piero Ghedin, pretended to rob a friend's jewellery store just outside of Rome in 1977.
After exclaiming to the shopkeeper that he was being robbed, the proprietor pulled his own gun from behind the counter. While Ghedin put his hands in the air, Re Cecconi kept his in his pocket to keep up the pretence of a weapon, ultimately sealing his fate as the shop owner Bruno Tabocchini opened fire. Re Cecconi's last words were "It's a joke" as he died on the shop floor.
Luis Bolanos
In a more recent incident, LDU Quito midfielder Luis Bolanos was attacked by two assailants outside a shopping centre in Quicentro.
The Ecuadorian was shot twice, once in the arm and once in the shoulder, but was hospitalised quickly enough after the ordeal to avoid any serious danger befalling the Copa Libertadores winner.
Fernando Caceres
In November 2009, former Argentina international Fernando Caceres was shot in the right eye during an attempted car-jacking in Buenos Aires.
Another colossally strong-willed South American that managed to survive the ordeal, Caceres' rehabilitation was stalled by an eight-week drug-induced coma to keep the former defender alive. On December 29, 2009, Caceres awoke to begin his recovery.
Diego Maradona
Generally El Diego's antics are heartily welcomed by the hungry press, but in 1994 the Argentine controversy magnet grew tired of the media haranguing him and his personal life, deciding to take matters into his own hands in the form of a compressed-air rifle.
Maradona received a suspended jail sentence of two years and 10 months for crouching behind a Mercedes and firing upon the journalists who had irritated him so.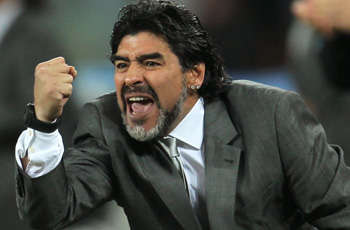 Leave Me Alone | El Diego just wanted some peace and quiet...
Joaquin Bilbao
Former Xerez president Joaquin Bilbao was with his driver when the latter
shot at the door of a brothel
in Jerez for reasons that never quite became clear.
The affair culminated with Bilbao's resignation as the club president in 2009 with the statement: "I have a completely clear conscience. If I didn't, I wouldn't be speaking to the media now. This is best for the club and for my family."
Heidar Kazem
While fans would often like to wipe the smile off the face of a player who has just scored against their team, shooting and killing the man in question would seem unimaginable.
Unfortunately this was not so for one fan,
who fired upon former Sinjar player Heidar Kazem
after scoring against Buhayra. The Iraqi had just begun his celebration before the enraged fan pulled out a gun and shot him in the head. Kazem died from his wounds on the way to hospital.
Togo National Football Team
While driving through the province of Cabinda on the way to the 2010 Africa Cup of Nations, the Togo national team bus was
fired upon
by a group of separatist terrorists in an unforgettable tragedy that shook the continent.
The team bus driver, along with assistant manager Abalo Amelete and media officer Stanislas Ocloo were all killed in the
attack
which left many more injured, including goalkeeper Kodjovi Obilale whose
career was ended
by two bullets to the lower back.