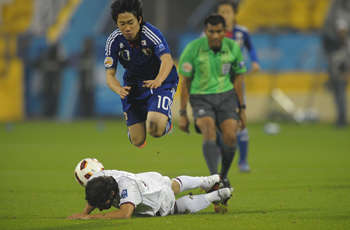 Japan were dealt a cruel injury blow following their Asian Cup semi-final win over South Korea on Tuesday with the news that Shinji Kagawa had been ruled out of the final against Australia. The Borussia Dortmund player fractured a metatarsal and his promising maiden season in the Bundesliga could very well be over. After helping Samurai Blue to the latter stages of the cup in Qatar, including a virtuoso performance against the tournament hosts, Kagawa has been struck out at the last hurdle. He joins a band of unfortunate souls whose tournaments have ended a step early through either suspension or injury. Goal.com looks at some of the more notable among them.
Valentin Ivanov, Eduard Streltsov - Olympic Gold Medal Match 1956

Ivanov, the father of the UEFA referee of the same name, was one of the stars of the USSR team at the 1956 Melbourne games alongside his Torpedo team-mate Streltsov.
He was instrumental in a 2-1 win over West Germany in the first round and scored one of the goals in the quarter-final win over Indonesia. However, Ivanov was injured early in the semi-final thriller against Bulgaria. With no subs allowed, USSR played the whole game with 10 men; Nikolai Tischenko stayed on the field despite a broken collarbone. Ivanov could not play in the final and coach Gavriil Kachalin surprisingly elected to drop Streltsov for it too, claiming they were only good in tandem. He sent out an all-Spartak forward line and won 1-0 against Yugoslavia. While Ivanov excelled at the European Championships in 1960 and at World Cup '62, Streltsov was sentenced to years of exile in a labour camp after a false charge of rape was brought against him.
MY

Denis Law - European Cup Final 1968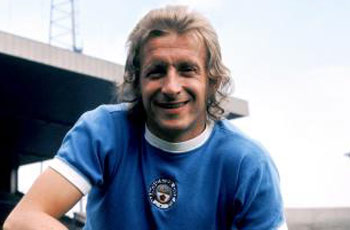 In 1968, Manchester United won the European Cup for the first time, but Denis Law's knee injury meant that 'The King' of Old Trafford missed out on the Wembley showpiece against Benfica. The injury was causing him serious problems and ruled him out of both the semi-final and the final. He was regularly given cortisone injections to ease the pain, but playing while the knee was still injured was causing long-term damage. His place in the final was taken by Brian Kidd (now on Roberto Mancini's coaching staff at Manchester City). On his 19th birthday, Kidd scored United's fourth in a 4-1 win.
GL

Archie Gemmill - European Cup Final 1979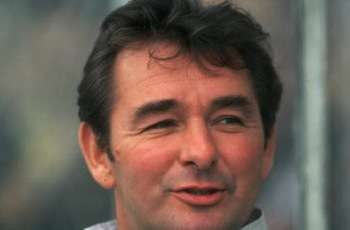 Gemmill was a favourite of Brian Clough; the legendary manager once slept overnight in the player's house in order to convince him to sign him for Derby County in the early 70s. The Scot moved on with Clough to Nottingham Forest after winning two league titles and was an integral component of their victorious 1978 league campaign. However, a slight injury kept Old Big Head (left) from naming Gemmill in his starting XI for the final against Malmo, which was won by the provincial English side. Gemmill and Clough fell out over the incident and the player was soon on the move to Birmingham City. Gemmill has stated: "I was devastated at the time. I was led to believe I'd be playing in the match... I was far from happy. I hated every minute of the 90 and I hated afterwards as well."

Antonio Maceda, Rafael Gordillo - European Championship 1984
The legendary duo were suspended for the final against France due to an accumulation of bookings during the tournament. Maceda, a member of Real Madrid's 'la Quinta del Buitre', had scored two goals en route to the final, the winner against West Germany and the equaliser in the semi-finals against Denmark. Gordillo, with his distinctive socks-down look, was one of the most iconic players in the Spain team and, along with Maceda, was a member of the team which took down Malta 12-1 in qualification for the '84 games. Without them, la Furia Roja were no match for Michel Platini and France.
SA
Alessandro Costacurta - Champions League Final, World Cup Final 1994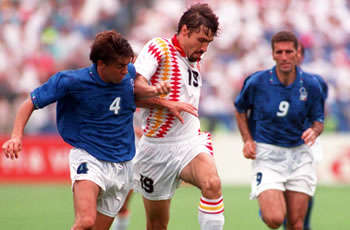 Fabio Capello's Milan were in turmoil ahead of the 1994 European final as they were without Franco Baresi, Marco van Basten, Gianluigi Lentini and 'Billy' Costacurta. The defender was suspended for the occasion but Milan trounced Barcelona in his absence nonetheless. Tragically for Costacurta, he was also to be suspended for the final of the World Cup in the USA after accruing a booking too many in the semi-final against Bulgaria. His anguished cry of 'Nooooooooooo!!!' upon conceding the penalty from which Hristo Stoitchkov scored is still echoing around Giants Stadium. Billy's club-mate and defensive partner Baresi would go on to play his part in the penalty shoot-out. His off-target strike facilitated Brazil's spot-kick victory.
Andreas Moeller - European Championship Final 1996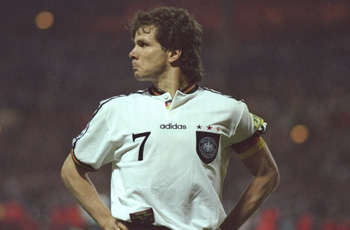 The majority of English supporters will remember the Euro '96 semi-final for Moeller's contemptuous strut around Wembley as well as anything else. It is also worth bearing in mind that the arrogant shimmy was also Moeller's swansong in the tournament. After an impressive and influential sequence of games Moeller's competition ended a match early after he was booked in the electrifying penalty-shoot win over the hosts. That yellow card was not to deter the then-Borussia Dortmund playmaker from converting the decisive spot-kick in a flawless German display. Without him, Berti Vogts' wildcard Oliver Bierhoff came up with the golden goal that bested Czech Republic in the final.
Laurent Blanc - World Cup Final 1998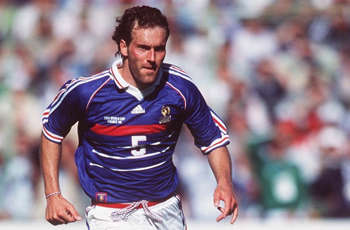 Laurent Blanc's absence from the 1998 World Cup final could be considered one of the greatest injustices of modern day football. Having been an inspirational captain for France throughout the tournament, the hosts were pitted against Croatia in the semi-finals. Les Bleus were tied at 1-1 midway through the second half when 'Le President' was involved in a clash with Slaven Bilic, who fell to ground clutching his face. Believing that the Frenchman had elbowed his opponent, Spanish referee Jose Maria Garcia Aranda was quick to brandish Blanc with his first, and only, red card as a professional player. Bilic, in actual fact, had clearly feigned the injury, depriving one of France's greatest players the opportunity to lead his side to World Cup glory, which was achieved, of course, largely thanks to Zinedine Zidane's brace. Blanc lifted the trophy in tandem with Didier Deschamps, but it was a bittersweet moment.
RB
Roy Keane, Paul Scholes - Champions League Final 1999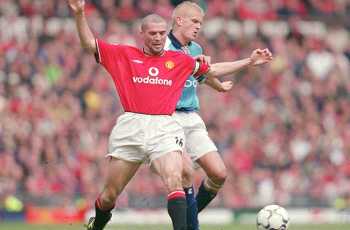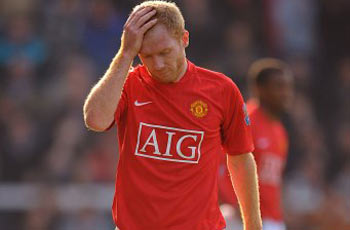 Ask any Manchester United fan to pick out one definitive Roy Keane performance for the club and the answer you would probably get is 'Juve away, 99'. It is a sentiment echoed by his mentor and coach, Sir Alex Ferguson, who has gone on the record as saying: "It was the most emphatic display of selflessness I have seen on a football field. Pounding over every blade of grass, competing as if he would rather die of exhaustion than lose, he inspired all around him. I felt it was an honour to be associated with such a player." Booked early for a foul on Zinedine Zidane, Keane knew he would miss the final but inspired his side to a remarkable 3-2 win after going 2-0 down to a pair of early Pippo Inzaghi goals. Scholes played a cameo role, coming on as a substitute, but his most memorable contribution was a characteristically mistimed tackle which ruled him out of the final. United, in case you need to be reminded, defeated Bayern Munich with two late goals in a 2-1 win.
Michael Ballack - World Cup Final 2002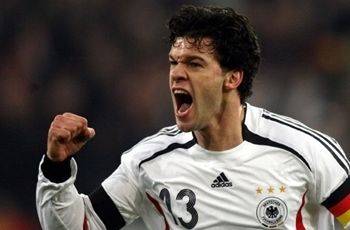 Quite how Germany made the 2002 World Cup final remains a mystery to many observers, but two key attributes within an admittedly limited squad were the goalkeeper Oliver Kahn and Michael Ballack. The Leverkusen captain had a year to forget with his club, losing the Champions League final, the DFB Pokal final and the Bundesliga title on the last day of the season. His World Cup campaign had been flawless. A goal against Saudi Arabia in the group stages was embellished with match-winning contributions against USA and South Korea in the quarter and semi-finals. However there was to be personal disappointment yet again for Ballack; his tactical foul in the 70th minute against South Korea meant at once that Germany's passage to the final was secured but he would have to sit out the showpiece. In his absence, the Germans were outclassed by Brazil.

Pavel Nedved - Champions League Final 2003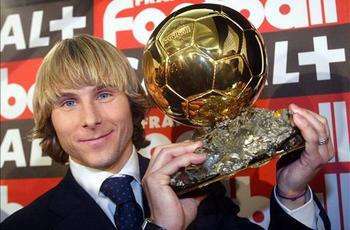 2003 was arguably the best year in the Juventus career of Pavel Nedved. He had made a talisman of himself as the Bianconeri embarked on a successful Serie A title chase and an imposing European campaign, scoring a decisive goal in the quarter-finals against Barcelona and netting the crucial third goal in the second leg of the semi-final against Real Madrid. Nedved's form was breathtaking and there was genuine pity on the behalf of neutrals the continent over when it became apparent that his negligible foul on Steven McManaman would rule him out of the final due to an accumulation of bookings. He was in tears leaving the pitch, as were his colleagues when they were defeated by Milan on penalties at Old Trafford on a night when they lacked his precision and enthusiasm. He lost out on his 'dream' of winning a European Cup final but succeeded in claiming the 2003 Ballon d'Or.

Contributions from (MY) Michael Yokhin, (GL) Graham Lister, (SA) Sergio Aguilera and (RB) Robin Bairner
Follow Peter Staunton on

.