10) "He's rude and has no education" (Franz Beckenbauer, 2011)
German legend Franz Beckenbauer made his feelings perfectly clear when asked if Mourinho had earned his FIFA Coach Of The Year Award.
"He's rude and with no education. The fact that he wears cashmere sweaters doesn't mean he belongs like a gentleman.
"Captains and coaches from all over the world considered that Mourinho got the best results with less resources than their rivals, but he has been rude and with no education in his behaviour to achieve his objectives."
Perhaps Der Kaiser is still sore that Mourinho's Inter beat his beloved Bayern Munich in the Champions League final?
9) "Button your lip Jose" (Sir Alex Ferguson, 2007)
They may appear to be joined at the hip nowadays but the relationship between Fergie and Mourinho wasn't always so cosy. The Man Utd boss was angered by the Portuguese's pitch celebrations at Old Trafford when he was in charge of Porto in 2004.
Both managers traded blows when Mourinho was in charge of Chelsea and with the title race heating up in 2007 Ferguson said, "He's come out with stuff about referees and I think he is the last person who should ever talk about referees, goodness me. His club have been involved in so many things about referees over the years.
Ferguson then added with a smile, "I think Jose should button his lip now for good, for the rest of the season."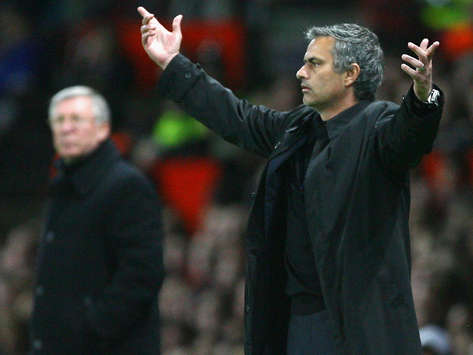 8) "He is cold like a killer" (Luciano Spalletti, 2010)
Let's just say it's unlikely that Mourinho and Spalletti send each other Christmas cards every year. Little love was lost between the pair when they competed against one another in Serie A and Spalletti accused Mourinho of just using Calcio to further his career.
"The 'Special One' was too wise. He won everything, he said what he had to, he took us for a ride, won everything, earned what he needed to, said goodbye and joined Madrid."
Although the Italian couldn't fault Mourinho as a professional Spalletti did add, "He is cold like a killer."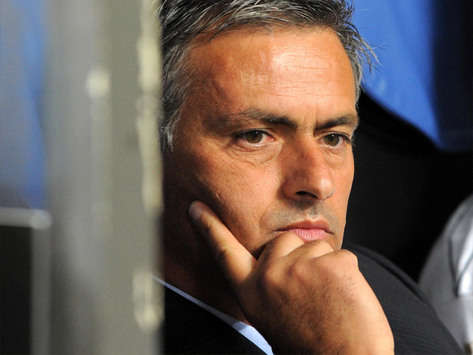 7) "Roman Abramovich is the key" (Rafael Benitez, 2006)
Long before Benitez wrecked Mourinho's Inter train set the two managers were at war in the Premier League. The Special One remains upset about Chelsea's exit to Liverpool in the 2005 Champions League semi-final and was even more annoyed when Benitez's team knocked the Blues out of the FA Cup the following year.
He chided Benitez for being unable to deliver the league title saying Chelsea were 45 points better off over two years. The Spaniard dryly replied, "I always say that Abramovich has done a really good job at Chelsea That is the key."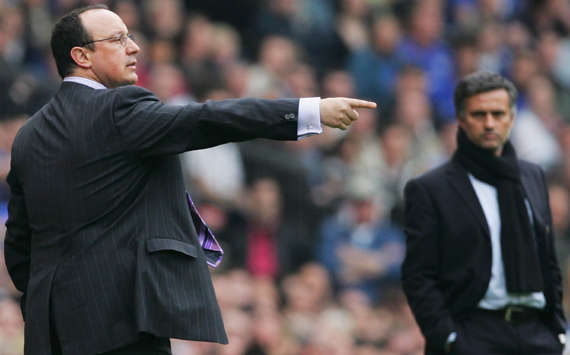 6) "Mourinho is a cry baby" (Unai Emery, 2010)
Barcelona shot-stopper Victor Valdes predicted that Mourinho's arrival to La Liga would help shift lots of newspapers. He wasn't far wrong as the coach has got involved in plenty of spats during his short stint so far with Real Madrid.
Fed up with Mourinho's criticism of officials, Valencia boss Unai Emery let rip after the ex-Inter manager produced a piece of paper listing refereeing mistakes in a match against Sevilla.
"Mourinho's stance is that of a crybaby. We have reasons to draw up a list with errors and to make a public complaint for every time we have been adversely affected, but we don't."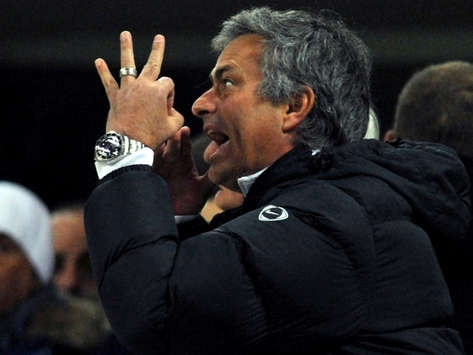 5) "He can't admit his failures" (Cristiano Ronaldo, 2007)
Portugal's two favourite football sons may be dishing out glorious platitudes about each other now but that certainly wasn't the case in 2007 as Chelsea and Manchester United contested the league title.
Mourinho claimed democracy was coming to an end after Chelsea were refused a series of penalties. His persistent whingeing prompted Cristiano Ronaldo to have his say;
"He always has to say something because he can't admit his failures. The whole world knows how Mourinho is...he never recognises he is wrong."
Of course Mourinho had to have the final word mocking Ronaldo saying he had a difficult childhood with no education.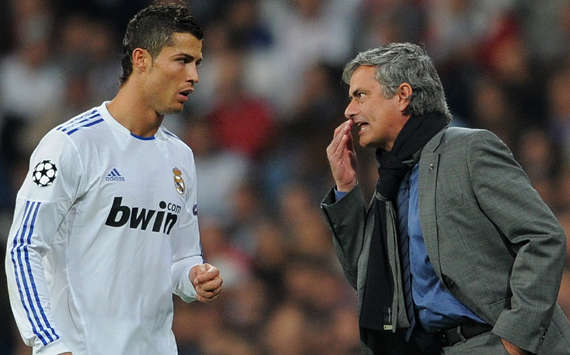 4) "He was here for two years and insulted everybody" (Massimo Allegri, 2010)
Rossoneri manager Massimo Allegri flexed his Milanese muscles by laying into the former Inter boss in late 2010.
"He sets a bad example and insulted everybody in Italy," Allegri told
La Gazzetta dello Sport
. "He was here for two years and insulted everybody."
Allegri went further and claimed Mourinho's tactics in the infamous Ajax - Real Madrid game were more suited to sunday league football.
"You can do some things with nobody noticing if you play down the local park, but not when the world is watching on television," said the Milan manager in relation to the controversial yellow cards incurred by Xabi Alonso and Sergio Ramos in the Champions League game.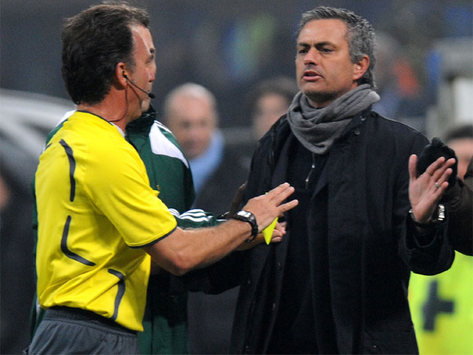 3) "Who The *&$£ does he think he is?" (Manolo Preciado, 2010)
Mourinho wound up Sporting Gijon's manager by suggesting they gave Barcelona an easy ride back in September hinting at a possible punishment for the club for resting players.
When Real Madrid were pulling into town a few months later Preciado lost the plot and aimed fire squarely in Mourinho's direction;
"Who the *&$£ does he think he is to say things like that? Who does he think he is to say that about a team like us: a humble side that fights to the very last to stay in the top flight? Well, we might be poor but we're not idiots. He is a bad colleague, egotistical."
Preciado went further and screamed, "He is a canalla," which can be best described in english as a scumbag.
Following Los Blancos' 1-0 win Mourinho aimed a V sign in Preciado's direction. The Gijon coach said in response;
"Maybe I went too far in the way I said it, because I'm a bit of a brute. I don't know if it was a V for victory or a 2 for the Second Division, but I can imagine."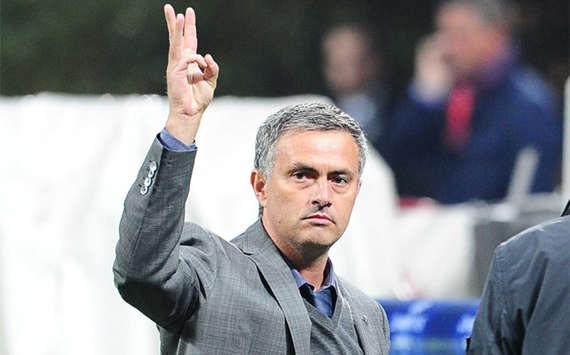 2) "He should get smashed in the teeth" (Pietro Lo Monaco, 2008)
Mourinho's arrival in Italian football was akin to a hurricane and he wasted no time in upsetting everyone. Early into his stint with Inter he ridiculed Catania saying the Nerazzurri's win was so easy that even he could have played in goal and they would have won.
Catania director Pietro Lo Monaco hit back saying, "Mourinho is, plain and simple, the kind of guy who should get smashed in the teeth."
As always Mourinho had to have the final word demanding payment from Lo Monaco for using his name, saying he'd never heard of him and insisting the only Monaco he knew was the Formula One Grand Prix race!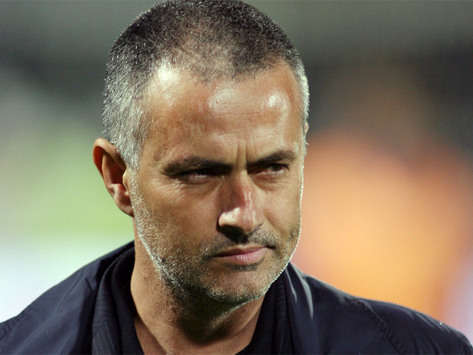 1) "People like Mourinho are the enemy of football" (Volker Roth, 2005)
One of Mourinho's early rivals in Portuguese football, Jaime Pacheco, labelled the Special One "sick and retarded" but even that doesn't compare to the battering he took from UEFA in 2005.
Mourinho's comments about Swedish referee Anders Frisk in the wake of Chelsea's game with Barcelona in 2005 forced the official into retirement following death threats. The then Blues boss had suggested that Frisk had spoken to Barca manager Frank Rijkaard at half-time in the first leg of the match.
Uefa referees' committee chairman Volker Roth was appalled with Mourinho's behaviour and lashed; "We can't accept that one of our best referees has been forced to quit because of this. People like Mourinho are the enemy of football."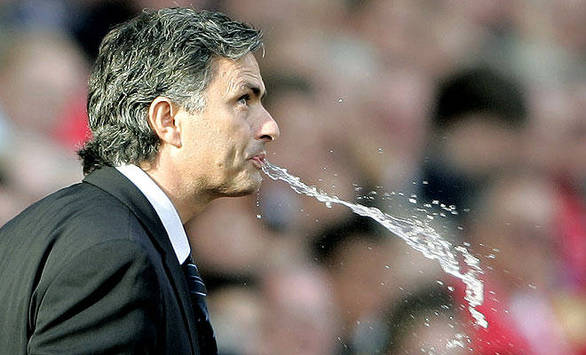 Follow Goal.com on

. Get the latest football news direct... Check out Goal.com's

page; be part of the best football fan community in the world!