With the new EPL campaign starting this weekend, Goal.com light-heartedly looks at 10 things to expect in 2010/11...
Please note that the below is satirical, and just a bit of fun...
10) Mario Balotelli falls out with his manager, all his team-mates, is sent off five times, and is caught on television wearing a Manchester United shirt.
9) Sunderland boss Steve Bruce continues to claim that Titus Bramble is a 'bargain buy' despite the defender scoring his fifth own goal of the season, making him the club's top scorer. Bruce is also in charge of whoever plays against Manchester United on the last day of the season, and his team puts in as much effort as a UK/US government enquiry into the Iraq war.
8) Frank Lampard scores 22 goals... 12 of them are penalties while the other 10 are deflected long range efforts. None are for England.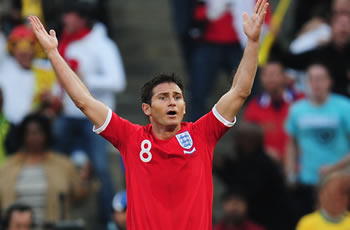 Frank sees his only undeflected effort disallowed

7) Liverpool ban balloons for the visit of Sunderland in the wake of Darren Bent's goal at the Stadium of Light. Rafa Benitez, there to monitor Lucas, Jay Spearing and David N'Gog, is refused entry. Steven Gerrard and Fernando Torres play seven games together all season.
6) England win successive games against Montenegro and Wales, leading the national media to declare that the Three Lions are "favourites" for Euro 2012. "This is our best chance of glory since '66," roars Harry Redknapp. Meanwhile, a caller rings in
TalkSport
and repeats his line from prior to World Cup 2010: "Everyone talks about Spain, but who have they got? They only have Fernando Tourez!"
5) Joey Barton misses Newcastle's Christmas fixtures after an overzealous night in McDonald's where in a drunken rage he throws the contents of an 'Alan Shearer Commemorative Display' at the sales clerk... Arsenal's first team miss the entire festive campaign after contracting food poisoning from the Happy Meals at their Xmas party, causing a downward spiral of lost confidence. The Gunners go into spring top of the league, deep in the FA Cup and top of their Champions League group. Their season falls apart in the space of seven days when they fall out of the title race, the cup and the knockout stages in Europe.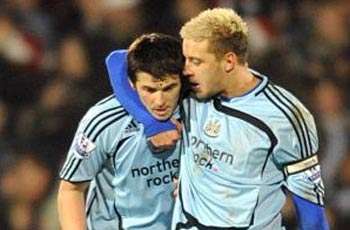 "Told you chips in Burger King are less greasy, Joe."
4) John Terry is caught cheating again…during a pub quiz at the Pig's Ear. Ashley Cole sent Terry the answer via picture message. The question was: "Who is small, has brunette hair, can't sing, and has a more annoying voice than Mika blowing into a vuvuzela?"
3) Javier Mascherano, Fernando Torres, Wayne Rooney, Cesc Fabregas, and Didier Drogba all leave England for Spain before January, but
SKY Sports
still label the Premier League the "best league in the world" so many times that Jamie Redknapp commentates with his trousers down.
2) Carles Puyol and Xavi kidnap Cesc Fabregas and fly him over to Catalonia hidden in Puyol's hair. As retaliation, Arsene Wenger steals the entire Barcelona Under 11's team. When Arsenal finish seventh, Wenger puts it down to losing such an "old head", but says for the umpteenth year in succession that his team has shown "great potential".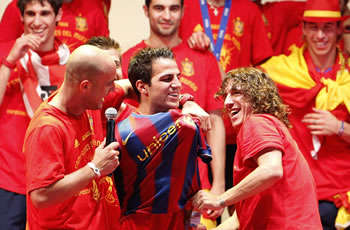 Reina: "Next time I'll smuggle you to Liverpool
under my hair."

1) Wayne Rooney continues to suffer from a dip in form after the World Cup, so Man Utd's
injury-time-added-until-goal-is-scored
breaks the all time record, reaching 36 minutes until Johnny Evans bundles in a header from a corner. Scientists come up with a formula equation called 'Man Utd's Theorem' that goes as so:
Man Utd + losing by one = 10 minutes
Man Utd + winning by one = 1 minute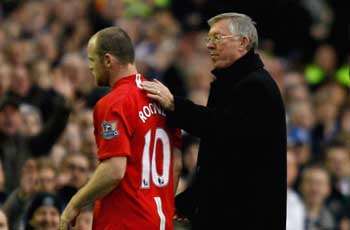 "Don't worry Wayne my wee friend...
the game cannae finish til we score"