Speaking at the press conference to present
Thierry Henry
as the latest MLS capture, commissioner Don Garber claims the league won't be letting another star out of its grasp.
Following a successful World Cup in which he scored three goals, Los Angeles Galaxy midfielder Landon Donovan has attracted plenty of attention in Europe. Finally shedding the conception that he couldn't cut it overseas with a high-calibre loan spell in the Premier League at Everton last season, Donovan looked set to receive a barrage of bids once the MLS international transfer window opened on 154 July.
However, whatever bids come in, MLS doesn't want to lose the talented American.
"He's become a real football hero," Garber said. "MLS needs football heroes, and we have a great American football hero playing for us in LA, holding the torch for the sport in our country, and that's very important. I don't believe that it's something we can do without."
Landon Donovan himself admitted his pleasure at linking up with his club team-mates after the USA finished its World Cup run in the Round of 16.
"Right now, I want to be in America," he said. "If there's something serious to look at, then I will. I never say never to anything. But for now, I'm very excited to be home."
MLS has been casual about letting its stars play in Europe during the lengthy four-month off-season, but has proven reticent about accepting permanent bids. Donovan and club team-mate David Beckham have spent the last two winters playing in Europe, but thus far no transfer bids have proven ample for either.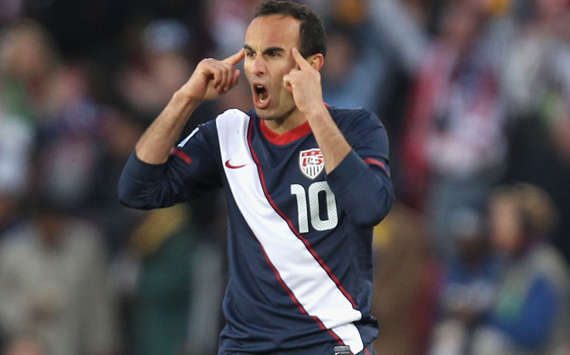 "Landon is in my view the greatest player of our generation and an incredibly valuable part of our history but also of our future," Garber said.
"He proved in England last year on loan and he proved in South Africa that he's a world-class player and he's also proved that he loves our league and really has accepted the mantle of really being one of the leaders of the sport. It is my hope and my expectation that we have him for the rest of his career because I think the contributions that he makes are invaluable to our future success."