In early 2007, when the press rush of David Beckham signing with the Los Angeles Galaxy was in full bloom (He's going to be a movie star! The league has promised to give him a team! Posh wants to become a Scientologist!), I was interviewing two young stars of the USA women's national team, Tobin Heath and Casey Noguiera.
Both were accomplished youth national team standouts who were touted as the future of the World Cup winning American squad, part of the new generation of soccer players who had growin up with Internet access and international games available on cable.
As a closing question to our interview, I thought I'd ask them about what they thought of Beckham joining MLS, whether they were fans of his play and might be glad to be able to watch him play in person.
The two shook their heads at me.
"No, not really a fan," Heath said. "He's a good player, but there are a lot of good players."
Noguiera just shrugged, a typical teenager's, he-ain't-all-that dismissal.
I pondered for a second, thinking that if Beckham didn't appeal to those who had grown up loving the game and playing it constantly to improve, who exactly could MLS expect to get that they might respect?
I decided to ask.
"So, who do you like as a player?"
Heath brightened.
"Thierry Henry!" She answered immediately. "He's great. He does so many different things well and is fun to watch."
Noguiera nodded in agreement.
I thanked them for their time, thinking to myself that it was probably wishful thinking that their hero would ever show up in an MLS game. The Arsenal star was rumored to be in line for a big move, but to a big team in Spain. Henry signed with Barcelona, as it turned out.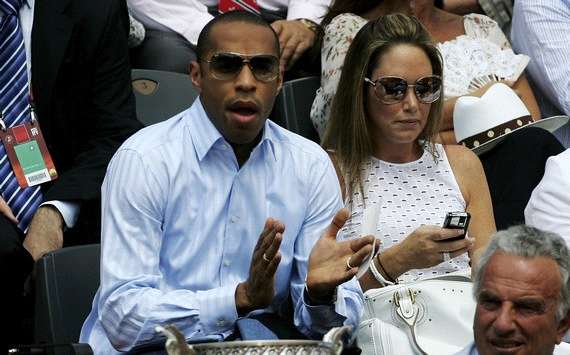 Now, however, the scenario that appeared unlikely at the time has in fact come true.
To those who value play off the ball, intuitive runs and a nose for the goal, Henry is an arrival to celebrate in MLS. Beckham's freekicks are impressive, sure, but so is what Henry can do while the ball is on the move.
Henry's long list of accomplishments in the sport speak for themselves, and the simple fact is that he is still young enough to display most of that talent regularly.
The folk out there who never cared about Posh, who didn't follow the headlines or the hairstyles, who loved the game well-played, the slick pass, the quick movement to beat the defender, the split-second of calm to place the shot correctly - those are the ones who have admired players like Henry.
Frankly, MLS, with its hustling, physical style, hasn't always offered those kind of fans that sort of artistry.
Yes, it's great to watch players run, sweat and strain in an honest attempt to help their team win, but there is magic in the way skilled players make what they do well seem easy and effortless.
When playing his best, Henry can do that. His creativity and effectiveness has combined for years to make him one of the great players of his generation.
Those that know that now have a new reason to give MLS another chance.
Andrea Canales is Chief Editor of Goal.com North America and is trying to remember to update her Twitter account.


For more on Major League Soccer, visit Goal.com's MLS page and join Goal.com's Facebook fan page!