- GOALKEEPER -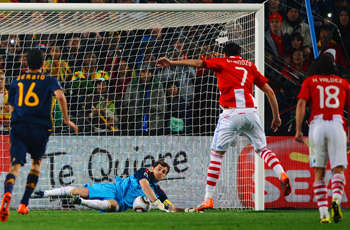 Iker Casillas
(Castrol World Cup Ranking: 23)
Partially blamed for the 1-0 opening group game loss to Switzerland. But grew stronger and more confident as the tournament went on and more than atoned for his error by saving a Paraguay penalty in the quarter-finals, making key saves against Germany in the semi-finals and then against Netherlands in the final, namely a one-on-one against Arjen Robben.
GRADE: A-
- DEFENDERS -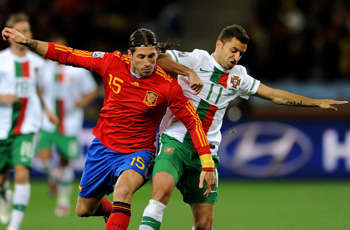 Sergio Ramos
(Castrol World Cup Ranking: 1)
One of the best right-backs of the 2010 World Cup, but unlikely to make too many people's team of the tournament. Spent most of his South African adventure playing as a right winger and could've scored a few goals. But he didn't neglect his defensive duties and he made the crucial challenge on Eljero Elia in the final to spark the counter-attack which led to the winner.
GRADE: A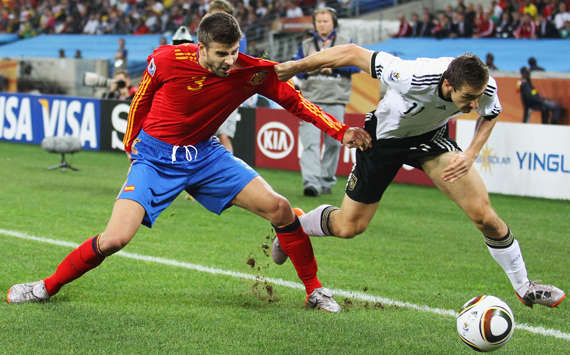 Gerard Pique
(Castrol World Cup Ranking: 5)
He was strong in the air to cope with aerial threats from the opposition, but he was caught out of position on a number of occasions in key moments and often left his less pacy team-mate Carles Puyol back-pedalling. But 'Piquenbauer' was superb in bringing the ball forward out of defence. Always had great control and his long-range passing was as good as Xabi Alonso's.
GRADE: A-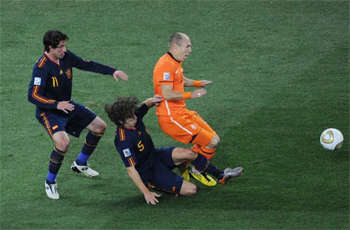 Carles Puyol
(Castrol World Cup Ranking: 3)
His lack of speed was exposed, but then again everyone knew that wasn't his strong suit. Made up for it with his experience and his knowledgeable reading of the game. Took a leaf out of the Dutch guidebook to butchery by using 'illegal' means to stop Arjen Robben. Will be hailed as the hero for getting Spain to the final with a matador header in the semi-final against Germany.
GRADE: A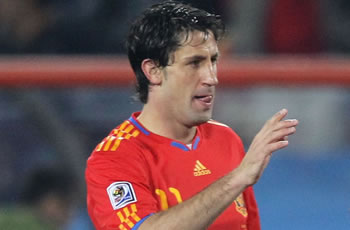 Joan Capdevila
(Castrol World Cup Ranking: 2)
There were concerns amongst Spanish fans that the Villarreal left-back may be La Furia Roja's weak link. But he punched above his weight with his diligent defending while also helped out in attack when necessary. Kept the likes of Portugal duo Cristiano Ronaldo and Simao quiet in the last 16 and limited Arjen Robben's shooting chances in the final.
GRADE: A
- MIDFIELDERS -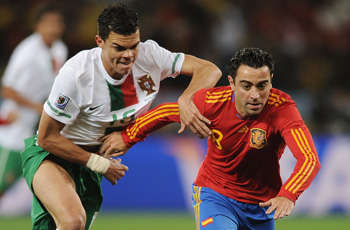 Xavi
(Castrol World Cup Ranking: 52)
The midfield maestro really struggled in the first few games as opponents like Switzerland, Chile, Portugal and Paraguay frequently double-teamed him to deprive him of time on the ball to work his magic. But he was simply majestic against Germany in the semi-finals, and he pulled all the strings against the Dutch in the final.
It was by no means a poor tournament by Xavi, but by his inhumanly high standards, it wasn't a stand-out, even though he completed more passes than any player, and more passes than most teams put together.
GRADE: A-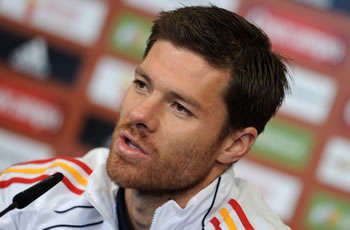 Xabi Alonso
(Castrol World Cup Ranking: 16)
Poor Xabi was the punching bag of the team. He went for every 50-50 ball in midfield and as a consequence, he took knock after knock after karate kick. When Xavi was struggling in the initial stages, it was Xabi who stepped in to orchestrate the attack with some delightful ball distribution. His shooting was wayward, though, and he was unlucky to have his re-taken penalty saved against Paraguay.
GRADE: A-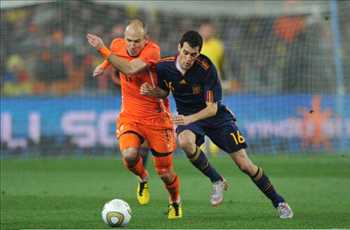 Sergio Busquets
(Castrol World Cup Ranking: 11)
It was a real coming of age tournament for young Sergio. Also expected by many to be Spain's weak link, the holding midfielder more than held his own with a string of assured performances. Still clearly not the finished article as he lacks versatility and also looked nervous on the ball at times when pressured, as evident in the final against the Netherlands.
GRADE: B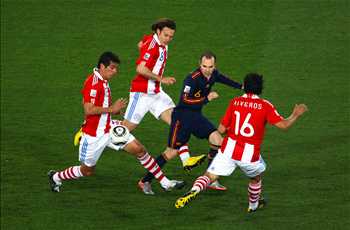 Andres Iniesta
(Castrol World Cup Ranking: 26)
There's a reason he's called 'The Heartbreaker'. From breaking Chelsea hearts in the Champions League to Dutch dreams in the World Cup, Iniesta has shown once again why he's the most under-rated player in the world. He was easily Spain's best and most consistent performer in South Africa 2010, and the only player who would take on opposing defences to carve out chances for his team.
GRADE: A+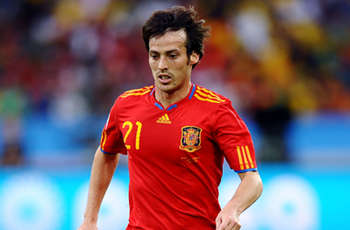 David Silva
(Castrol World Cup Ranking: 445)
The new Manchester City signing was expected to be one of the vital key players for Spain at the World Cup. But after a disappointing showing in the opener against Switzerland, 'El Chino' never regained his place in the first XI. Coach Vicente del Bosque had to make a tweak to the playing system to accommodate two forwards after the Swiss shock, a system that Silva had to become the sacrificial lamb.
GRADE: C
- FORWARDS -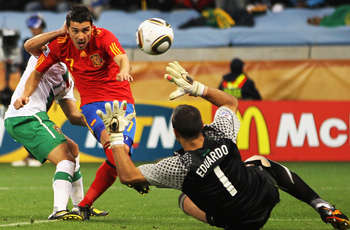 David Villa
(Castrol World Cup Ranking: 6)
'El Guaje's' sensational scoring exploits single-handedly carried Spain to the semi-finals. His two best strikes were against Honduras and Chile, while he demonstrated his predatory instincts and quick reflexes against Portugal and Paraguay. He did miss a few glorious chances against Germany and Netherlands, and he should've picked up the Golden Boot but for his penalty miss against Honduras.
GRADE: A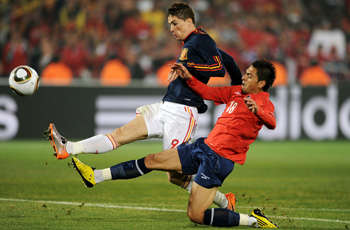 Fernando Torres
(Castrol World Cup Ranking: 282)
There was at least one flop for every participating nation at the 2010 World Cup, and 'El Nino' was Spain's flop. The Liverpool striker simply could not get his act together despite given countless chances to start, and opportunities to impress as a substitute when he was fresher than his opponents. Avoids a straight F simply because he did only just return to competitive action after surgery.
GRADE: D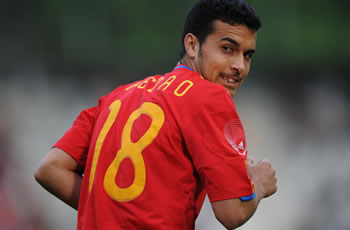 Pedro Rodriguez
(Castrol World Cup Ranking: 374)
Took over from Torres in the semi-final against Germany and immediately gave the team an extra dimension. Young Pedro was sizzling in the semi-finals, but he would go on to regret not scoring - or passing to Torres - late on in a one-on-one. Made a bright start against the Dutch in the finals but quickly disappeared from the contest. A priceless learning experience for the 22-year-old.
GRADE: B-
- SUPER SUBS -
Jesus Navas:
Made one start - against Honduras - and two subtitute's appearances. A shame that he didn't see more playing time as he always instantly injected more zest, width and pace into the team. The final ball was sometimes lacking.
GRADE: A-Cesc Fabregas:
Many would claim that Cesc is the best player at the 2010 World Cup not to be a starter. The Arsenal skipper had less time on the pitch than he would've liked, as Spain were forced into impossible situations in every game. But he made a difference every time he was on the field in each of his four subs' appearances.
GRADE: A-
Fernando Llorente:
Another player who came into the tournament knowing he would not be first choice in his position, but thought he would get more playing time. Only played for a little over 30 minutes, against Portugal, but his contribution cannot be overlooked as he helped prise open the stubborn Portuguese defence.
GRADE: BPepe Reina:
Technically not a super-sub as he didn't play at all. But the advice he gave to Iker Casillas to save Oscar Cardozo's penalty was pivotal. Someone had to stay up late and do the homework. Might as well be Reina. Definitely deserves a star.
- THE MASTERMIND -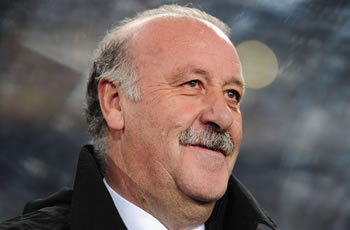 Vicente del Bosque


The coach was heavily criticised when he lost the opening game to Switzerland and his side continued to look uninspired for the rest of the tournament up until the end of the first half against Portugal. But full credit has to go to the Salmantino for making all the right modifications and substitutions, and for the way he set the team up to neutralise Germany's counter-attack. Also showed tremendous faith in Fernando Torres on and off the pitch.
GRADE: A
Become a fan of Goal.com International on Facebook! Just click onto Facebook.com/Goal to join the beautiful game's leading fan community...