On Sunday, a celebration will take place whether or not the
Spanish
squad finally raises the World Cup trophy aloft. Spain is ready to rejoice, and the final result of the match seems not to matter.
"It is a dream. We are very happy, and we are going to celebrate this day in every way, because these kids deserve it," affirms Cristina, of Extremadura.
And the fact is that July 11, 2010 constitutes a date that will not be forgotten easily by the Spaniards, since this date will be engraved in the annals of national history, an inscription in the collective memory of Spain that itself will not be carried out only by sporting motivations.
In very few occasions of the dilated and eminent history of this country has an event produced such union and collective communion as the one that will invade all the streets, all the towns and all the cities of this southern territory of Europe. There is not a balcony that does not have hanging the Spanish flag, nor a car decorated with the yellow and red colours, nor a national shirt worn proudly. It is never seen in Spain.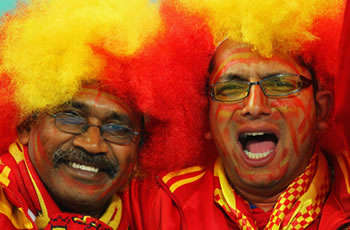 When the referee, Howard Webb sounds his whistle at 20.30 CET, to initiate the great end of World Cup South Africa 2010, millions of Spaniards will have launched to the streets to live an authentic festival coloured in red and yellow.
"¡Aúpa Spain! What more I can tell you? It will be the happiest day of our sporting lives", declares Alfredo.
In bars, at home, in sports centres, in movie theatres and on esplanades…there will not be neither a single place of the Spanish geography that does not vibrate on Sunday from 20.30 CET with all the illusions of a country, represented in the legs of eleven men that have combined as the wills of almost 40 million people. The history of Spain is written by the eleven, and noone wants them to lose.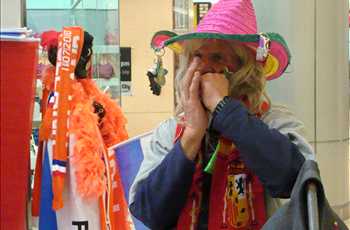 "If Spain wins, we will go to the Plaza of Spain with all to celebrate and of course that will not be a night to forget; I believe that we can win the World Cup", affirms Iván, of Madrid.
And the fact is that the Spanish capital will be the setting of the greatest celebration in all of the country. Nearly 60,000 people will meet in the esplanade set against the Stadium Santiago Bernabéu to witness the party, on gigantic screens installed by the City Hall of Madrid, the biggest of them a size of 60 m2.
But it will not be the only setting of celebrations. These festivals will invade all of the country. Other places include La avenida de la Fuente Mágica de Montjuïc, in Barcelona, the municipal building of Pardinyes in Lérida, the Plaza of Spain in Seville, the main square in Valladolid, the Plaza of Spain in Vitoria... in all these places, and in many more, the historic encounter will be seen live.
"We will witness a party in the gigantic screens that are going to be installed in the main square of Valladolid. A success in soccer, surrounded by a pile of people, is great. If we win the World Cup I will celebrate it as it deserves, whether in fountains, bars, plazas. ... If this is a side to obtain a triumph after so many years, the celebration will have to last more than a day", emphasises Raul, from Valladolid.
"I will remain with my friends from first thing in the morning until the afternoon and we will go to the main square dressed in red and encouraging since the team. And if we win... you can imagine we will celebrate it this great thing and we will not appear home the following day. I love Spain!", shouts Juan.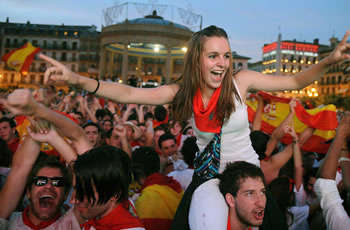 Not all will experience the party surrounded by thousands of people. Others, conscious that they are living through a historic moment, prefer the company of their beloved.
"I will see it with my boyfriend and later, we can celebrate it. We always watch it on a gigantic screen in a bar close to our house and we hope that it will all turn out well", says Marina.
"I always see it in my house surrounded by my relatives that are used to coming with me and my father because it is better to suffer with your family", emphasizes Rodrigo.
"I will see it with my father; these parties are special. We all dress in red, we accompany each other with fear but we enjoy it more than everyone", comments Daniel.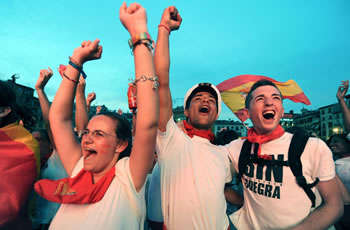 Passion and pride
The fact is that the passion that this event provides is so exorbitant, that some even they are willing to put at risk other aspects of the life, something important, like a relationship or their work;
"If I leave my woman, I will descend to the bar to see it with people and if not, I will have to see it at home", confesses Balbino.
"Monday I will not go to work, although we may lose. At last there is happiness in this country. Our aunt and uncle, they have filled us of pride", emphasises José.
The most repeated feeling among all the Spaniards is one of pride. This match constitutes an ingredient that has been lacking in Spain, and so the happiness dominates immediately for all the pores of the "Piel de Toro", those that are prepared to live the most important day of its history. It will be the day in which Spain will celebrate, and united with pride to be Spanish.
Become a fan of Goal.com International on Facebook! Just click onto Facebook.com/Goal to join the beautiful game's leading fan community...