You would have thought that it might be a hard day of decisions for Johan Cruyff. Who to support? The Dutch master was the artist behind Rinus Michel's 'total football', most prominently in the 1974 World Cup. But when he looks at the Spanish team that will line up against his countrymen this evening, he will see players that he has personally worked with in his time with Barcelona, and he will see a style of football which embodies the spirit of play of Cruyff's Holland and Cruyff's Barcelona. Spain, as he told me, supply the "perfect football of the Dutch and of Barca". So he is clearly delighted that the two countries have reached the final and feels proud that the Dutch style is so engrained in Spain.
"Yes, I think it's been fantastic for the Spanish. Especially to accept something which is not yours. But of course, this is a result of a process over many years. The good thing is that still now you can win with beautiful football. You can win and everyone is pleased and that is one of the most important things that these players can give to the fans."
Given the political tensions that exist between Catalunya and the rest of Spain, Cruyff also finds it interesting how much Catalan people have become engrossed with the national side. But such is the divide that on Saturday, 24 hours before Spain's most important match in its history, hundreds of thousands of people took to the streets of Barcelona in an open demonstration against the Spanish government and reiterated their desire to become independent. Given that sentiment and the influence of Dutch football in this region, Cruyff says he wouldn't be too surprised to find some Catalan people actually supporting Holland
"The Catalan people who are today aged 45 or 50 years began to see the Dutch way of football for the first time some 36 years ago when I was playing here. Then in the 90s they saw it in Barcelona again when I was the coach. So those people in football terms are more Dutch than Spanish. They grew up the Dutch way with football. So it's a very strange situation."
And that historical link and influence means that, for Cruyff, whoever wins the final it will still be a huge moment of personal celebration
I feel that I only win in this final. I am in a fantastic situation. I am privileged. If Holland win, of course I will be happy; very proud. But even if Spain win and you see the football that they play. Then you say 'yeah, this is something I love' so of course you have to be happy for that too."
But Cruyff doesn't feel disappointed with Holland despite the claims that in this World Cup the Spanish have been more Dutch in their style of football than the Dutch have been.
"You have to separate the hopes of the fan from the reality. If you analyse Holland and Dutch football you see there are some weak points. As a team you have to compensate for that. The coach has done well to fix these and to focus on the positive points. The main thing is that we just don't have the players in Holland to play the typical style of Dutch football. It's a small country. So I think despite that weakness you have to give the team credit that they still try to play in a good way, and they have done well with what they have achieved."
By contrast Cruyff is hugely disappointed with the way Brazil played in South Africa.
"Comparing Holland to Brazil, you have to say in terms of population Brazil is a huge country. In my youth you had heroes from Brazil - players who always stayed in your mind. But if you think of the Brazil team today and look at the midfield, I have already forgotten their names. It means they didn't give you anything. But Brazil has the players, they just didn't want to play in that open way."
Cruyff´s disappointment with Brazil is echoed in what he saw from the Italians, the French and from England and from the overall lack of attacking play from many countries
"There are some teams that I don't even remember they played in South Africa. And that is a big disappointment. It's sad for these countries. If you go to a World Cup, maybe it's a once in a lifetime chance for you, so do something and be proud. And they didn't, so that is a big pity"
He is also disappointed by some of the more illustrious superstars who were supposed to show off their skill on the world's biggest stage. Between them Wayne Rooney, Lionel Messi and Cristiano Ronaldo only managed to score one goal. But Cruyff feels that the responsibility is not so much theirs as it is of the creative players whose role it is to bring out the best in the star players of the team. He feels the best example of a player who does that is Spain's Xavi Hernandez.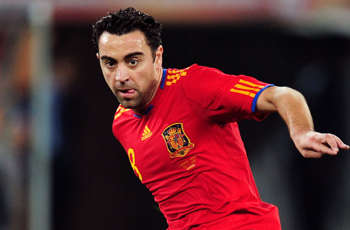 Xavi¦ Gives Spain something others lack, says Cruyff

"Win or lose, I really hope Xavi wins the most valued player of the tournament award," Cruyff says with enthusiasm. "For years now he has been performing at such a high level. He takes over teams and creates situations. He has done it time and time again with Messi at Barcelona. He is the kind of player that would allow someone like Rooney to do the special things we all know he can. He is the one who creates the situations where these special players can be at their best."
But Cruyff feels that part of the reason countries like England and Italy in particular fell down is to do with the politics of world football. The Dutchman is very clear on where the weakness lies for both these nations.
"There are far too many foreign players in England and Italy. It means 50% of the starting line-ups for the national teams don't even play in the first ranked team in their own league. And the policies of football are behind this. It's these policies that mean Inter can win the Champions League without having one Italian in their side. And then a few weeks later you see what a disaster the Italian national side is. And if the governing body of football can't change their politics then the national federations should do something. That is why I am a big supporter of the '6 plus 5' rule. But I feel like I am out in the desert on my own shouting in support of this system. It's time for there to be a balance in the number of home players and foreign players."
While that remains a debate for the future, for today the man who was the inventive force behind one of the greatest Dutch sides ever in the history of football will be wearing the colours of both Spain and Holland.
Become a fan of Goal.com International on Facebook! Just click onto Facebook.com/Goal to join the beautiful game's leading fan community...